Experimentarium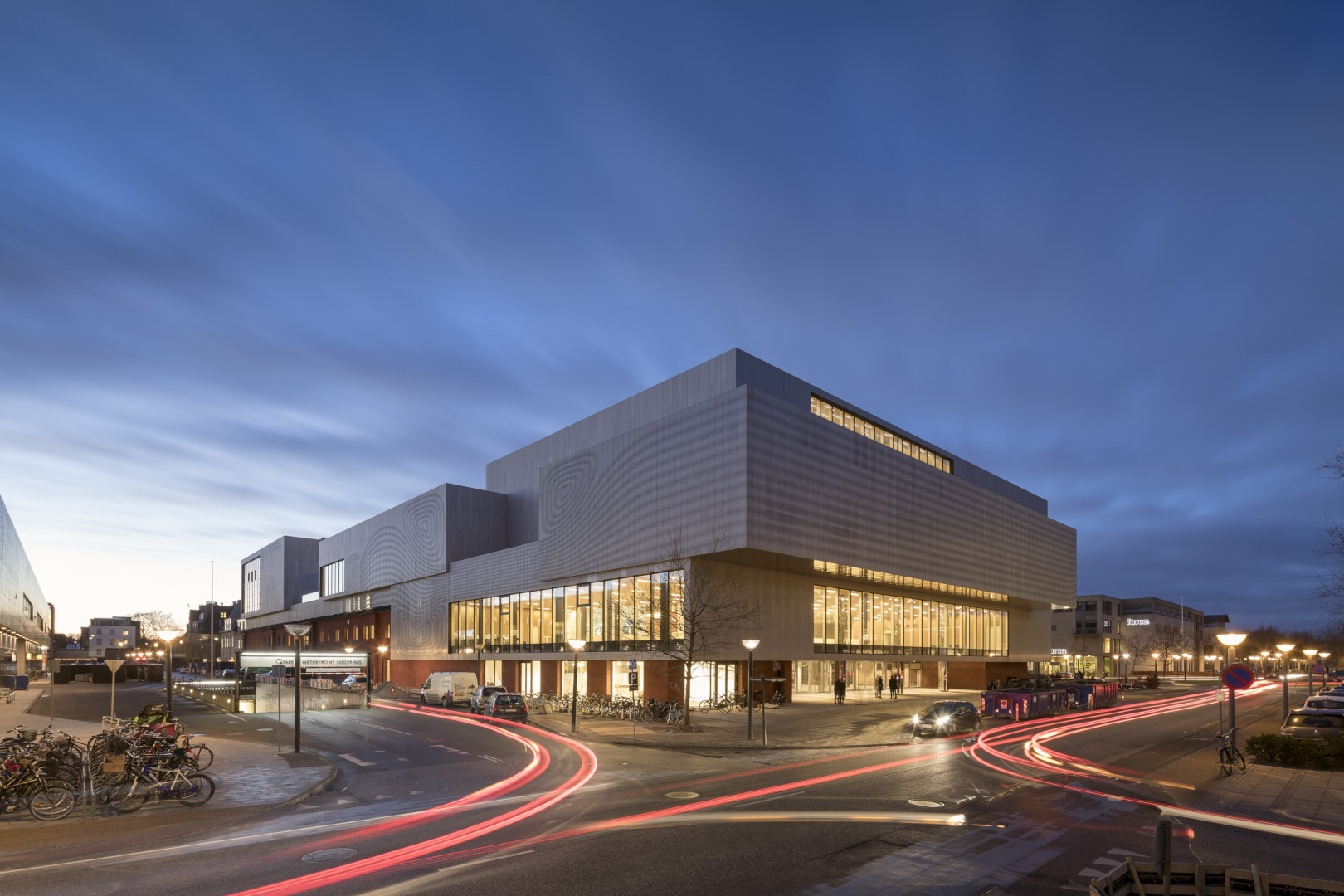 Science – the Danish way
According to TIME Magazine, Denmark's Experimentarium is nothing less than one of the World's 100 Greatest Places. Scan Magazine takes a look at what makes the science centre and its Danish approach to science so special. Clue: it has more to do with soap bubbles, laughter and kissy faces than science books.
Just a short bike ride north of central Copenhagen lies Experimentarium, a huge science centre built to celebrate and stimulate the inherently curious human mind. Through intuitive and playful hands-on exploration, the centre brings science to life – all the visitor has to do is jump right in and get started.
"What I love about Experimentarium is that the kids just naturally get it. In a matter of seconds, they get busy exploring and experimenting – it's all completely intuitive and there is so much to discover," says Anders, father of Lily and Ellen. They are all visiting Experimentarium to celebrate Lily's eighth birthday.
The exhibits and activities are accompanied by easy instructions – in Danish and English – as well as scientific background information. "There is enough knowledge to satisfy even the most curious mind," says Kim Gladstone Herlev, CEO of Experimentarium. "But for the most part, Experimentarium is all about experimenting and using your body and brain to explore the wonders of natural science."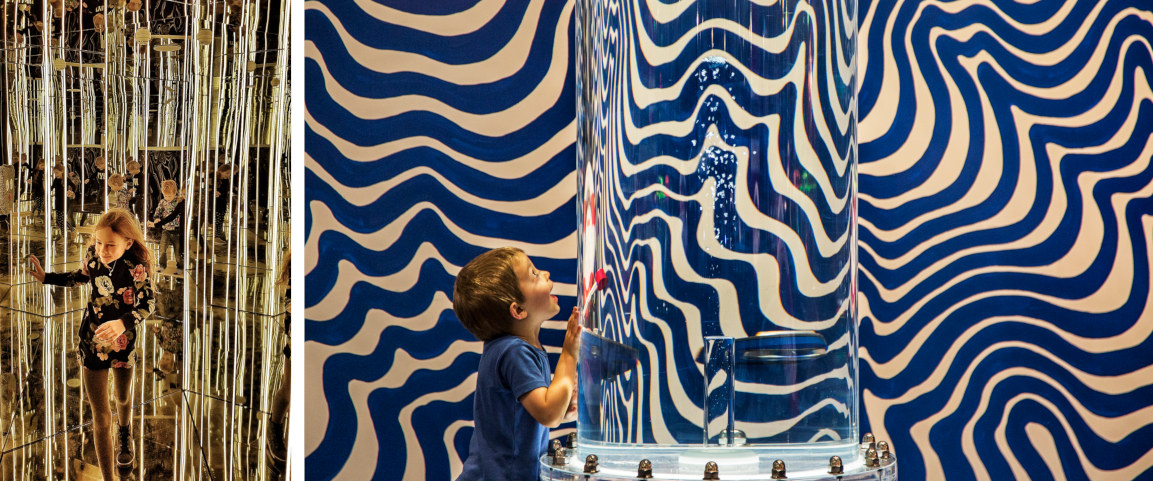 ITS ENGAGING AND INTERACTIVE APPROACH TO SCIENCE AND PLAY HAS EARNED EXPERIMENTARIUM IN COPENHAGEN A PLACE ON TIME MAGAZINE'S NEW LIST OF THE WORLD'S 100 GREATEST PLACES, PHOTOS © CHRISTIAN YSSING (LEFT) AND DAVID TROOD (RIGHT)
One of the world's 100 greatest places
In August 2018, TIME Magazine placed Experimentarium on its new list of the World's 100 Greatest Places. Tivoli, the world-famous restaurant Noma, and Experimentarium were the only Danish attractions to make the cut. Furthermore, Experimentarium is the only science centre in any country on the list.
The distinction comes after a complete renovation more than doubled the science centre in size. Re-opening in 2017, Experimentarium now covers three indoor floors sprawling with interactive exhibitions on science and technology. On top of this, guests will find an interactive rooftop with a spectacular view as well as daily science shows, a restaurant, and a science-themed gift shop. In other words, Experimentarium is not just great – it is also huge.
At every point, guests are confronted with exhibits to fire their curiosity. In one exhibition, they can play a tune on the Laser Harp, in another, compete with the Robot Arm, and, in a third, explore all the senses in the Tunnel of Senses, in which you are 'born' in one end and 'die' in the other. "The exhibitions are designed and built right here at Experimentarium – so they really are one of a kind," says Gladstone Herlev.
In the Bubblearium, Lisa, her younger brother Oscar, and their mother Ida, are busy experimenting with soap bubbles. "As a parent, you really get sucked into the activities. It's so much fun – we have laughed, danced and had a great time together. It is just pure 'hygge'," says Ida. "We have been here for close to five hours, and we still haven't seen everything. The kids just keep on going. They get a lot of exercise, and they don't tire or get bored."
Meanwhile, Lisa has figured out that if her hands are wet with soap bubble solution, she can grab and hold a soap bubble. "Quick, take a picture!" she yells out, making a kissy face.

IF YOU ASK THE YOUNG SCIENCE EXPLORER LISA, SOAP BUBBLES, SCIENCE, AND KISSY FACES GO HAND IN HAND (RIGHT), PHOTOS © DAVID TROOD (LEFT), CHRISTIAN YSSING (RIGHT)
'Can we go again?'
Striking in their creativity and highly intuitive, the science centre's 18 interactive exhibitions ensure that all of the family can and will take part in the fun. Regardless of age and nationality, you see no one walking around with their eyes on their mobile phones. In Experimentarium's water exhibition, The Beach, a mysterious copper-clad submarine draws the eye. Playing and splashing around with the water, kids and grown-ups explore the science of water. Some are racing rubber ducks and learning about water currents, others are busy trying to make an underwater tornado. It takes quite a lot of effort, but in the end, the tornado forms in the tube in a beautiful silvery burst of air bubbles.
Close by, some kids are rubbing life into a giant flashing yeast cell and learning about making bread and beer while a father is working up a sweat in a giant hamster wheel.
Ida, Lisa and Oscar run to join the short line in front of the Interactive Film Theatre. It is the world's first cinema based on movement sensor technology. Forget about popcorn and relaxing in soft chairs – in this cinema you have to jump, shout and dance to help the girl, Anna, fight a mysterious fog. Twelve minutes later, Ida and the kids emerge from the darkness laughing and out of breath. "Can we go again?" begs Oscar.


IN MINIVERSET, EVEN THE FAMILY'S YOUNGEST MEMBERS CAN EXPLORE AND HAVE FUN IN THE WORLD OF SCIENCE, PHOTOS © DAVID TROOD
Miniverset – science for toddlers
Experimentarium's Miniverset is a special universe designed for the youngest members of the family (one-to-five-year-olds). But the grown-ups both can, and should, play along too, says CEO Gladstone Herlev. "It's a fun, inspiring and safe environment that nurtures children's basic understanding of science while they are busy having the time of their lives. Children are natural scientists –they are in fact born to learn through play, and every day they discover new things and learn about the world by experimenting and playing." At Miniverset, the little scientists can experience and explore natural phenomena such as wind, light and reflections. But science is also explored through classic children's games, like playing shop, catch or hide and seek. This makes it easy for the children to get started. "They already instinctively know what to do," Gladstone Herlev points out. Miniverset consists of seven little universes. All have their own particular charm and distinct visual design and make for a diverse and inspirational visit. And, for those in need of a breather, the cosy reading corners offer the chance to cuddle up with one of the Miniverse books, which can help the children anchor their experiences and develop their vocabulary.
Miniverset also has a large area with a cloakroom, stroller parking, picnic tables and a nursery room. In short, says Gladstone Herlev, "it's everything you need for a wonderful day of playing science".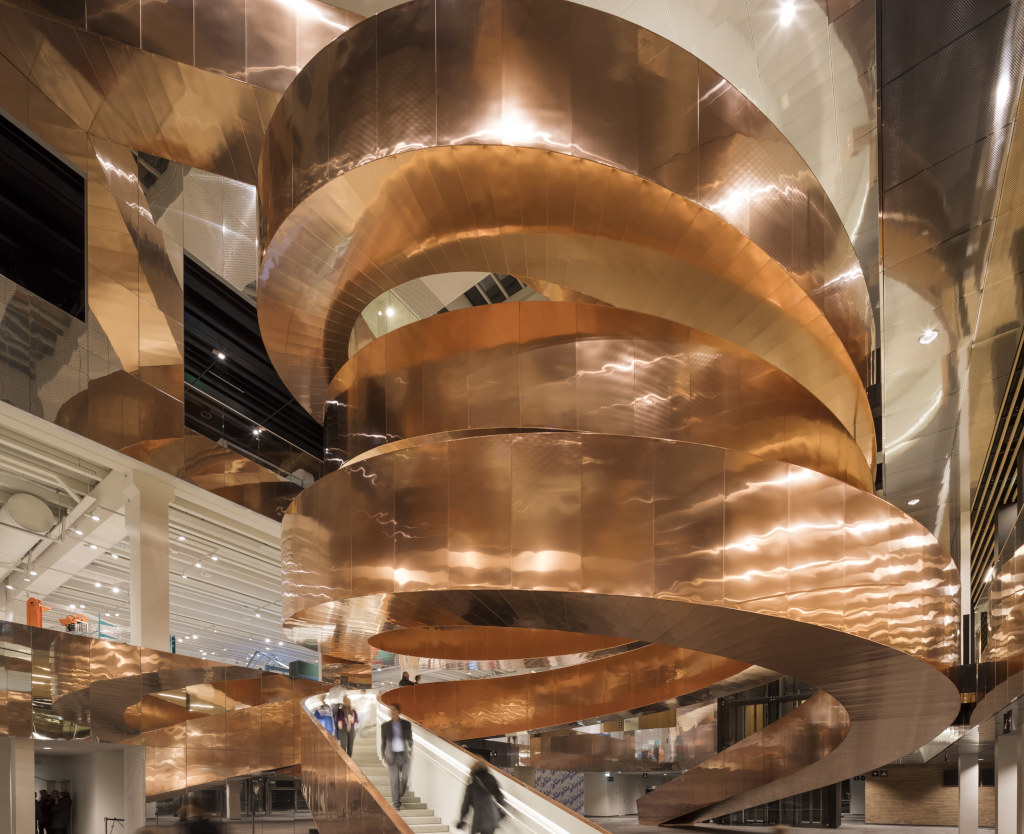 DESIGNED BY DANISH ARCHITECTS CEBRA IN 2017, THE NEW EXPERIMENTARIUM RE-OPENED WITH A THREE-STOREY SPACE THAT MORE THAN DOUBLED THE OLD EXPERIMENTARIUM'S EXHIBITION AREA, PHOTO © ADAM MØRK
FACTS
In 2018, TIME Magazine listed Experimentarium as one of the World's 100 Greatest Places.The science centre is located in Hellerup, six kilometres northwest of central Copenhagen, easily accessible by bicycle or public transport.The exhibition area comprises 11,000 square metres of hands-on, intuitive science and technology.Admission: Children (3-11): 115 DKK (approx. 13 GBP). Adults (12 years and up): 195DKK (approx 22GBP).Visitors with the Copenhagen Card city pass get free entrance.Opening hours: Monday to Thursday: 9.30 am-5pm. Friday: 9.30 am-7pm. Saturday and Sunday: 10am-7pm.
Facebook: Experimentarium
TEXT: SIGNE HANSEN | PHOTOS © DAVID TROOD, CHRISTIAN YSSING, ADAM MØRK
Subscribe to Our Newsletter
Receive our monthly newsletter by email