Top-15 Must-see Nordic Architectural Sights
Oslo Opera house
Situated in the Bjørvika neighbourhood in the heart of the Norwegian capital, the Oslo Opera House is, with its 238,500 square metres, the largest cultural building constructed in Norway since Nidarosdomen was completed around 1300. The construction came about after, in 1999, it was decided that a new opera house was to be built in the city, for which a design competition with 350 entries was held. Celebrated architecture firm Snøhetta won, and the construction was finished in 2007, ahead of schedule and around 300 million NOK (around 27 million GBP) under budget. The award-winning Opera House features 1,100 rooms, an auditorium with 1,364 seats, and a distinct façade of marble and granite surfaces that appears to be rising out of the water.
TEXT: LINNEA DUNNE | MAIN PHOTO: OSLO OPERA HOUSE © DIDRICK STENERSEN, VISITOSLO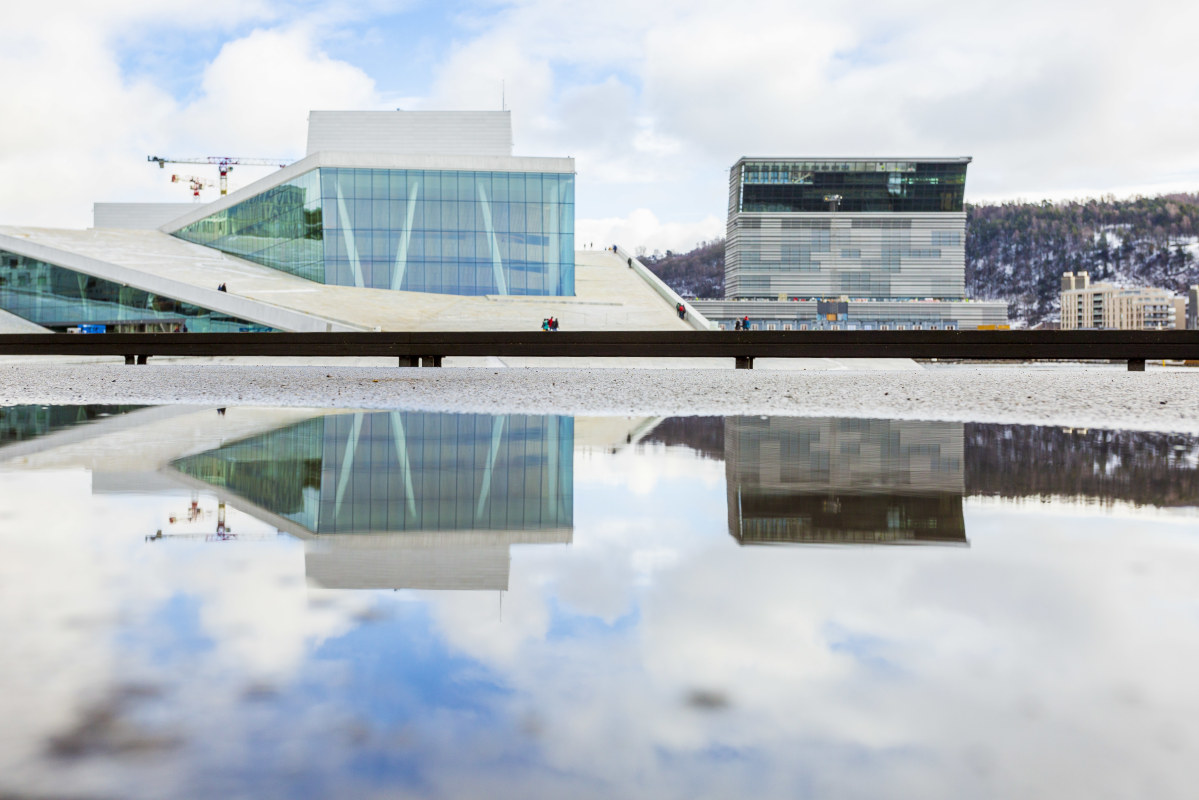 Oslo Opera House. Photo © Didrick Stenersen, VisitOslo
ARoS (Aarhus Kunstmuseum)
Covering 20,700 square metres across ten floors, ARoS is one of the largest art museums in northern Europe and works with the ambition to be among the ten best in the world. Designed by architecture firm schmidt hammer lassen, the brand-new premises opened in 2004 and was completed in 2011, when artist Ólafur Elíasson's circular skywalk installation Your Rainbow Panorama was finished. The circular, 150-metre-long, three-metre-wide glass walkway, mounted on columns above the roof, provides spectacular views across the city of Aarhus through a prism in all the colours of the rainbow. With close to one million visitors annually, ARoS is among Scandinavia's most visited museums.

ARoS. Photo © Kim Wyon
Turning Torso
This neo-futurist residential skyscraper in Malmö is the tallest building in Scandinavia, rising 190 metres, covering 54 floors with a total of 147 apartments. It is also regarded as the first twisted skyscraper in the world. Featured on Discovery Channel's Extreme Engineering show, Turning Torso is a solid, immobile building constructed in nine segments of five-storey pentagons, the top segment twisting 90 degrees. It was commissioned as part of an initiative aiming to re-establish Malmö's skyline, replacing that of Kockums Crane, a symbol of the city's blue-collar roots, removed in 2002. Turning Torso was designed by Spanish architect, structural engineer and sculptor Santiago Calatrava, and has won numerous awards. That's despite the construction costs ending up at almost double the original estimate.

Turning Torso. Photo © Justin Bown, imagebank.sweden.se
Copenhagen Harbour Baths
Fancy a swim in the heart of the Danish capital? As part of Copenhagen's harbour development, four harbour baths currently offer the opportunity for recreation and fun, thanks to dry-docks, piers, boat ramps, cliffs, playgrounds and pontoons. The best known of them is the bath at Islands Brygge, developed by JDS Architects and the renowned Bjarke Ingels Group (BIG), and completed in 2003. There are two children's pools, two 50-metre swimming pools, and a diving pool complete with one three- and one five-metre springboard.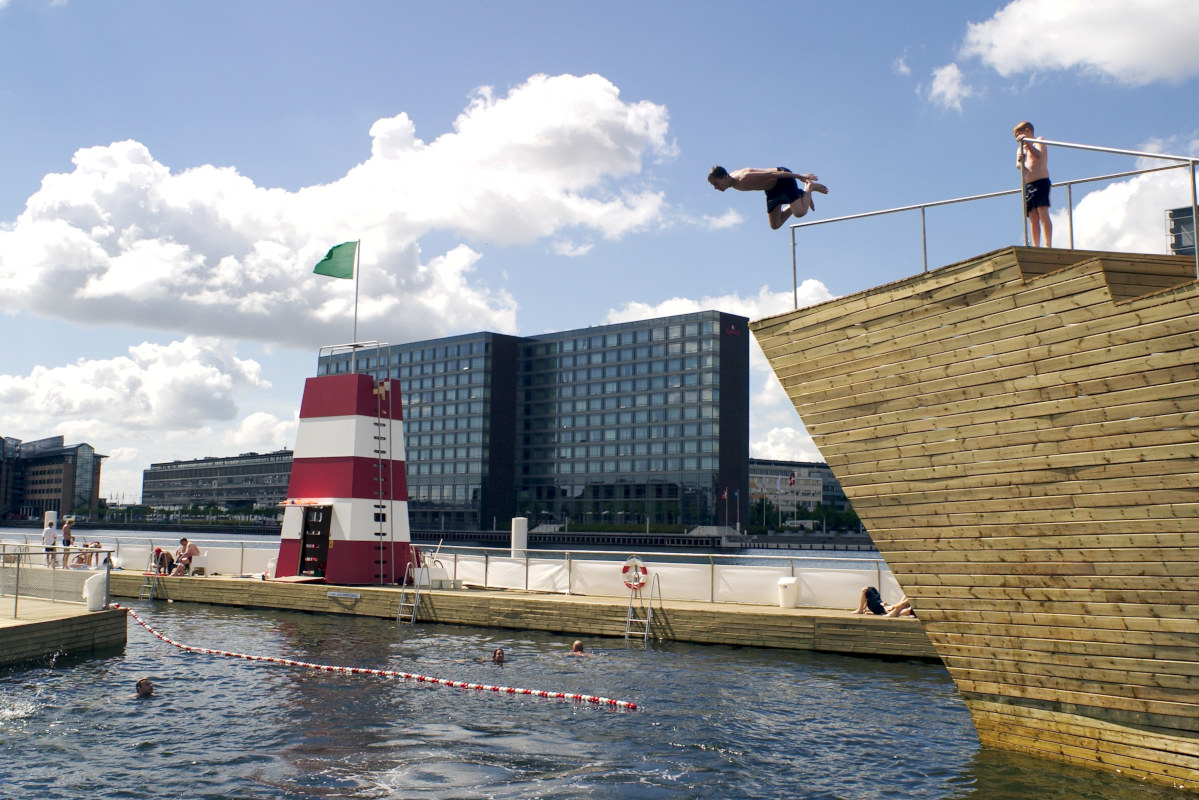 Copenhagen Harbour Baths. Photo © Nicolai Perjesi
The Cathedral of the Northern Lights
Nordlyskatedralen, or Alta Church, is something as simple as a parish church in Alta, Finnmark, way up in northern Norway. Designed by Kolbjørn Jenssen from Link Arkitektur in Stavanger, in collaboration with schmidt hammer lassen architects, and built in 2013 in a circular style, it features an eye-catching concrete structure clad in titanium sheets, with a large spiral and belfry reaching for the sky. The interior features work by Danish artist Peter Brandes, as well as gifts and donations from local companies, including the organ as well as a bronze figure of Christ.

Northern Lights Cathedral. Photo © CH, VisitNorway.
Copenhagen Opera House
Controversially donated to the Danish state by the A.P. Møller and Chastine Mc-Kinney Møller Foundation, the Copenhagen Opera House – or Operaen, meaning 'The opera' – is among the most expensive opera houses ever built, with construction costs exceeding 500 million US dollars. Designed by architect Henning Larsen and engineers Ramboll and Buro Happold and Theatre Consultant Theatreplan, it was completed in 2004 and opened the following January in the presence of Mærsk Mc-Kinney Møller, Danish Prime Minister Anders Fogh Rasmussen, and Queen Margrethe II.

Royal Danish Opera. Photo © Nicolai Perjesi
Villa Aalto
Villa Aalto was designed by renowned architect and designer Alvar Aalto to function as both a family home and his creative studio. The timber-batten-clad residential home with the white-painted brickwork office wing is now an iconic building, with clear functionalist streaks and hints of a new romantic functionalism. Located in Munkkiniemi, Helsinki, the villa is part of the Alvar Aalto Museum, the other half of which is Studio Aalto, situated a mere 450 metres away.

Alvar Aalto House. Photo © Juho Kuva
Svettekörka
In the harbour of Hisingen in Gothenburg, among old containers and cranes, a new neighbourhood is taking shape. Here, in the Jubileumsparken park, is a small sandy beach and, since 2015, a peculiar, unique sauna. Designed by the German architecture collective Raumlabor Berlin, the sauna has a façade constructed exclusively using recycled materials, and the walls of the changing rooms are made up of 12,000 recycled glass bottles. A short pier takes you out to the sauna – Svettekörka, loosely translating as 'sweat church' – which sits four metres above water and holds 20 people in total. In 2015, the project was nominated for the prestigious Kasper Salin Prize in the category for Sweden's Best Building.

Left to right: Svettekörka. Photo © Anna Hållams, imagebank.sweden.se | Svettekörka. Photo © Tina Stafrén, imagebank.sweden.se
Utzon Center
Dramatic, curved rooftops and tent-like spaces characterise the now renowned Utzon Center, designed by Jørn Utzon, the architect of the Sydney Opera House, with the aim of creating a space where young architects could meet and exchange ideas. Most rooms boast impressive views over the Limfjord, while the courtyards are sheltered from the wind. The building was completed in 2008, the year Utzon died, and today works as a cultural space for exhibitions, lectures and workshops on subjects surrounding design, architecture and art. In line with the architect's own vision, it is also a knowledge centre where emerging talents can meet and mingle with established professionals.

Utzon Center. Photo © Bang Clemme Film & Openhouse, VisitDenmark
Helsinki City Museum
Opened in May 2016, the new 11-million-euro guise of Helsinki City Museum was designed by architecture firm Arkkitehdit Davidsson Tarkela, boasting generous spaces across five former government office buildings, dating back to the 1750s, in the Finnish capital's Tori Quarters. Having stripped away old partition walls and false ceilings from the 1960s, as well as a set of stairs, the architects managed to connect the old buildings and provide access to all floors with a new lift. The mission of the museum – to record and uphold Helsinki's heritage, including the everyday lives lived in the city – is mirrored in impressively user-friendly exhibition spaces and free access, as well as the new entrance, which combines modern and vintage in an architectural expression of pure accessibility. A new visual identity complete with bespoke typefaces further unifies the different buildings and structures.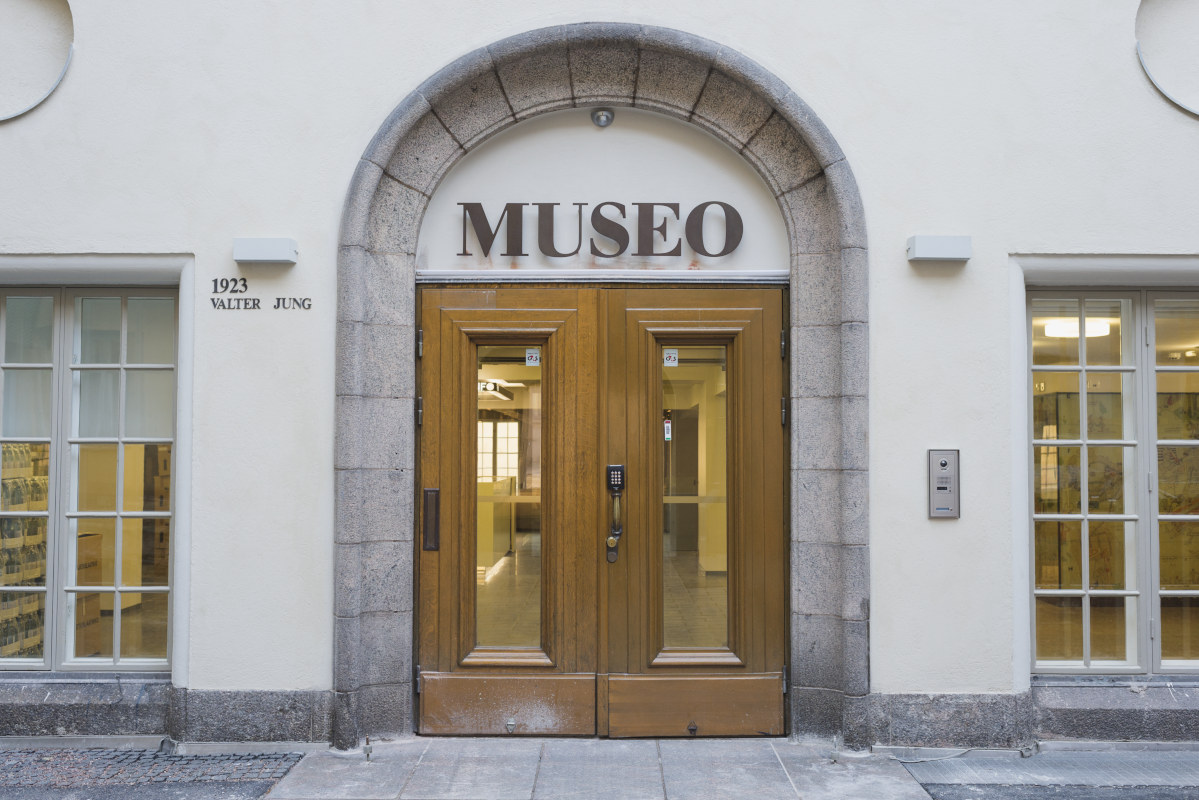 Helsinki City Museum. Photo © Juho Kuva
Kilden Performing Arts Centre
With the first stone during the construction works laid by Crown Princess Mette-Marit of Norway in 2007, Kilden Performing Arts Centre is an unusual project housing Agder Teater, Kristiansand Symphony Orchestra and Opera Sør, all under one roof. Designed by the Finnish firm ALA Architects and the Norwegian SMS Arkitekter, the 16,000-square-metre building in Odderøya, Kristiansand, is an architectural beauty, its huge, cantilevered roof clad in local oak and reaching out across the water.

Kilden Performing Arts Centre. Photo © Knut Arne Gjertsen, Foap, VisitNorway
Stockholm Public Library
Designed by Swedish architect Gunnar Asplund, Stockholm Public Library is the architectural pride of the Swedish capital. Having abandoned earlier ideas of a dome, Asplund opted for a rotunda, which has contributed to the library's recognisable features, including the well-known, curved walls of books, and is also thought to have inspired Charles Holden's design of London's Arnos Grove tube station. The library officially opened in 1928, with all furnishings designed specifically for their positions and purposes. The parkland to the south of the library was also designed by Aplund.

Stockholm Public Library. Photo © Jann Lipka, imagebank.sweden.se
The Black Diamond (The Royal Library)
The Royal Library, with its Black Diamond extension, is among the most significant landmarks on the Copenhagen waterfront. Its black granite and clean-cut lines stand in stark contrast to the historical surroundings, appearing almost as a huge, tilted, distorted box. The open interiors include – on top of the main functions of a library – a café, a bookshop, an exhibition room, a restaurant, scientific and literary institutions, as well as The National Museum of Photography, in addition to a roof terrace and a concert hall seating up to 600. Designed by schmidt hammer lassen architects, the extension has doubled the size of the library, accommodating more than 200,000 books now. A bright atrium divides the building in two while connecting the city with the sea and the old with the new. The glass façade is held up by iron girders weighing a tonne per metre, while each stone in the 2,500-square-metre black cladding weighs 75 kilogrammes.

Black Diamond. Photo © Nicolaj Meding
The Mirrorcube
A perfect cube measuring four metres in width, depth and height, The Mirrorcube is a tree room, part of Treehotel in the far north of Sweden, surrounded by mirror walls reflecting and blending in with the natural surroundings. Through the room grows a tree trunk, which has been enclosed by an aluminium frame, and while it looks from the outside as though the room is made of glass from floor to ceiling, the inside walls are covered in light plywood, with windows in three of them as well as the ceiling. The tree room features a double bed, a toilet and seating, as well as a hidden balcony. Getting there, however, means braving a suspension bridge. The Mirrorcube was designed by Bolle Tham and Martin Videgård.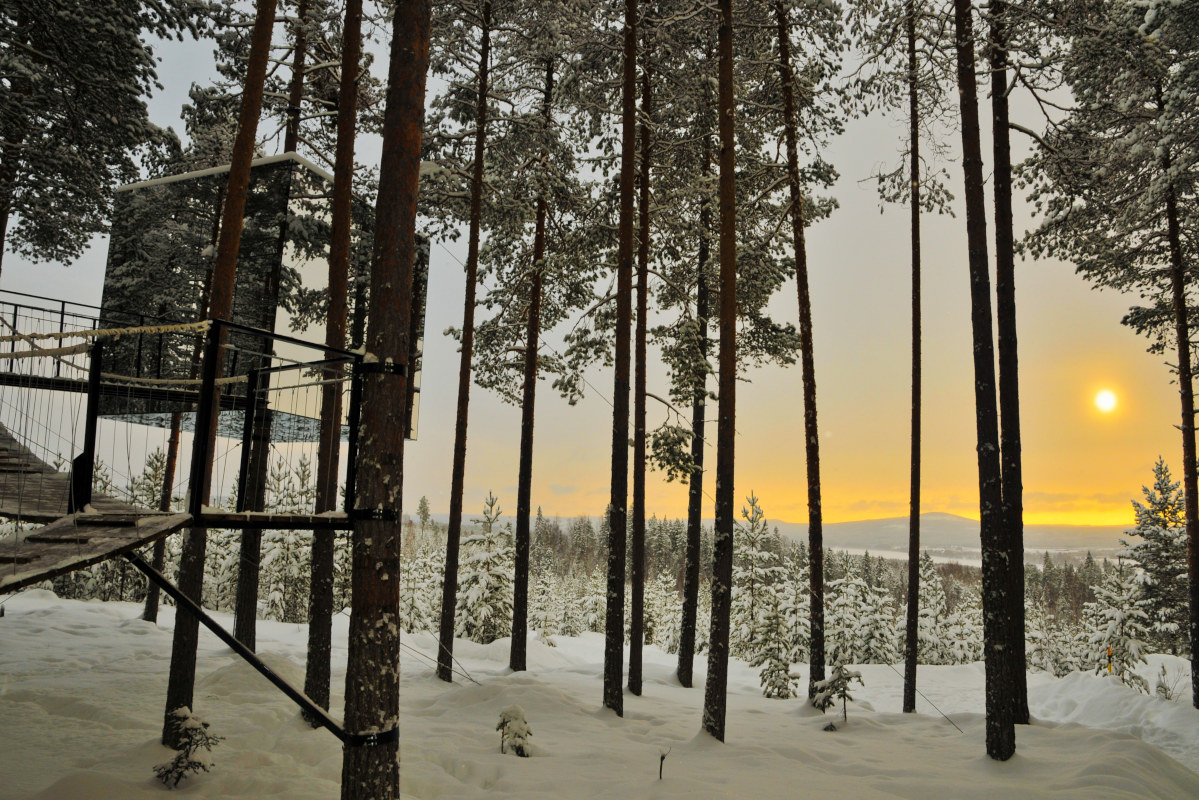 The Mirrorcube. Photo © Lola Akinmade Åkerström, imagebank.sweden.se
The Öresund Bridge
The Öresund Bridge – or Øresund, if you speak the language of Saga Norén's colleagues as opposed to Saga herself – is the now well-known 15.9-kilometre connection between Malmö and Copenhagen, completed in 1999 and opened in 2000. Featuring a motorway and double railway, the bridge carries an estimated 20,000 vehicles and 33,000 train passengers daily. It is 31.5 metres wide, made of steel and concrete, and consists of a 7.8-kilometre-long bridge structure with access roads and tunnels either side, parts of which the entire world has become very familiar with since the Nordic Noir TV series The Bridge became a global hit.

The Öresund Bridge. Photo © Jan Kofoed Winther