Kongsvingers Golfklubb: Time to swing!
By Eva-Kristin U. Pedersen | Photos: Kongsvingers Golfklubb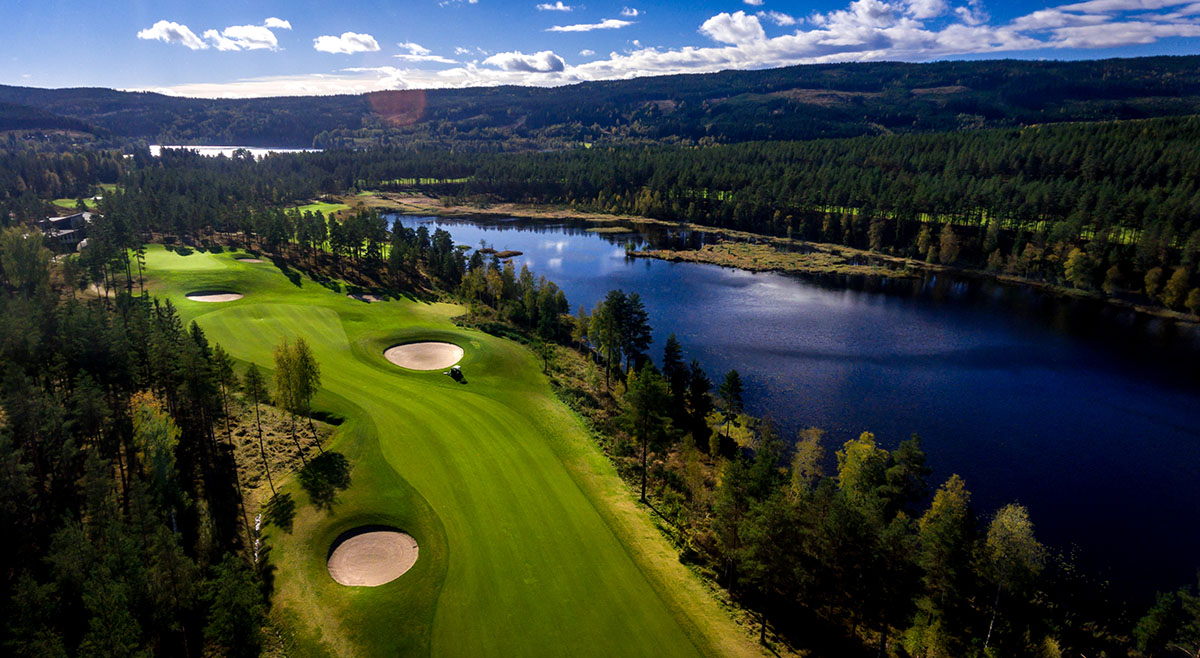 Do you want to hit a golf course while on holidays in Norway? Are you having a stopover at Gardermoen and would like to use it for something relaxing, recreational and fun? Or are you a devoted golfer looking for unique courses to try out your skill? Whoever you are, Kongsvingers Golfklubb has something to offer.
Golf might not be the first thing that comes to mind when you think of Norway, but the sport has had a major upswing in the country in recent years, fuelled both by successful athletes and by Norwegians' love for outdoor recreation.
Not even Covid put a halt to the growth of golf in Norway. On the contrary, since it was considered safe and Norwegians were allowed to practice it for most of the pandemic, golf has continued to flourish even in the past two years.
A unique spot
Although golf courses are scattered around most of Norway by now, one of the most popular destinations is in a small town in the eastern part of the country, Kongsvinger. "We are a small club in a big world, but what we can offer is truly unique," explains Daniel Larsson, administrative director at Kongsvingers Golfklubb, and points to the birch-tree adorned court, immersed in peace and quiet, and the all-encompassing Norwegian nature.
Together, the surroundings and the quality of the services offered have earned Kongsvingers Golfklubb the title of Norway's Best Golf Course, awarded by World Golf Awards no less than seven times, something Larsson is clearly proud of. "This is a small place, but our court is generally known to be a very good spot," he says and explains that they had over 7,500 visitors last year, well above the average for a Norwegian golf club. "It's not only the court – it is the entire package: the quietness, the nature, the services offered," he stresses.
A complete offer
Whoever you are, what your objectives are and what level you play at, Kongsvingers Golfklubb has something to offer. This small but professional and friendly club offers all guests a very special golf experience at very competitive prices compared to the more expensive alternatives in and around the capital, Oslo.
Besides the main court and the practice courts, Kongsvingers Golfklubb offers free equipment rental, changing rooms and shower facilities, a well-equipped pro shop and a meeting room for those who want to mix business with recreational pleasure. The club also boasts an on-site restaurant that seats 85 people, run by a local chef who serves dishes made of local produce.
Several instructors are also ready to give golfers, at all levels, quality lessons to improve their game.
Accommodation: from an old fortress to a forest cabin
To cater for all visitors, the club has also teamed up with different local hospitality spots to offer different types of accommodation that suits all budgets and tastes. Choose between the fashionable and historical hotel and the old Kongsvinger Fortress, typical Norwegian-style cabins in the forests catering for tourists, and budget hotels or camping.
"We've had guests from all over the world," Larsson smiles. He remembers in particular a Japanese couple who had a layover of several hours at Gardemoen airport and, rather than waiting there, rented a car, drove to Kongsvinger, rented equipment and enjoyed themselves on the golf course before they headed back to Gardermoen to catch their flight to Helsinki.
Precisely that proximity to Gardermoen, Norway's main airport, is another benefit of Kongsvingers Golfklubb. The drive is just over an hour, making it even easier for visitors to include a session on the court in their trip – or for those who come from other parts of the country to spend the weekend there.
"Booking is also fairly easy," Larsson explains in that friendly manner emblematic of smaller places. "You can book via our website or by calling us – or you can show up and hope for available spots."
A bright-looking future
The success of recent years has emboldened the staff at Kongsvinger, who are now planning to further expand their offer. They are updating their practice facilities to include a nine-hole course and are constructing a garage for golf carts.
For an outsider, Kongsvingers Golfklubb with its large stretches of green fields tucked in among birch trees and forests, undeniably seems like a wonderful place to spend a relaxing few days. It can even make those who have never golfed before want to try and have a swing of the golf club!
Web: www.kongsvingergolf.no Facebook: Kongsvingergolf Instagram: @kongsvingergolf
Subscribe to Our Newsletter
Receive our monthly newsletter by email