We love this… March 2019
Time to give your home an updated look with a few new additions? By getting a few statement pieces from the latest interior trends, maybe something as simple as a cosy pillow, a cool coffee table or some striking wall art, your home will feel fresh and ready for spring.
Terrazzo (top image) has recently become a popular pattern and a huge trend among interior lovers worldwide. Get the Scandinavian look and be in with the trendy with this beautiful Verde coffee table by Woud. Danish designer Rikke Frost has created a timeless and simple look with a focus on colours, details and function, to provide a sense of a solid design. The terrazzo details give the table a playful and organic feel.
Woud, 'Verde' table, £1,370
Like birds feathering their nests with tiny twigs, us humans wing home with cards, keys and other small items in our pockets. Quick and easy storage solutions help keep these items at hand, which is why Nest by Norwegian brand Northern provides a container and a coat hook all in one. This clever wall hook and storage is available in five colours and, like a nest in nature, blends into its surroundings.
Northern, 'Nest' wall hook & storage, £39 (left image) Paper Collective, 'Mother' by Peytil, 30×40, £25
Paper Collective, 'Mother' by Peytil, 50×70, £45 (right image)
A great way to add something new to your home is by hanging up a new print on the wall. We love this simple artwork portraying the silhouette of a mother and her children, by the graffiti-inspired artist from Stockholm, Peytil ,who explains: "I was painting a woman's face and noticed how the lines resembled the profile of a child's face on the opposite side. It made me think of how we're shaped by the ones we love and I wanted to paint it all in one."
Saana Ja Olli, 'Onnenma' cover, approx £60
Saana Ja Olli, 'Onnenma' cover with inside pillow, approx £69
Another trend this season is bold, minimal graphic line drawings, and this 'Onnenma' cushion by Saana Ja Olli will look great on the sofa in any Scandinavian-style home. Featuring an organic pattern formed by human figures, plants and other elements of nature, painted loosely with brushstrokes, it is made from durable, European, 100 per cent hemp fabric and manufactured transparently in Finland. The print is also available as fabric by the metre, if you want to get creative.
store.saanajaolli.com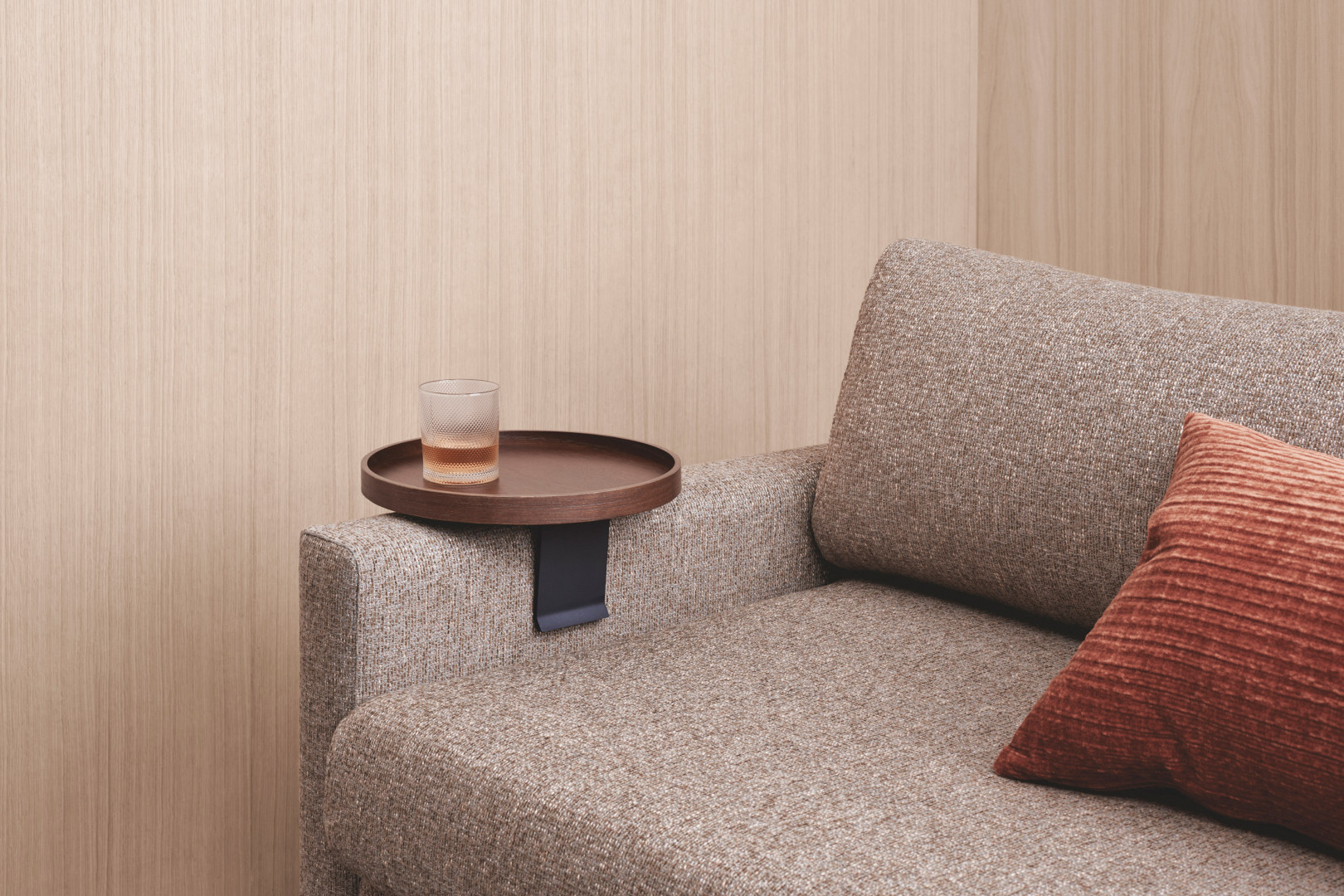 Bolia, Sunday tray Ø30, £99
Pimp your sofa with a new accessory. Sunday is a tray that has been tailor-made to hang on the armrest of your sofa and make your Sunday that bit more fun. The tray is designed by Sanna Völker for Bolia and fits an armrest measuring between 15.5cm and 22cm, creating a cosy hygge spot for you to enjoy your coffee and everything that goes with it, without ever leaving your sofa.
TEXT: INGRID OPSTAD | PHOTOS © PRESS PHOTOS
Subscribe to Our Newsletter
Receive our monthly newsletter by email