ABBA: A voyage into the unknown
By Karl Batterbee | Photos: Universal Music Group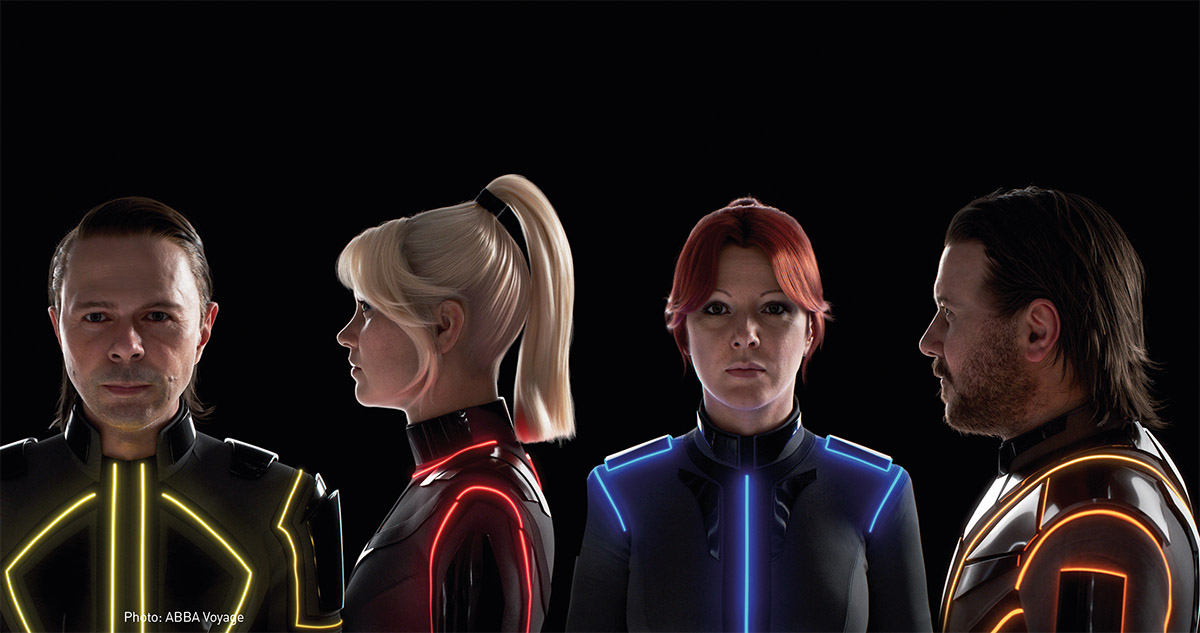 Next month, on 11 December, it will be 39 years since ABBA last performed together as a group – on The Late Late Breakfast Show, which was broadcast in the UK via satellite from a studio in Stockholm. However, contrary to what has for decades been considered a done and dusted conclusion, the Swedish foursome won't be unceremoniously stumbling over that 40-year milestone of inactivity on the stage. Because a mere six months from now, Agnetha Fältskog, Benny Andersson, Björn Ulvaeus and Anni-Frid Lyngstad will be appearing before thousands of concert-goers once more, albeit sending forth digital versions of themselves to do the heavy lifting.
On Friday 27 May next year, the ABBA Voyage concert experience will kick off at a purpose-built venue at the Queen Elizabeth Olympic Park in London, officially called ABBA Arena. The question on most people's minds is regarding what exactly this concert will entail. We know that ABBA will be represented on stage by their own 'ABBAtars' (a playful pun that has been far too perfect for the global press to avoid, and which has inevitably stuck, whether the band wanted it to or not) – but just how ABBA are these avatars?
It's a set-up that's been a long time in the making. The digital versions of ABBA have been created following months of motion-capture and performance techniques with the four band members and an 850-strong team from Industrial Light & Magic, the company founded by George Lucas. As the group said in a press release to accompany the announcement: "We have infused a good deal of our souls into those avatars. It's not an exaggeration to say that we're back."
So we know that we'll be watching the actual movements of ABBA, carefully incorporated into the digital guise of their younger selves, but what would we be listening to, should we be attending one of these shows (as if there's even a doubt in anyone's mind that they'll be going along to at least one)? The band has indeed been singing together again, for the recording of the Voyage album: their ninth studio album, which was released at the start of the month. But for the live shows, they've opted to give the audience ABBA at their very best. "The vocals are original band recordings backed by a live ten-piece band on stage," revealed the foursome in a recent Twitter Q&A. Björn summed it up quite well more recently, when discussing the inclusion of an old demo, Just A Notion, on the new album: "Benny has recorded a new backing track to which we've added drums and guitars, but all vocals are from the original 1978 tracks. In a way, it demonstrates what we plan to do with ABBA Voyage in 2022. There, we will have a live band playing, but all vocals will be from the old recordings."
A concert experience above and beyond
With that in mind, it seems as though we'll be getting a concert experience that's eerily similar to that of the band's live shows back in their heyday – a chance for those of us who weren't around the first time to attend a gig by the all-time greats, but also a great opportunity for those who were around to go along and relive it. The show's producer, Ludvig Andersson (Benny's son, so you know he's going to be doing a splendid job), believes that we shouldn't be concerning ourselves with how close the experience will be to what it was in the '70s. Speaking to Variety in September, he said: "I don't think that's the way to look at it. I mean, it will be incredibly close – it will be as close as it's possible to get. But this is more than that. I don't think you will come and feel you're getting close to something, you'll feel like you're going past something and out into space."
In any case, people's expectations, concerns or general bewilderment about the set-up haven't dampened their enthusiasm for it. Within minutes of the tickets going on sale in September, the website crashed due to high demand. And what was originally announced as a three-month run was just a few weeks ago extended by a further three months. Though it's fair to assume that, with a purpose-built arena having been brought into the equation, plans for this ambitious endeavour won't be halting at just six months. Rather, the possibilities for something like this seem only to be limited by one's own imagination. Certainly in the more realistic realm of looking at it, considering only the basics like potential setlist rotation, ABBA Voyage looks set to be a destination event for the world's population for several years to come.
"Every day brings a new set of nightmarish problems, but we overcome them!" admits Ludvig Andersson. "It's an adventure, to say the least." The band members themselves, meanwhile, are so excited about what's to come that they have spoken out about it with an enthusiasm that is refreshingly out of line with what might be expected from a band at their age, who have purposely avoided the spotlight for so long, and also so untypical of the more reserved Swedish manner of speaking about one's own ambitions: "We simply call it Voyage, and we're truly sailing in uncharted waters. With the help of our younger selves, we travel into the future. It's not easy to explain, but then it hasn't been done before."
And with that, one of the biggest bands of yesteryear have returned to usher in what could well be the start of a new chapter for live music. As they innocently trilled back in 1974 when they introduced themselves to the rest of the world: "The history book on the shelf, is always repeating itself."
Web: abbavoyage.com
Subscribe to Our Newsletter
Receive our monthly newsletter by email