Alex & Phil: The proof is in the porridge
By Pia Petersson | Photos: Alex&Phil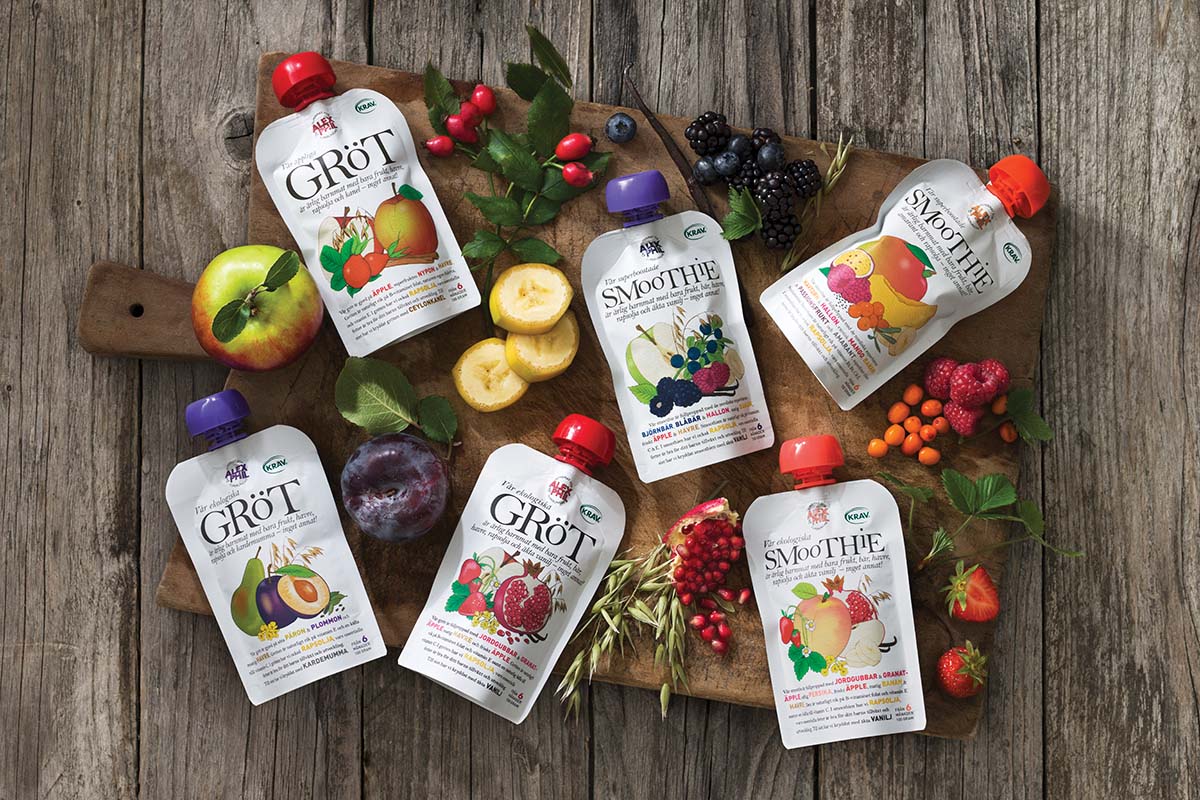 A nyone who has ever, or is currently, trying to introduce a baby or toddler to good food and healthy eating habits knows how hard it can be. Any help is hugely welcome, especially if it comes in the form of nutritious, variable and tasty food. Alex&Phil is changing the market of ready-made meals for children, one yummy pouch at a time.
With a background as a human rights lawyer and a diplomat at the Swedish Ministry of Foreign Affairs, Jenny Wessblad Hårdh is not the most obvious entrepreneur in the world of baby food. "Even though I'd always had a great interest in food, I had no experience from the food industry when I started Alex&Phil. In a way, I think it has been advantageous since I entered the industry with no idea of what's possible or customary. Instead, I've set our requirements specifications based on what I want to achieve – creating first-class baby food that's nutritious, without additives – unlike how others in the industry work," Wessblad Hårdh begins.
The secret recipe
Like so many other great ideas, Alex&Phil was born out of a realisation that there was something missing on the market – namely genuinely natural, good and nutritious ready-made meals for small children. "I started Alex&Phil because I couldn't find any baby food of such quality that I'd like to eat it myself. For the same reason, I didn't want to give it to my child. I simply thought it was wrong that the baby food available didn't taste, smell or look like real food," Wessblad Hårdh explains.
Along with a range of fruit- and berry-based porridges and smoothies, Alex&Phil also includes tasty meals such as cod, chicken, vegetables and several vegan meals with good protein sources, something that is brand new in the baby food business.
So, what is it about this brand that makes it stand out from the crowd? To begin with, Alex&Phil food does not contain rice, rice flour, juice concentrate, sugar or salt, and it's produced with the nutritional needs of small children in mind. For the same reason, all smoothies and porridges contain rapeseed oil, which is full of essential fatty acids such as Omega-3 – crucial to growth and development in children. "In addition to rapeseed oil, we always combine fruits and berries with oats, amaranth or quinoa to maximise nutrition," says Wessblad Hårdh.
All the Alex&Phil smoothies, porridges and meals have significantly higher nutritional values than their competitors, both in terms of energy and protein. "It may sound simple, but we're changing the whole baby food industry with our specific focus on natural, nutrient-dense baby food without additives and concentrates," Wessblad Hårdh points out.
Social responsibility and green production methods
The fact that Wessblad Hårdh has a background in human rights shines through in the way she runs her company. "We think it's vital to do more than to run a super-premium brand; we also want to help children in need. To achieve this, for each package sold we give roughly €0.05 to SOS Children's Villages, to help children in need in the Central African Republic," Wessblad Hårdh emphasises.
Along with a growing worldwide demand for socially responsible companies, Alex&Phil has made sure to produce C02-neutral products. "Environmental work is important to us, and we always want to be at the forefront when it comes to new packaging solutions. Therefore, we've just launched plant-based packaging for our porridges and smoothies, and we'll continue to switch to the most sustainable packaging available on the market," says Wessblad Hårdh.
Parents and children
Finally, Wessblad Hårdh adds: "We tried to have children for many years before we finally succeeded. We are, of course, far from alone in having had to go through this. Essentially, I believe that all parents want to do the very best for their children, once they're born. This is the philosophy behind Alex&Phil, and that's also the reason why the company is named after our two boys, Alexander & Philip," she finishes.
Web: alexphil.com Facebook: alexphil.se Instagram: @alexphil.se
Subscribe to Our Newsletter
Receive our monthly newsletter by email