Alingsås: The capital of fika –with a whole lot more to offer
By Hanna Andersson
Alingsås is a small town in the western part of Sweden, about 45 kilometres east of Gothenburg, and is known to the rest of the world as the capital of fika. The town has a long fika and café history, which is still prominent in the town's traditions and ways of living. The concept 'shop and fika', meaning that you stop for some coffee or tea and, for example, a cinnamon bun when you are out doing your shopping, is still a common and popular thing.
"The fika tradition started in the 18th century. Alingsås was industrialised early, and women had to go and work in the factories. They didn't have time to stay at home and bake for the men anymore, and a number of local bakeries opened up, creating this long-standing tradition," says Frida Rydenskog, tourism coordinator in Alingsås.
The Fika Tour
Because of the town's many cafés and love of fika, the Alingsås Tourism Association has created the very popular 'Fika Tour'. On this tour, the participants are taken on a guided walk through the town, visiting popular cafés and hearing about the history. The tour includes, among other things, a visit to the oldest café in town, which is still up and running, as well as a sit-down fika session at Grand Hotel. The baked goods you'll enjoy during the tour include classics such as cinnamon buns, a Swedish smorgasbord, and 'sju sorters kakor' – or 'seven kinds of biscuits' – a tradition from the late 19th century, which indicates how many different biscuits it was considered appropriate to offer your guests.
"The pastries are made by local bakeries, which guarantees a high quality. Three of the cafés you visit on the tour are listed in the White Guide, and the common thread is definitely Sweden: Swedish classics and Swedish craftsmanship. After the tour, you'll have not just tasted some delicious pastries, but also learnt a lot about the Swedish way of life," says Rydenskog.
"If you want to learn even more about the Swedes, there's a concept called 'meet a local', where you can meet up with one of the locals and join them for a hike with their dog, maybe cook some typical Swedish food, or just have a chat over a fika," she adds. "It's a lovely way of sharing our culture and traditions."
After the fika tour, you might wonder what the Swedish small town, with around 40,000 residents, has to offer. The answer is: a lot more than you might think.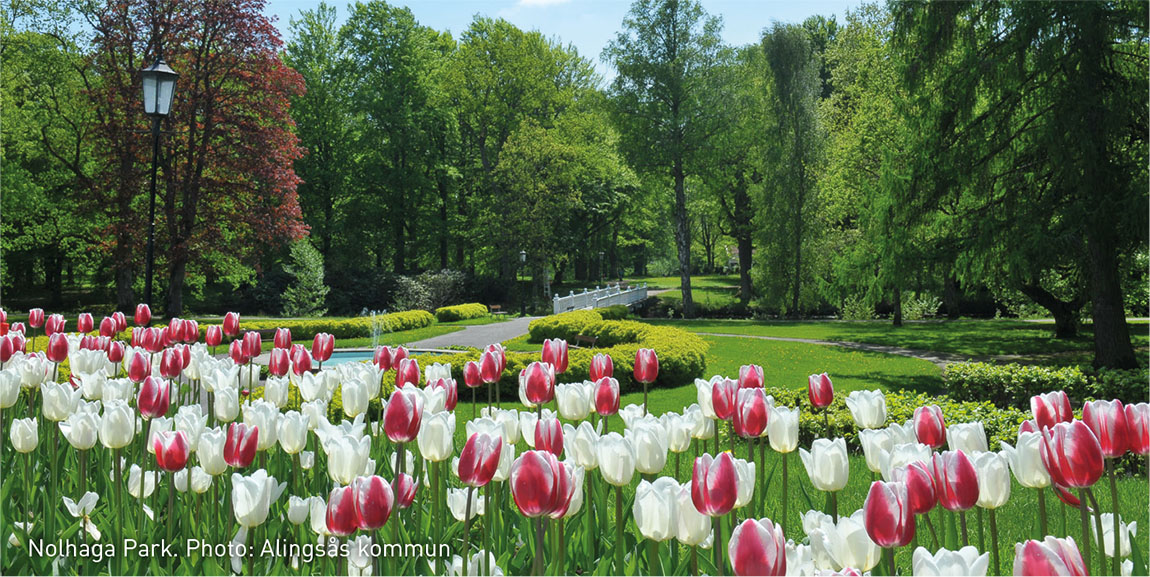 Parks full of history and beauty
In Alingsås, you'll find two of western Sweden's most beautiful parks: Gräfsnäs Park and Nolhaga Park. Gräfsnäs is an old park located 20 minutes north of Alingsås town centre by car. It features beautiful flowers, old oak trees, and a castle ruin – the remnant of Gräfsnäs Castle, built in the middle of the 16th century. Here, you can join a guided history tour or take a trip on the old steam train, which is still in use during the summer.
"Gräfsnäs Park is the most visited destination in all of Alingsås municipality. It has something for everyone and offers multiple events and happenings throughout the year. You can go on history tours, celebrate midsummer, or go swimming in lake Anten," says Rydenskog.
Nolhaga Park is located in the town centre and features the beautiful Nolhaga Castle. The castle is of Italian Renaissance design, and its surrounding park is in English style with romantic bridges and several ponds and playful streams. The castle is also home to a number of art exhibitions, hosting both local artists and long-running exhibitions.
"The locals hang out here on sunny days, and there is a big playground, cafés, and a disc golf course available to everybody. At the top of the hill, there's a lookout tower from World War II with amazing views over the town," Rydenskog continues. "The lake Mjörn is close by, and on a hot day you can go for a swim at the nearby beach."
Take a hike if you'd like
The nature in and around Alingsås really is stunning, and to make the most of it, many decide to visit the 71-kilometre-long Gotaleden – a hiking trail that runs all the way from Gothenburg to Alingsås. The trail leads you through four municipalities and lets you enjoy the beautiful Swedish nature.
If you want to do the full trail, it will take you around three days, and there's a selection of places where you can eat, sleep or rest along the way. If you don't fancy that long a hike, the trail is divided into nine smaller sections, which make perfect day trips. The trail is also designed to be sustainable and connects to local railway stations to minimise the need for a car.
"The trail and other sustainable tourist destinations in western Sweden were mentioned in The New York Times list of places to go in 2020. Gotaleden also connects to several cafés in Alingsås, to make sure that you either start with some energy before the hike, or finish with a relaxing and very much needed fika break," says Rydenskog.
It seems, after all, like all roads really do lead to fika.
Web: www.vastsverige.com/alingsas Facebook: upplevalingsas Instagram: @upplevalingsas
Subscribe to Our Newsletter
Receive our monthly newsletter by email