ALUKIN aluminium boats, for an easy, breezy and beautiful life at sea
By Astrid Eriksson | Photos: Magnus Liam Karlsson
In Scandinavia, owning a boat and heading out on the open waters is a utopia nurtured by a rich wildlife and coastal tradition. However, owning a boat is a lot of work and maintenance and can be somewhat of a nightmare unless you devote all day every day to, what is for many a time consuming hobby. Until now, that is. ALUKIN Aluminium Boats has the solution for a fun, easy and breezy life on-board of what is sure to become your favourite possession.
"It started when Peter and I moved from Stockholm to Roslagen in order to live closer to Åland, where we spend our free-time and summers," explains Maria Nikula, co-founder of ALUKIN Aluminium Boats. "We both grew up in the archipelago and used to say that we were born with one foot already in the sea," she says with a laugh. "Therefore boat life was a big part of our upbringing and has since been a big part of how we chose to spend our time."
When time came for the Nikula's to purchase their own boat they knew exactly what they wanted. "We were looking for very specific features and characteristics both in functionality and performance and realised that it was very difficult to find," Maria says. "So we decided to build one ourselves."
Seaworthiness and functionality
What Maria and Peter created was an endurable and functional boat model, with splendid seaworthiness in the entire speed range. "We wanted a boat that had a reliable and sturdy hull, in addition to being a pure joy to navigate in all weathers and speed, and that's what we ended up with." Indeed, ALUKIN boats are fast and smooth with a soft navigation no matter the sea conditions.
Essential to a boat of this calibre is a rigid hull with the exact right balance and a good construction in every single, tiny detail. With reliability and functionality as their top priorities, Maria and Peter made aluminium their material of choice.
"There are many benefits with aluminium," Maria says. "When it comes to endurance and low maintenance in a marine environment, aluminium is as good as it gets." Aluminium is also good from an environmental perspective as it demands much energy in its development, but makes up for it in being completely recyclable, unlike many other boat materials which can be a bit of a nightmare to part with in a way that benefits nature.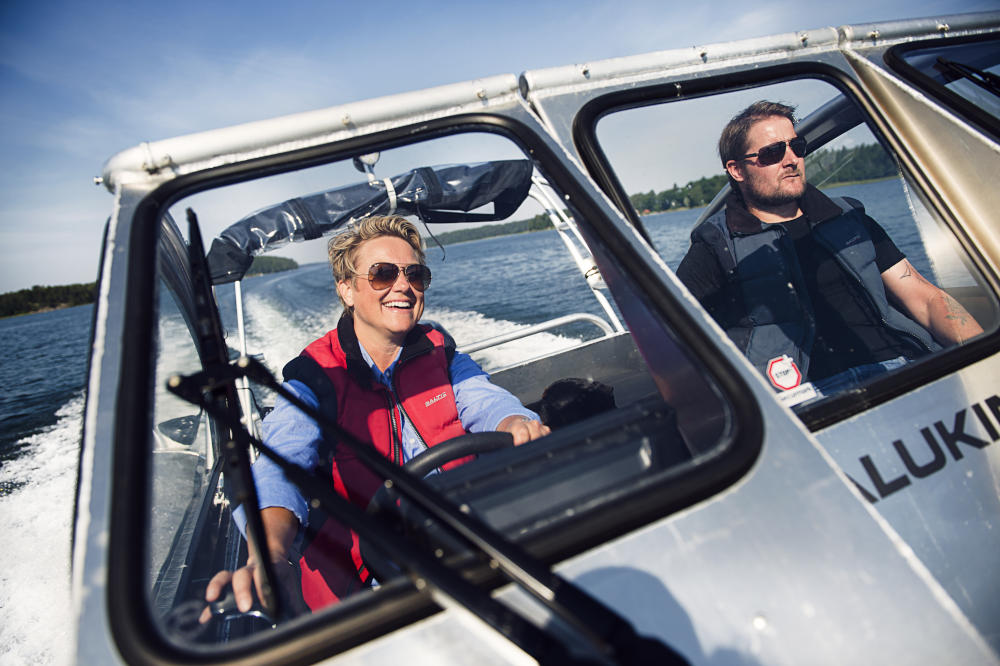 A unique business model
ALUKIN's business model is unusual in the boat industry. Refraining from the usage of middle men and resellers, they effectively eliminate a step in the process of purchase that often leaves the end customer without the entire picture. "We are not keeping anything from the customers," Maria explains. "By dealing with them directly we grow quite close. Customers are invited to oversee the building of their boat through every step of the way via social media or physical visits to our production site in Roslagen. Nothing is being kept from the soon-to-be boat owner, which builds up a trust and a security in that everything is being done right, to the highest of standards and according to the customer's wishes." Another step in ALUKIN's successful business model is to make costumers act as ambassadors of the boat company. This increases accessibility and opens more people's eyes to the benefits and joy that is ALUKIN Aluminium Boats.
A local and honest production
ALUKIN Aluminium Boats are produced by the company Marinteknik i Norrtälje AB, which is situated in Roslagen, in the northern parts of Stockholm's archipelago. While many big boat manufacturers look towards a far-away production scheme in order to cash in on cheap labour and material, ALUKIN has chosen the home-bound alternative.
"Having a local production means 100 per cent overview of the entire process," Maria says when asked if it wouldn't be more profitable to place the manufacturing abroad. "We have shown that it's possible to profit financially through our business model, which differs from the competition."
Pride and joy in product, production and working conditions
"We love our boats and production in Roslagen," she continues. "The 'Made in Roslagen' sign is placed on all our boats. It is a trademark that equals quality, control though the entire process, security, safety and good working conditions. Placing the production in Sweden ensures that laws and rights are being obeyed and upheld."
The future is looking bright for Alukin and as the business grows each day, the ambition to keep the impeccable customer service and high-quality production the company is known for and proud of today remains. "We want to keep providing a simple, carefree sea-life, just like we are doing today," Maria says enthusiastically. "We look forward to expanding in a pace that won't compromise our customer service the way we do business and, of course, the quality of our sustainable aluminium boats."
For more information, please visit www.alukin.se
Subscribe to Our Newsletter
Receive our monthly newsletter by email