Arkitema: The invisible building
Text: Signe Hansen | Photos © Arkitema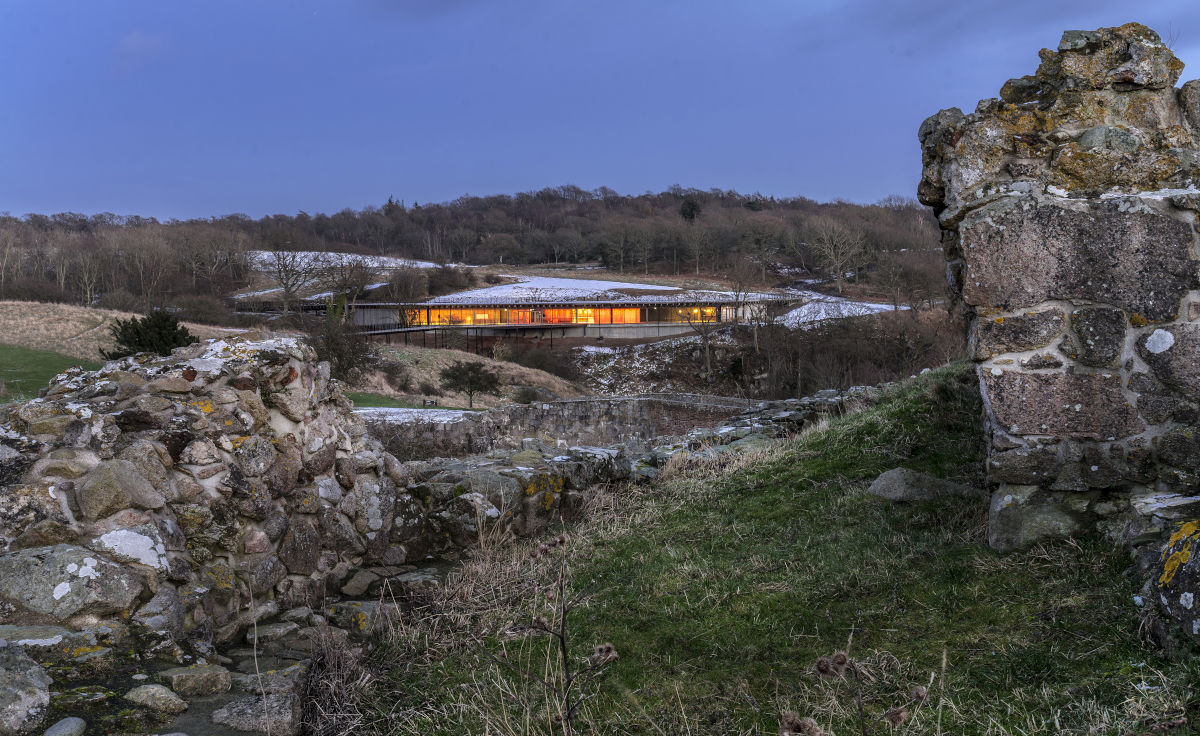 Tucked into the cliffs facing northern Europe's largest and arguably most beautifully located castle ruin, the new visitor centre for Hammershus is hardly noticeable. Yet, for architecture fans, the invisible building, which is shortlisted for the World Architecture Festival, is worth a visit in its own right.
Located on the small Danish island of Bornholm, Hammershus is surrounded by a spectacular rocky and hilly landscape. The unique Danish scenery was the starting point for Arkitema's design for the new visitor centre. In collaboration with Professor Christoffer Harlang, the architecture firm has designed an aesthetically elegant but unassuming building wedged into the cliffs. One of the building's most distinct, yet virtually invisible features, is the roof, which forms part of the hilly landscape and the path to the ruin. This means that when walking up to Hammershus, the centre stays invisible to visitors, who might even end up standing on top of the building without noticing.
"We've chosen a useable roof to highlight the visitors' experience of the landscape and to play down the appearance of the building as they approach the centre. This way, the roof becomes a natural part of the surrounding path system, rather than a disturbing element in the landscape experience; when you stand there, you get that feeling of just melting into the whole scenery," explains senior partner in Arkitema, Poul Schülein. "It's been important for us to create a dynamic landscape, which gives visitors multiple opportunities to experience the natural surroundings and the historical ruin, instead of just walking straight into the visitor centre."
When the centre opened last spring, it was met with glowing reviews in national papers, and received the Builders Guild Award 2018. Following this, it has also been shortlisted for the award for completed display buildings at the World Architecture Festival.


A place to learn
Designed with simple lines, inner and outer walls of raw concrete, and high-quality materials − including local oak from Bornholm − the new visitor centre forms a warm and inviting contrast to the medieval castle ruin. Inside the building, visitors will find modern spaces for storytelling, a café, and direct views of the ruin. "The focus has been on creating a warm and inviting space to communicate and share the story of this iconic ruin; that's very much at the heart of what we do as an architecture firm. It's the same focus we have when we design schools and other educational facilities – almost every Danish pupil will visit Hammershus at some point and in that way, our strong values and experience in regards to creating learning environments are reflected in this building too," explains Schülein, and rounds off: "What's different is that we've designed the building to attract as little attention to itself as possible – it's all about enhancing the visitor's experience of Hammershus."
Facts: Arkitema Architects was founded in Aarhus in 1969 (then named Arkitektgruppen Aarhus). Arkitema Architects employs more than 500 people in offices in Copenhagen, Aarhus, Stockholm and Oslo. Daylight, open spaces and clear lines play a significant role in Arkitema's work, as does the focus on sustainability and nature. Arkitema is a full-service firm specialised within the areas of living, working, health, learning and urban. arkitema.com
Subscribe to Our Newsletter
Receive our monthly newsletter by email