Arvid Nordquist: Great taste, quality and sustainability – all in one cup of Swedish coffee
By Kristine Olofsson | Photos: Jesper Florbrant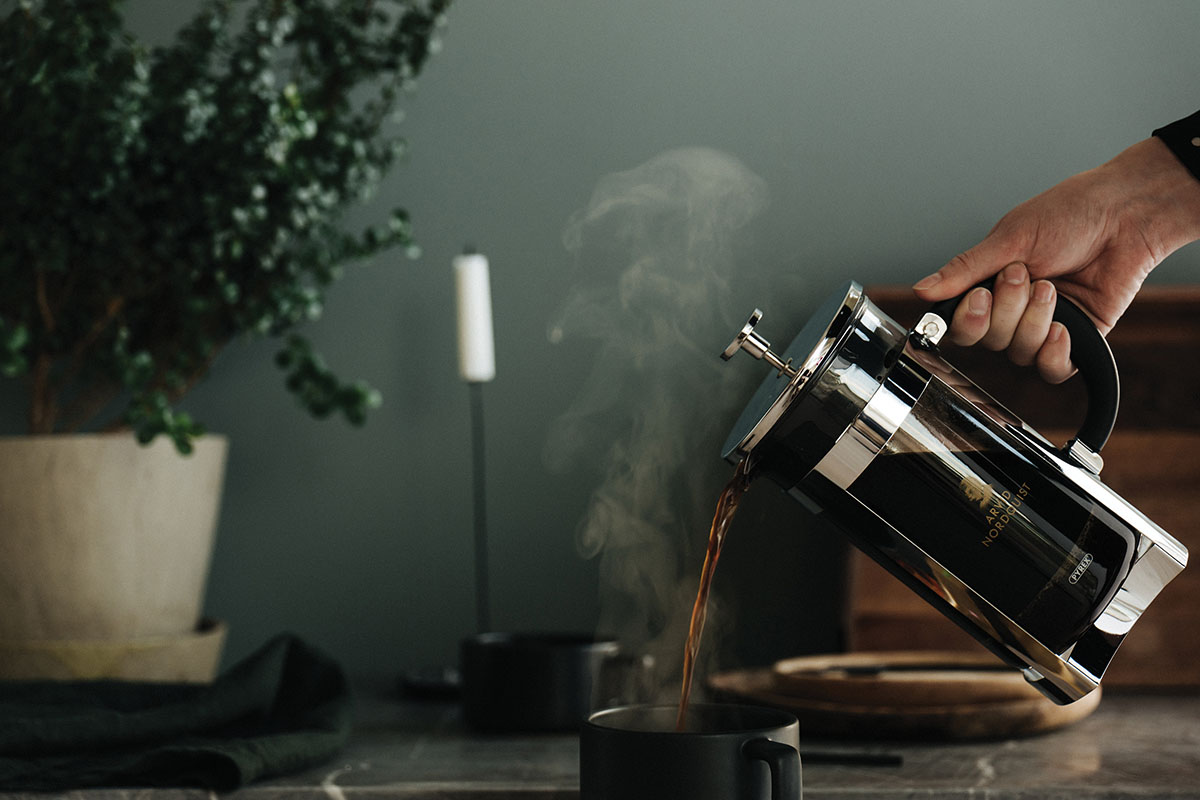 T he story of the manufacturer behind one of Sweden's most-loved coffee brands begins in a small delicacy shop on Nybrogatan in Stockholm, Sweden. It was 12 September 1884 when Arvid Nordquist himself, after several years as a clerk behind the desk, had saved enough money to buy the little shop and brand it with his own name. A lot has happened since then, but Arvid Nordquist still produces high-quality coffee with delicious taste, while ensuring that the process from bean to coffee cup is sustainable and carried out with complete commitment to both people and the environment.
Arvid kept the shop and the little family business as neat as himself — each thing in its own place, with busy personnel roaming around in newly starched shirts and dark suit jackets. This immaculacy was also clearly reflected in the quality and flavour of the products. It didn't take long before the 26-year-old and his shop were well established, with a solid base of frequent clients.
A large milestone that cemented the product excellence was reached in 1907, when Arvid Nordquist became a royal court supplier, an honourable relationship that is ongoing to this day. The eye for detail, passion, entrepreneurship and pride that go into the products haven't changed since then.
The Classic coffee launched in 1962 and is today known as Arvid Nordquist Kaffe. The company has been family-owned since day one and is now run by the third generation, led by CEO Anders Nordquist, who brings the tradition of high quality forward, with heavy emphasis on sustainability.
Sustainable beans for a great taste experience
"The great taste of Arvid Nordquist's coffee always starts with the selection of the beans. Coffee should taste good. That's why we only use the finest beans, with a rich and complex flavour, grown in the best conditions," says Wilhelm Nordquist, purchasing director, coffee dept. Quality and flavour are in focus when selecting the 100 per cent top-class Arabica beans, famous for their strong, yet sweet and fruity flavour.
The company was the first coffee roastery in the Nordic countries to secure a production that uses exclusively sustainably certified coffee beans. "When you buy sustainably certified coffee, you know that there are systems, training and a third party controlling that all criteria are met in order to minimise the risk for unsustainable methods. The certification also means that we pay the coffee farmers more – money that helps them develop their agriculture and create a better working environment for their employees," explains Nordquist.
The result is fairly produced, high-quality coffee beans transformed into coffee that consumers can enjoy with a clean conscience. "Great taste has always been in focus at Arvid Nordquist. However, the taste experience today is not limited to our taste buds. More than ever, we eat and drink with our conscience, which simply gives coffee produced with care a better taste," says Jenny Nilsson, head of marketing, Nordics.
Climate compensation through tree planting
Global coffee production is threatened by climate change, pollution and labour shortages, with the risk of coffee becoming more expensive and tasting worse in the future. "We are determined to offer the highest-quality, responsibly grown and ethically traded coffee, to create a better future for coffee farmers and a stable climate," says Erica Bertilsson, sustainability director at Arvid Nordquist.
"When enjoying our coffee, you should feel confident that you made a good choice, from a taste, people and environmental perspective. We actively work to reduce climate emissions throughout the value chain by only buying 100 per cent sustainably certified beans, roasting them in a fossil fuel free way, and using packaging containing 70 per cent plant-based plastic. We also have a growing assortment of organic coffee. For the climate emissions that remain, we compensate by planting trees in coffee-growing countries. The trees counteract global warming and contribute to poverty reduction," says Bertilsson.
Grown by women
Part of Arvid Nordquist's sustainability work is an initiative that improves living conditions for female coffee growers and their children. An important part in the battle against poverty is to involve women more in the economy and labour market. With this being one of the UN's development goals, Arvid Nordquist pulls its weight with the project Grown by Women and the coffee AMIGAS — made from beans from coffee farms run by women. The concept supports female coffee growers in the long-run by signing longer-term agreements and enabling and helping them to plan their businesses and educate themselves in agricultural practices, such as pruning and investing in the right type of fertilisers for the crops.
"70 per cent of the world's coffee is grown on small family farms, often in poor countries affected by civil war. Women often do a great deal of this work, but without earning enough to live a decent life. Grown by Women helps to improve these women's living conditions," says Bertilsson.
Web: arvidnordquist.com/coffee
Subscribe to Our Newsletter
Receive our monthly newsletter by email