Austmann Bryggeri: Over the horizon
By Andrea Bærland | Photos: Marta Øgaard
Atthe end of the eighth century, the beginning of the Viking era, there were men who had a burning desire to head west towards the horizon to see what was beyond. Even though they were taught that the world was flat, and that they would fall off the face of the earth, they just had to get on their boats to explore the boundaries for themselves.
"We had a similar urge for adventure when we wanted to start a brewery. The thought of starting our own craft beer brewery was the dream that kept us awake at night," says Thomas Sjue, co-founder and marketing manager at Austmann Bryggeri.
And start a brewery they did, but naturally nobody with sound economic judgement wanted to take the gamble on three young men trying to start a brewery. "We visited all the banks. In our shortest meeting I didn't even get the opportunity to taste my coffee before our proposal was declined," Sjue says.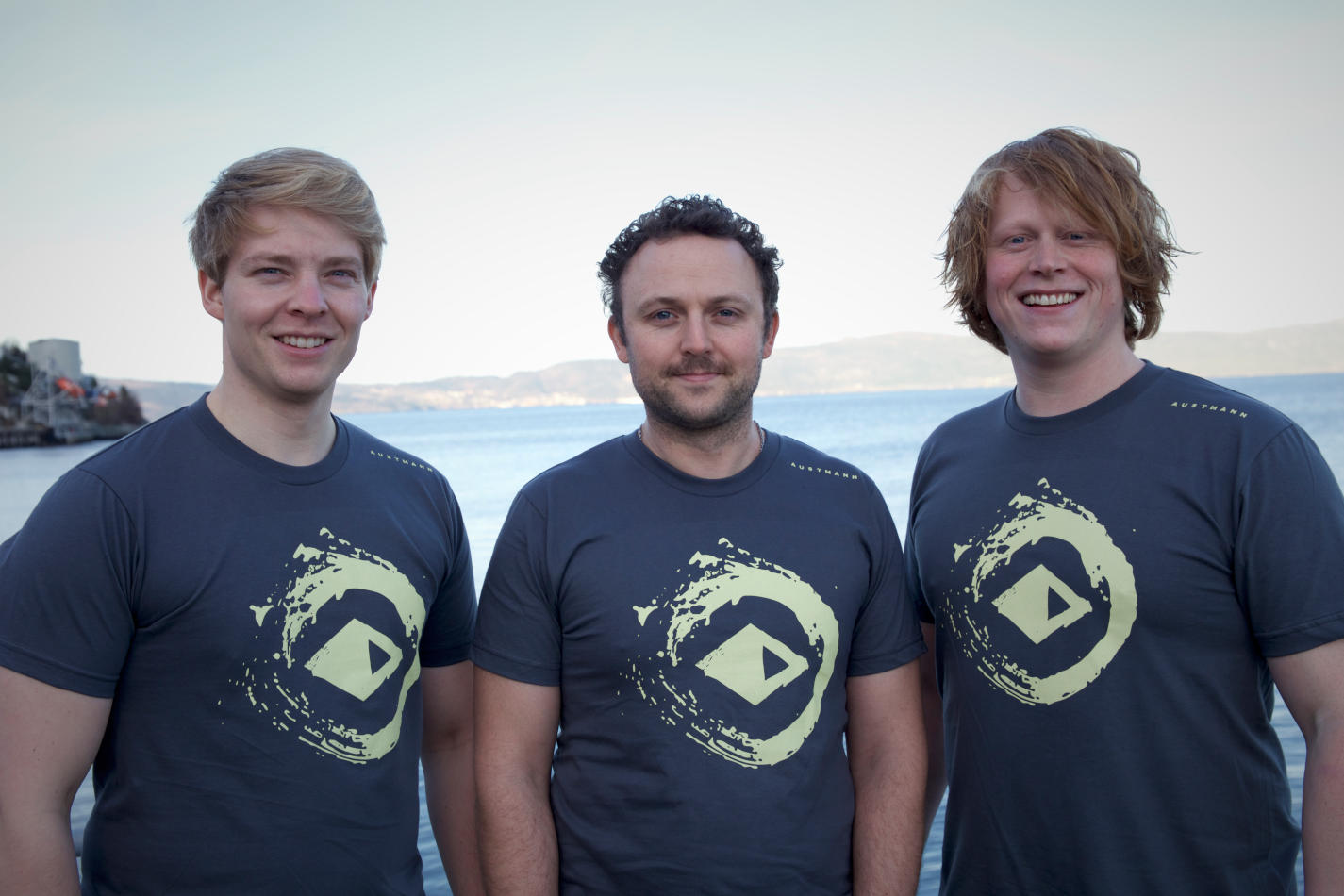 Three generous ladies
The ever-generous bank of mum became the solution, and two mothers and an aunt put their houses up as collateral for the loans. "With three houses in the bag it was a totally different story. In total we borrowed 1.5 million NOK, which to us seemed like an enormous sum of money, and we intended to start a brewery with it," Sjue says. "Everyone thought it was madness, and it definitely was. Most breweries buy equipment for far more than that, and we had to renovate the building as well."
But the guys at Austmann were careful with their money and managed to squeeze a fully-fledged brewery out of their cash. "Everything we could legally do ourselves, we did during the renovation period: everything from cleaning to putting down new floors, and it all happened during the coldest winter Trondheim had seen in over 50 years," Sjue recalls.
In July 2013, Austmann Bryggeri was ready to start production and began with setting the first batch of Tre Gamle Damer, a Belgian pale ale honouring the three women who had made their brewery dreams come true. To this day, Tre Gamle Damer, their first of nearly 70 different brews, remains the brewery's best seller.
"It is a beer that is very typical for what we do. The fermentation process takes place in open tanks the old fashioned way rather than in closed tanks, which gives the beer a complex yet soft taste. Tre Gamle Damer is a light and easy-to-drink craft beer that everyone can enjoy," Sjue explains.
A taste of the world
But being Austmenn, the brewers also have a sense of adventure when it comes to their recipes. For instance, they have made a stout with fresh blueberries, as well as frequently using ingredients such as sea buckthorn and cocoa.
Through a series called I Samme Båt (meaning 'in the same boat'), Austmann cooperates with a number of renowned international breweries, including De Molen, Brussels Beer Project, Ø-brygg, Slottskællan and Kaapse Brouwers. Alongside the Dutch brewery De Molen, Austmann has made an imperial stout named Mannus & Blodøks with hints of dark chocolate, coffee and nuts, while the collaboration with the Brussels Beer Project resulted in an Aztec stout called La Shaman. La Shaman is made of cocoa beans, chipotle chilli and habanero and has a smoky, warming taste.
"These brews are at the opposite end of the scale from Tre Gamle Damer, for those who really want to challenge their taste buds and explore something different," Sjue says. The co-founder points out that these collaborations are an important part of what Austmann is all about, and in the year ahead they have several exciting new co-releases coming up. "Again, it is what the Austmann concept is all about: setting sail and heading into the unknown to see what you can find. And the European craft beer scene is a very exciting place to be – it has grown into a bit of a creative collective over the past few years," Sjue says.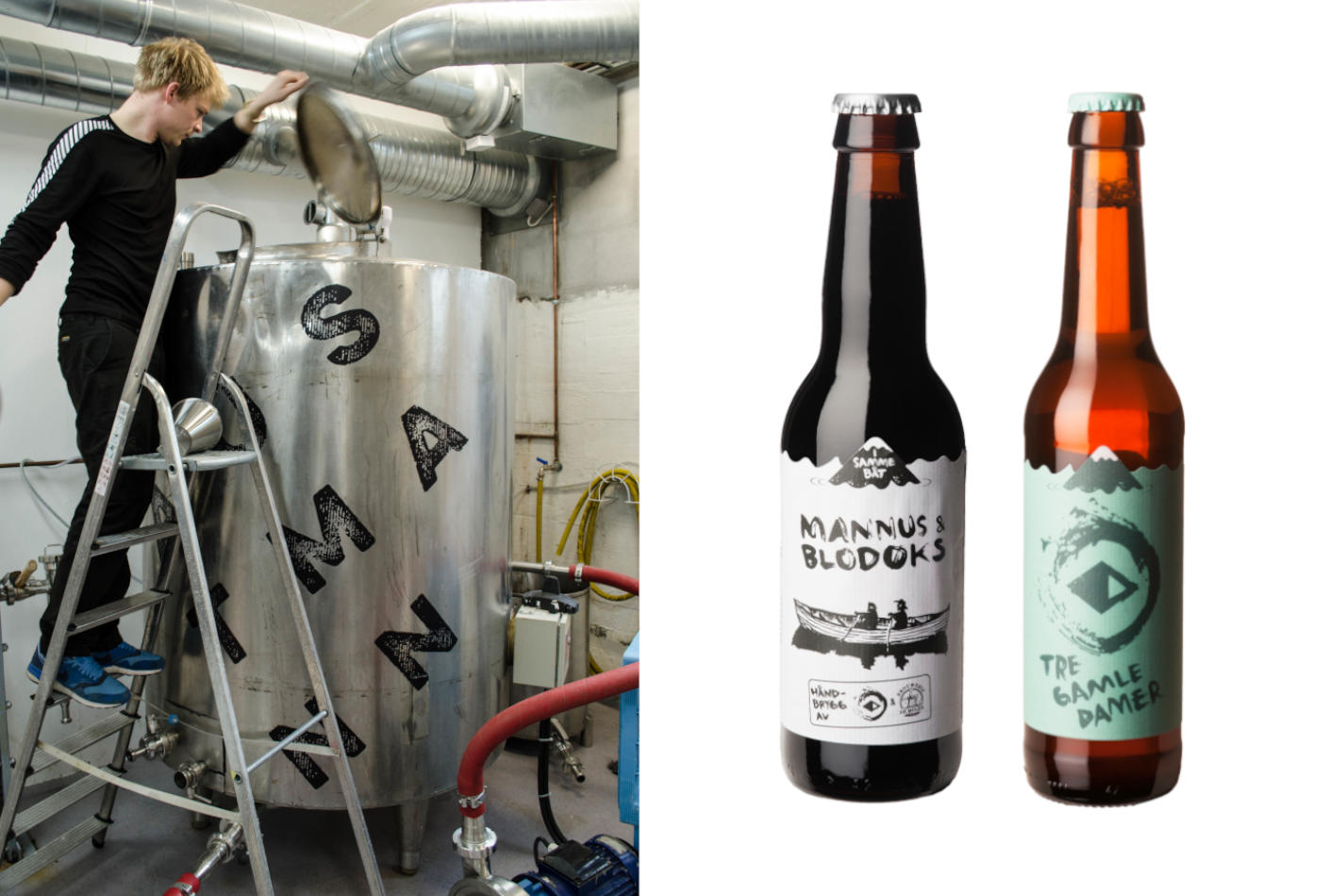 Sixth place
Since the first batch of Tre Gamle Damer was set on 2 July 2013 and up until the making of La Shaman, which hits the shelves this year, Austmann has grown at a phenomenal speed. During the first five months of operation, every Austmann beer was bottled by hand. "A bottling machine was something we felt we had to put down a certain amount of sweat equity – which our entire operation is based on – to deserve. But after five months and 48,000 bottles we gave in and purchased one," Sjue says.
Today Austmann ranks as Norway's sixth-largest craft beer brewery, and their growth has stagnated. "We're at capacity, so we've reached out to investors to facilitate an expansion of our production, and so far we've had great luck," Sjue explains. "For the Austmenn it was reach the shore or die. While it's not exactly a life-or-death situation for us, it's a great adventure and there's no turning back now. The sky is the limit, as they say."
For more information, please visit: austmann.no
Subscribe to Our Newsletter
Receive our monthly newsletter by email