Banwood's nostalgic kid's bikes are what memories are made of
By Lena Hunter | Photos: Banwood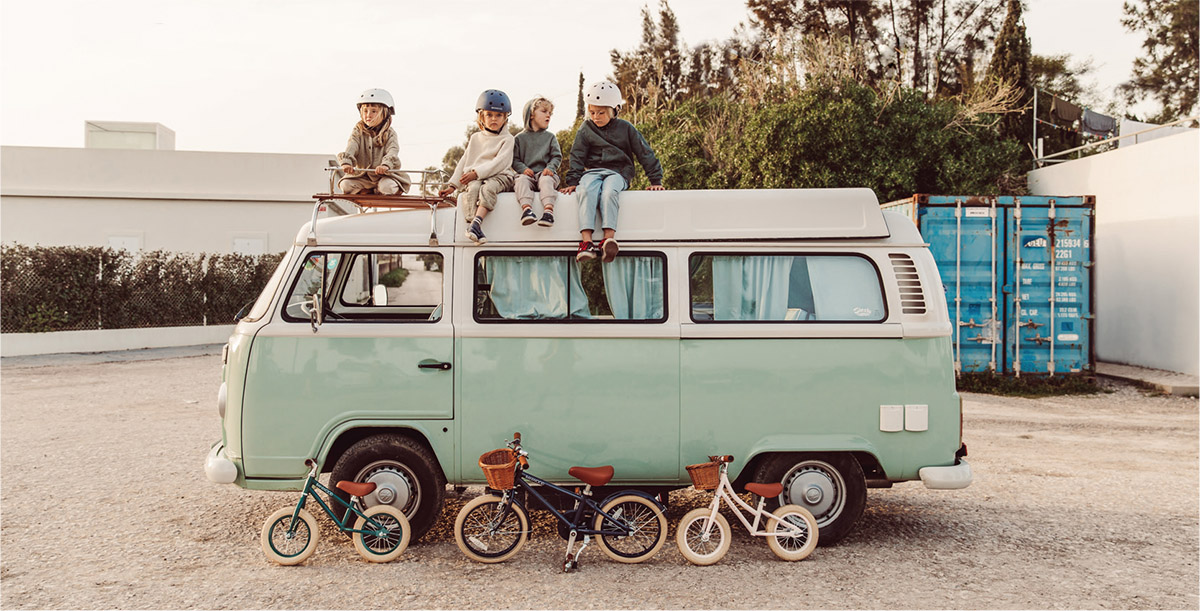 Everyone remembers their first bike. Founder of Spanish-based Banwood Bikes, Frida Jonsby, is no exception. "Mine was a red, Swedish-designed Crescent bicycle from the 1970s," she says. "It was a real little bicycle, with straight lines and classic colours."
So, when Jonsby and her partner, Juan Manuel Torralvo Castro, decided to design a line of children's bikes, they drew on their own memories of endless summers playing outside until sunset. "We wanted something simple that evoked a nostalgic, vintage Scandinavian style – with a basket, so it would feel like a miniature adult bike."
The Banwood family
The signature Balance Bike was born. It's made of aluminium stainless steel, with a little rattan basket for teddies, pebbles and snacks, and a vegan leather saddle and grips.
The Pedal Bike followed – lightweight, fully adjustable, with 16-inch tires and unique rosewood pedals. In a dreamy rainbow of cream, pale mint, pink, green and blue, the design recalls a Californian summer gone by. So, too, the latest member of the family: a candy-pink three-wheel scooter for kids up to age five.
"We spent three years designing our tricycle," says Jonsby. The trike's attention to detail is the stuff of childhood dreams: crimson, with a padded oak deck and steel bell. "It's important that our bikes look beautiful in 20 years, so kids can inherit them from generation to generation."
Bikes imitating art
As Banwood has grown, design brands such as Liberty London, Anthropologie and Bonton have collaborated on collections inspired by fashion and art. "I love Liberty's floral prints. It was a dream when we collaborated with them," says Jonsby.
Likewise, Banwood x Marest sees the classic Balance Bike wrapped in artist Antonyo Marest's 'espacio vital' motif – a pattern he exhibited at last year's Madrid Design Festival.
Iconic French lighting maison, Rispal Paris, was next. Rispal x Banwood's Balance Streamline bike draws on the aesthetics of the French Golden Age, with an exquisite, curved golden frame and pure, white Michelin tires. "It's really unique. It's a piece of art," says Jonsby.
A simple mission
All said, Banwood's mission is simple: get kids active. "We love the way kids play," says Jonsby – and therein lies the core of Banwood. They believe that your first bike isn't just a bike – it's made of many moments: the smell of fresh rain, 'look mum, no hands!', and reluctantly parking it away for the night, excited to come back to it in the morning.
Web: www.banwood.com Instagram: @banwoodbikes
Subscribe to Our Newsletter
Receive our monthly newsletter by email