Benita Tornholm
Text: Åsa H. Aaberge | Photos © Benita Tornholm
Art that puts a smile on your face
S he has custom-made art by appointment for the Royal Family of Norway and spent years of her life in the metropoles San Francisco and Rio de Janeiro. But no matter how many miles from home, textile artist Benita Tornholm always longs for what inspires her the most – Norwegian nature.
With a sewing machine, colourful fabrics and creative stitching, Tornholm creates what she describes as "textile paintings". The motifs are her impressions of Norwegian nature and architecture – always with a humorous and naive undertone and with an aim to make people smile. "My wish is that my pictures get people in a good mood. I wish for my work to be a contrast to all the sad and painful things happening in the world," says Tornholm.
Art in the blood
Creativity is in Tornholm's blood, and her career started already when she, as a little girl, got a sewing machine and started to make her own clothes. "My mother, Thorhild Augensen, is a landscape oil painter, and her father did the same. I choose to express myself in a different manner, with textile, a scissor and a sewing machine," she says.
Tornholm is a qualified teacher, but after working for 13 years in the education system, she chose to take a leap and focus on her lifelong passions, textile and art, full time. "I haven't regretted that decision for a second," she says.
A personal technique
Tornholm's pictures are created with a blend of textiles, paint and stitches. "Through 30 years, I have developed a personal technique. That technique is what leaves a unique mark on my work," she explains.
Tornholm's favourite motif is the Norwegian coastline with its old, white houses and many lighthouses. "I love the lighthouses along the Norwegian coastline and have an aim to sew them all. I have up until now sewn about 30 of them."
The artist gets inspiration everywhere from the mountains to the sea, and captures what she sees with her camera. "I take photos of houses with interesting windows, doors and wrought-iron details. Through a transformation process in my head, what I see comes to life in my textile paintings."
With a steady hand and creative mind, Tornholm recreates everything from fences and windows to flowers, flags, waves and trees. Instead of using people as motifs, she gives the houses an almost human-like personality. "I sew small houses that lean onto each other and that tell each other that life is good."
Tornholm rarely makes sketches; her pictures evolve as she works. "I always start with the sky, which I paint with a brush and textile paint. Then I mix it together with the textile. It is an exciting process – I never know how it evolves," she explains.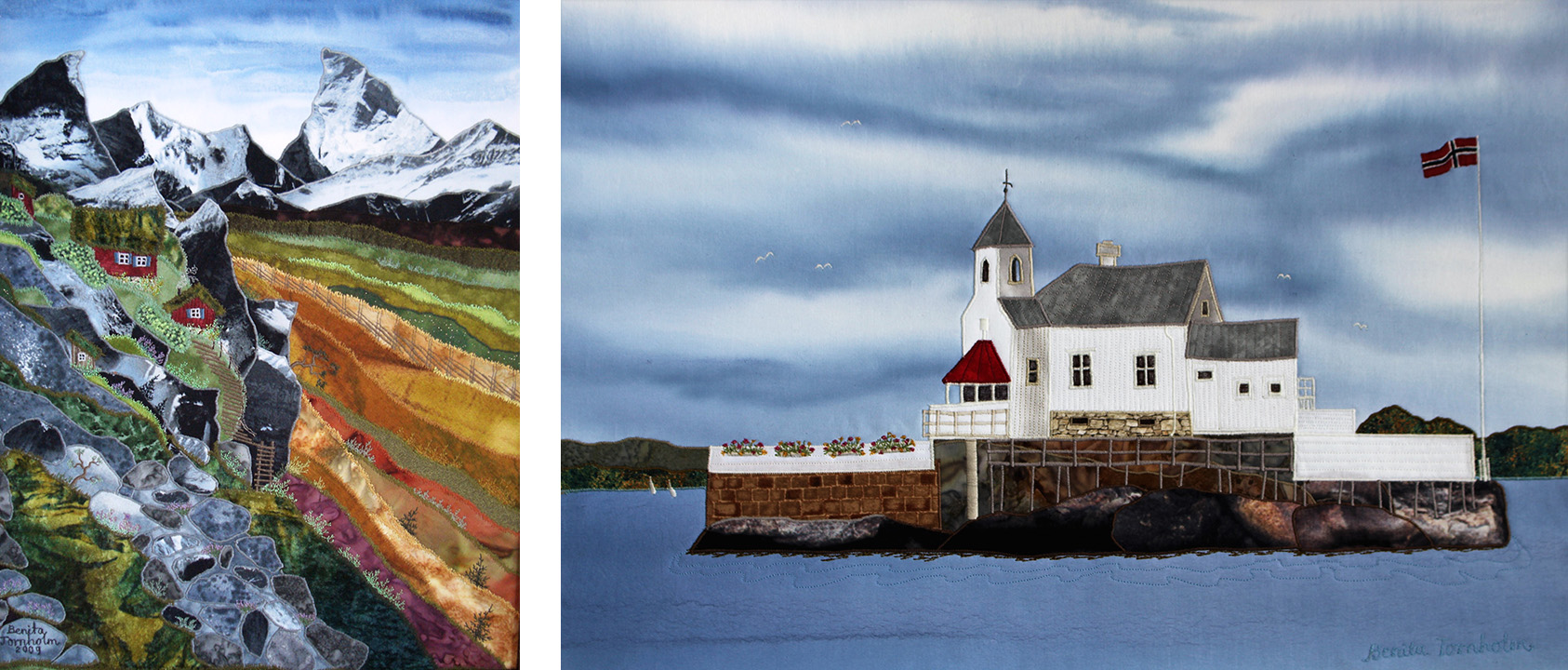 Award-winning art
Tornholm's pictures have earned awards, and over the years she has participated in hundreds of exhibitions in Norway as well as Denmark and Germany. Her art technique is so unique, some people even mistake them for being computer-made at first glance. "I normally carry the sewing machine with me whenever I am invited to an exhibition, because people are curious to see how the pictures come to life."
This summer, Tornholm's work can be seen at various galleries throughout Norway, and a selection of her pictures are always on display at Galleri Kunstverftet in Stavern.
Upcoming exhibitions: • Galleri Kunstverftet in Stavern • Lillestrøm Galleri • Glesvær Café in Sotra (July and August) • Kystkulturdagene i Lysøysundet (August) • Rennebumartnan (August) Web: benitasbilder.com Facebook: Benitas Bilder Instagram: @benitatornholm
Subscribe to Our Newsletter
Receive our monthly newsletter by email