Brasseriet Gilleleje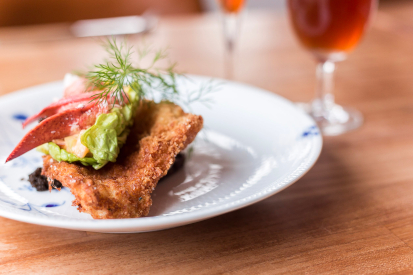 Traditional Danish food at its best
TEXT: LOUISE OLDER STEFFENSEN | PHOTOS © BARDUR MIKLADAL
The town of Gilleleje has been a favourite holiday destination for stressed-out Danes for decades. The old fishing village at Sealand's northern tip has retained the charms of its past, but the town's beaches, bustling harbour and ample independent shops and restaurants make it a lively and dynamic spot today. One of the true mainstays of Gilleleje, however, is the harbour-side restaurant Brasseriet, which has served up delicious Danish classics to hungry Gillelejan souls for the past 40 years.
Chef Berit Bjørnestad took over Brasseriet in 2017, having previously run two restaurants in neighbouring towns. "We haven't changed the menu too much," she says. "We serve up classic dishes like plaice and no less than eight types of tartar – it's what Brasseriet has always done best, and those traditional favourites have an important place in modern Danish culinary culture too."
The evening menu is small and exquisite, with four mains options and a special, often based on the local fishermen's catches. The extensive lunch menu, meanwhile, shows off the Danish institution of smørrebrød: Imagine a plethora of open sandwiches consisting of hot or cold fish or meat, such as herring, paté or roast beef, paired with a canonical set of toppings and condiments for each type of sandwich. The smørrebrød prepation is undertaken by Jytte Støvlbæk, an undisputed expert with 50 years of experience at Denmark's best smørrebrød restaurants, whom Bjørnestad was lucky enough to get on board. Together, they are a jolly, unstoppable force in the kitchen.
"I feel like I've come home," Bjørnestad says. Born and bred in Gilleleje, she remembers the restaurant from her childhood. "I actually worked here 20 years ago, back when it was Restaurant Karan og Marie and I was newly trained," she recalls. "The restaurant may have received an update, but we retain its commitment to honest, wholesome food and hospitality."
Facebook: brasserietgillelejehavn
Instagram: @brasseriet3250
Subscribe to Our Newsletter
Receive our monthly newsletter by email