Bryggeri Skovlyst: Brewed with love in an idyllic Danish woodland
By Tina Nielsen | Photos: Steno Studio ApS
Bryggeri Skovlyst's beers attract visitors from far and wide to its idyllic forest hideaway. Located in a small town outside Copenhagen, the brewery has brought a new lease of life to the local community.
A landmark venue in the area of Hareskoven – a small town surrounded by a vast forest on the outskirts of Copenhagen – Skovlyst has been a hospitality venue since 1893. In 2003, it was bought by local resident Jan Olsen who had long harboured dreams of setting up his own brewery.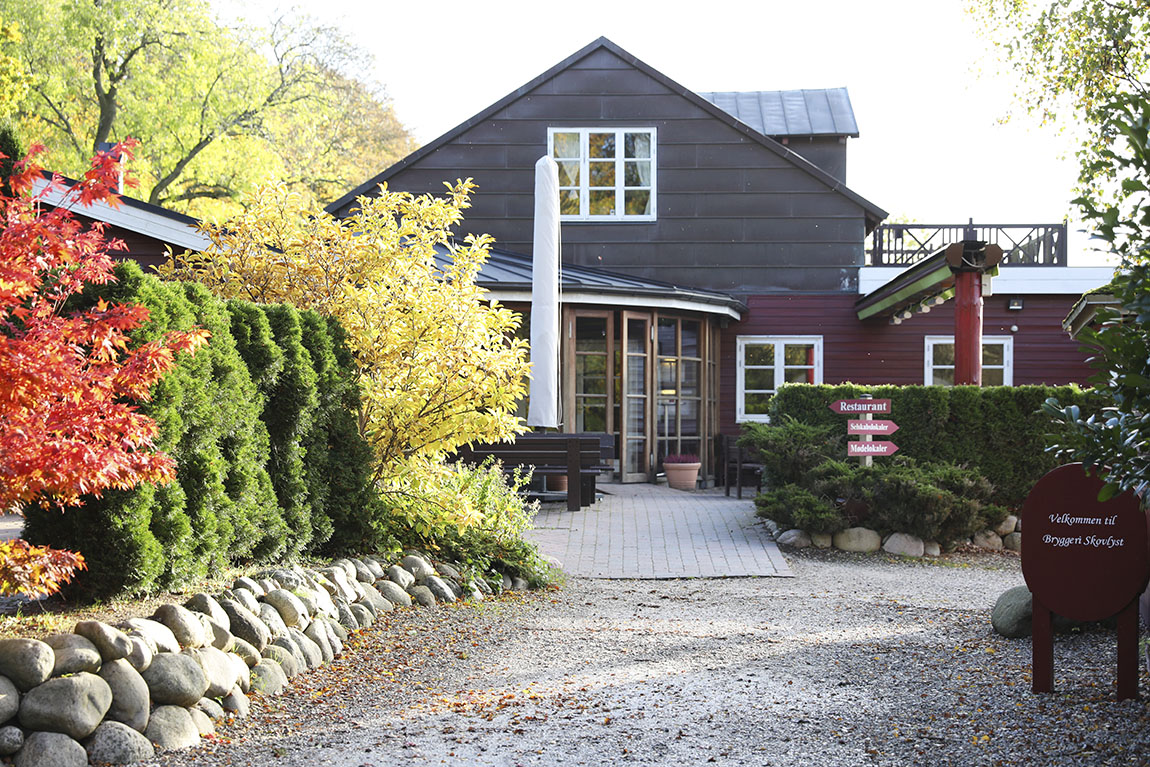 "He had a great love for the forest and wanted to bring life to Hareskov," says Bryggeri Skovlyst director Trine Høpfner. Today, the venue receives anything between 150 and 300 visitors daily. "Guests include every group from local residents and businesses, to mountain bikers who stop by after a ride, and conferences or private parties."
When Olsen took over in the early 2000s, he caught the microbrewery wave that was sweeping Denmark. He launched the venue with an ex-Carlsberg brewer who had previously rented and managed the space. Today, brewer Anders Aastrøm oversees the brewing. The original vision – to produce a micro-brewed beer out of quality ingredients and to serve food made with seasonal ingredients – is still as important today as it was 18 years ago.
Tap beers only
With a brewing capacity of 60,000 litres a year, Skovlyst Bryggeri only produces beer to pour from its own taps – not to supply supermarkets. There are eight different beers available at Skovlyst: pilsner, stout, IPA, classic, wheat beer, brown ale, Belgian blonde and saison. The daytime menu consists of traditional Danish open sandwiches, while Danish and French dishes are served in the evening.
"All of the beers are made from scratch with great care, from the treatment of the grain to fermentation in the cellars," says Høpfner. "We brew with love and give the beer the time it needs to develop."
The beer brewed at Skovlyst is not available outside the restaurant, due to their small production scale – but Høpfner says this adds to the experience. "It is exclusively available at the brewery. We do have two-litre bottles for take away, but the focus here is on a quality product here in Hareskov."
Web: www.bryggeriskovlyst.dk Instagram: @bryggeriskovlyst
Subscribe to Our Newsletter
Receive our monthly newsletter by email