Camilla Thulin Design
Classic designs for every woman
TEXT: MALIN NORMAN | PHOTOS © CAMILLA THULIN DESIGN
The beautiful designs of style icon Camilla Thulin are worn by women of all shapes and sizes, loved by celebrities and royalty, and seen in glamorous stage performances. This year's summer collection received standing ovations at Stockholm Fashion Week.
Camilla Thulin has a long background in costume design for TV and film, opera and musicals. She is also known for creating outfits for Swedish pop group Army of Lovers, as well as Malena Ernman's gown for the Eurovision Song Contest in 2009, and she is the author of no less than four books about style.
The timeless collection includes dresses, blouses, skirts and coats in wonderful patterns and materials. The garments can be worn throughout the seasons, for everyday or special occasions, and are easy to pack for women with a busy lifestyle. For instance, celebrities such as Crown Princess Victoria and singer, model and TV host Dominika Peczynski have been seen wearing the designs. "Dominika has such a gorgeous shape, but it's difficult for her to find clothes elsewhere," says Thulin.
"Our customers don't want to look like everyone else; they want to dress in a feminine way, with colours and patterns that stand out but also fit their female shape," continues the designer. "With our classic and strong feminine expression, we emphasise the person who is wearing the clothes. My goal is for all women, regardless of age or size, to feel strong and beautiful."
The pussy-bow blouse
Camilla Thulin Design was one of the most celebrated brands at Stockholm Fashion Week 2018, receiving standing ovations. The catwalk models included several prominent women such as Sara Danius, Ewa Fröling, Dominika Peczynski and Monica Ahlberg, among others.
A highlight was the collaboration with Sara Danius, the former secretary of the Swedish Academy that awards the Nobel literature prize. As well as her academic and professional achievements, Danius is recognised for her pussy-bow blouses. Thulin created a limited-edition pussy-bow blouse together with Danius, and customers were queueing for their chance to buy one of the 263 garments made. For each blouse sold, 1,000 SEK (around 83 GBP) was donated to GAPF, a Swedish acronym for Never Forget Pela and Fadime (Glöm Aldrig Pela och Fadime), a secular non-profit association working against honour-related violence. In total, 263,000 SEK (22,000 GBP) was raised for the cause.
In collaboration with Swedish actress and comedian Mia Skäringer, Thulin has designed another special blouse. Skäringer is currently breaking box office records with her praised show Avig Maria – No more fucks to give, which is described as a celebration of women owning their own bodies. Again, 1,000 SEK per blouse sold will be donated to GAPF. The No More Fucks to Give blouse is currently in production, and a total of 660 blouses will be made and ready for delivery in April. "I'm so proud and happy to be able to actually contribute by doing things like these two collaborations, instead of just complaining about the situation in society," says Thulin.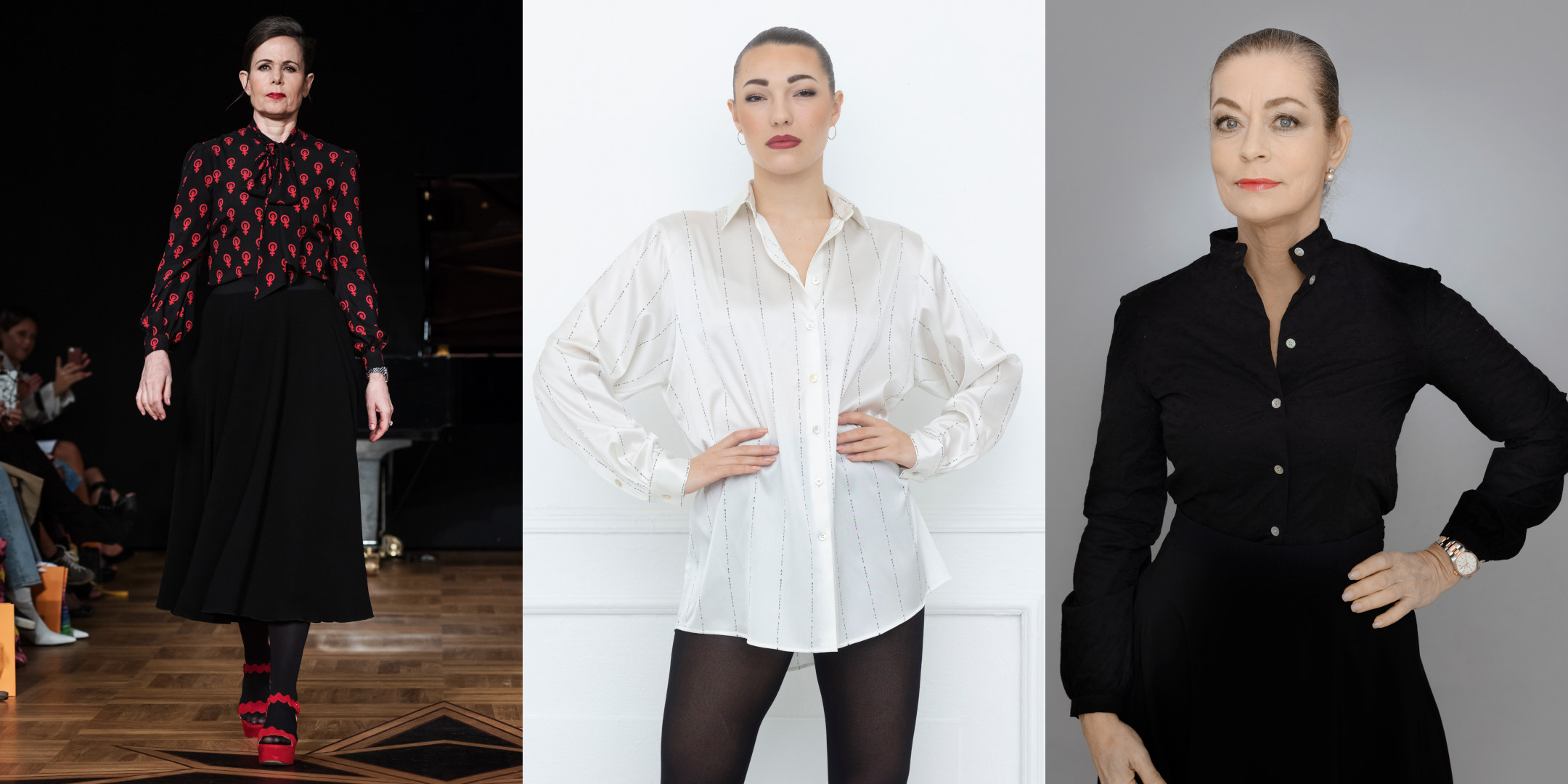 Left to right: Sara Danius in the pussy-bow blouse for Camilla Thulin Design. (image 1) Blouse in collaboration with Mia Skäringer. (image 2) Camilla Thulin (image 3).
Worn by strong women
Founded in 1992, the Camilla Thulin Design studio is located in a charming courtyard at Södermalm in Stockholm. All patterns and samples are handcrafted by a dedicated cutter and tailor. Great focus is placed on detail, from defining the perfect fit to choosing the best fabrics, anything to get that exclusive look. The garments are then produced in small studio factories in Poland that are working with Europe's most exclusive brands. Here, the working conditions are excellent, and there is strong environmental awareness in production, transportation and material selection.
In addition to her collection, Thulin still creates costumes for numerous operas and musicals, including Malmö Opera and Norrlandsoperan. In the pipeline are also costumes for the musical version of Sister Act (En Värsting till Syster) at Chinateatern, with Gladys del Pilar in the role of Deloris Van Cartier (originally played by Whoopi Goldberg in the film). Other projects include Krusenstiernska Teatern in Kalmar and, of course, preparations for spring/summer 2020.
Camilla Thulin Design is available in some 50 boutiques in Sweden, Norway and Finland, as well as in the online shop with delivery worldwide.
Visit the web shop at: camillathulin.se
Facebook: camillathulindesign
Instagram: @camillathulindesign
Subscribe to Our Newsletter
Receive our monthly newsletter by email