Campo de' Fiori: An Italian delicacy in the heart of Oslo
By Eva-Kristin U. Pedersen | Photos: Dario Polverari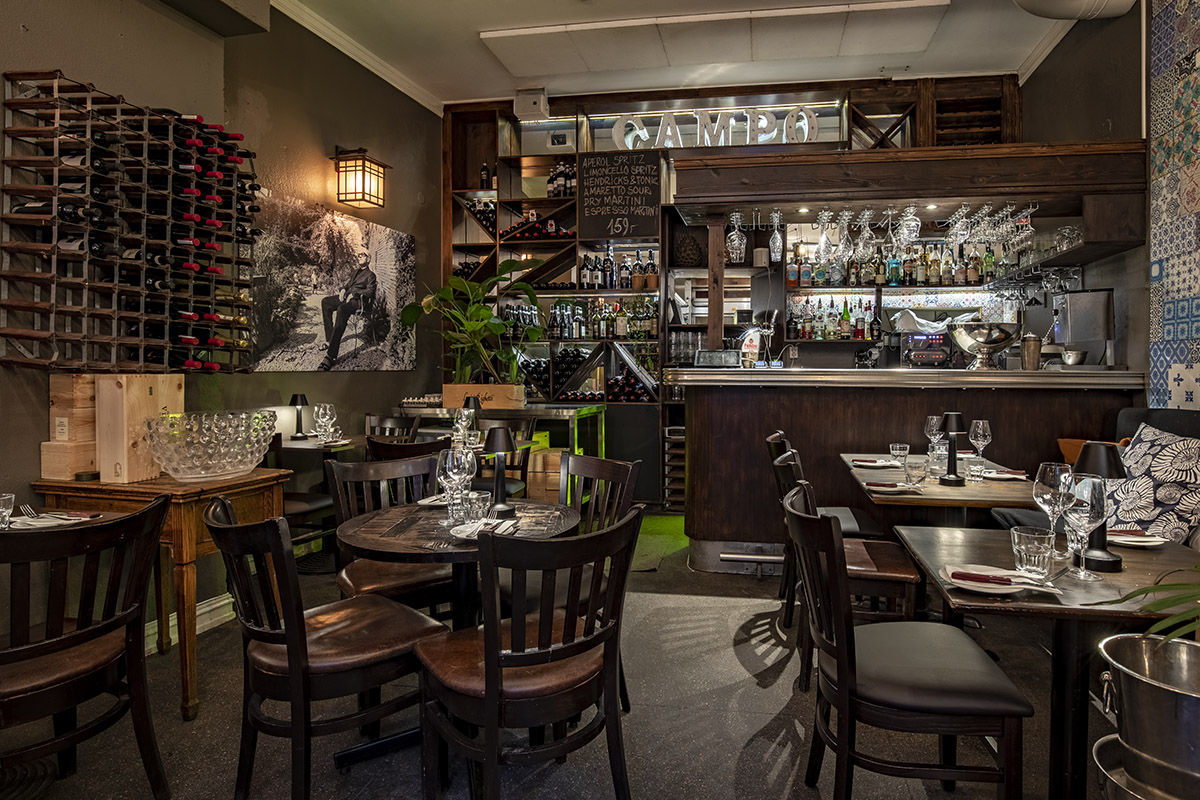 Just a few years ago, getting a decent Italian meal anywhere north of the Alps was difficult. However, in Scandinavia, it was impossible. An Italian dinner in Oslo was often little more than a few overcooked strands of spaghetti in bleak tomato sauce, accompanied by an endless flow of Italian love songs from a bygone era on the loudspeaker, from the first mouthful of antipasto until the tiramisu was long gone.
Fortunately, that era is over. These days, all you need to do is to head to Homannsbyen, and down Josefines Street; and find your way to Campo de' Fiori – the Oslo edition.
While there's no portrait of Giordano Bruno looking down on you, there are plenty of other elements that guarantee an authentic Italian experience at their tables. One such guarantee is the food; Campo de' Fiori is not only Italian, it is Roman.
Food with Roman roots
"Everything we serve has Roman roots," says Fabio Pezzoli, the owner and a Roman himself. The kitchen is helmed by head chefs Francesco Oberto, a former recipient of a Michelin Star in Italy, and Fabio Pezzoli, who was awarded two 'forks' by the food and wine magazine Gambero Rosso, for Top Italian Restaurant, 2022. They only serve the very best, from the traditional sauce 'amatriciana' and cured pork-cheek 'gricia', to 'coda alla vaccinara' – oxtail and vegetable stew.
Other typical dishes on the menu are the homemade ravioli and a variety of main courses. All the pasta and main dishes vary according to the season. "We always make sure to have seasonal ingredients of the best possible quality, and that means that our menu changes a great deal," Pezzoli underlines.
In addition to traditional Italian dishes, however, Pezzoli makes the best possible use of whatever ingredients Norway can offer, prepared in an Italian manner. That's why, this autumn, guests at Campo de' Fiori could enjoy an absolutely unique venison risotto. "A friend of mine procured the fresh venison for me, and we made a risotto out of it. It was absolutely delicious," Pezzoli says with a smile.
A wine bar and kitchen
As a sommelier, Pezzoli also pays a lot of attention to his wine menu. "Campo de' Fiori's full name is Campo de' Fiori Enoteca e Cucina," Pezzoli says. Accordingly, the wine cellar is extensive, based mostly on Italian producers, but also offering excellent French wines.
"We have a lot of wines from regions that Norwegians know well, like Piemonte and Tuscany, but we also make sure to introduce our clients to other regions, like the Marche and Sicily, and lately also Lazio," Pezzoli elaborates. The wine-producing region around Rome has stepped up in recent years, with wines of markedly higher quality – something restaurant owners both in Italy and abroad are keen to take advantage of.
A winning atmosphere
But perhaps what makes this an authentic Italian restaurant, even more than the food and wine, is the atmosphere. Whatever you chose to eat, you'll do so in Campo de' Fiori's warm and welcoming surroundings, which present Italian style without any of its clichés. There are no wall paintings of the Colosseum or the Roman Forum; instead, the walls are decorated with top-notch photos by the renowned photographer Dusan Reljin.
Most of the staff are Italian, many of them Roman, and they've recreated the joyfulness that Italian eateries are known for. Go for dinner at Campo de' Fiori and you'll feel as if you've been out with a very large family.
"The other night some girls started singing. They didn't really know the words to this Italian song, so I wrote the refrain for them on the mirror and we sang together," Pezzoli laughs as he remembers it, and adds that the words on the mirror are still there.
Danger of developing an addiction
With both incredible food, premium-quality wine and genuine smiles guaranteed, it's no wonder that Pezzoli sees high numbers of returning guests. It does seem like Campo de' Fiori is dangerously addictive. With that in mind, why not give it a try next time you're in Oslo?
Web: www.campo.no Instagram: @camporestaurant Facebook: campodafabio
Subscribe to Our Newsletter
Receive our monthly newsletter by email