Can humans 'co-live' with the digital world? A conversation with art and design duo Wang & Söderström
By Lena Hunter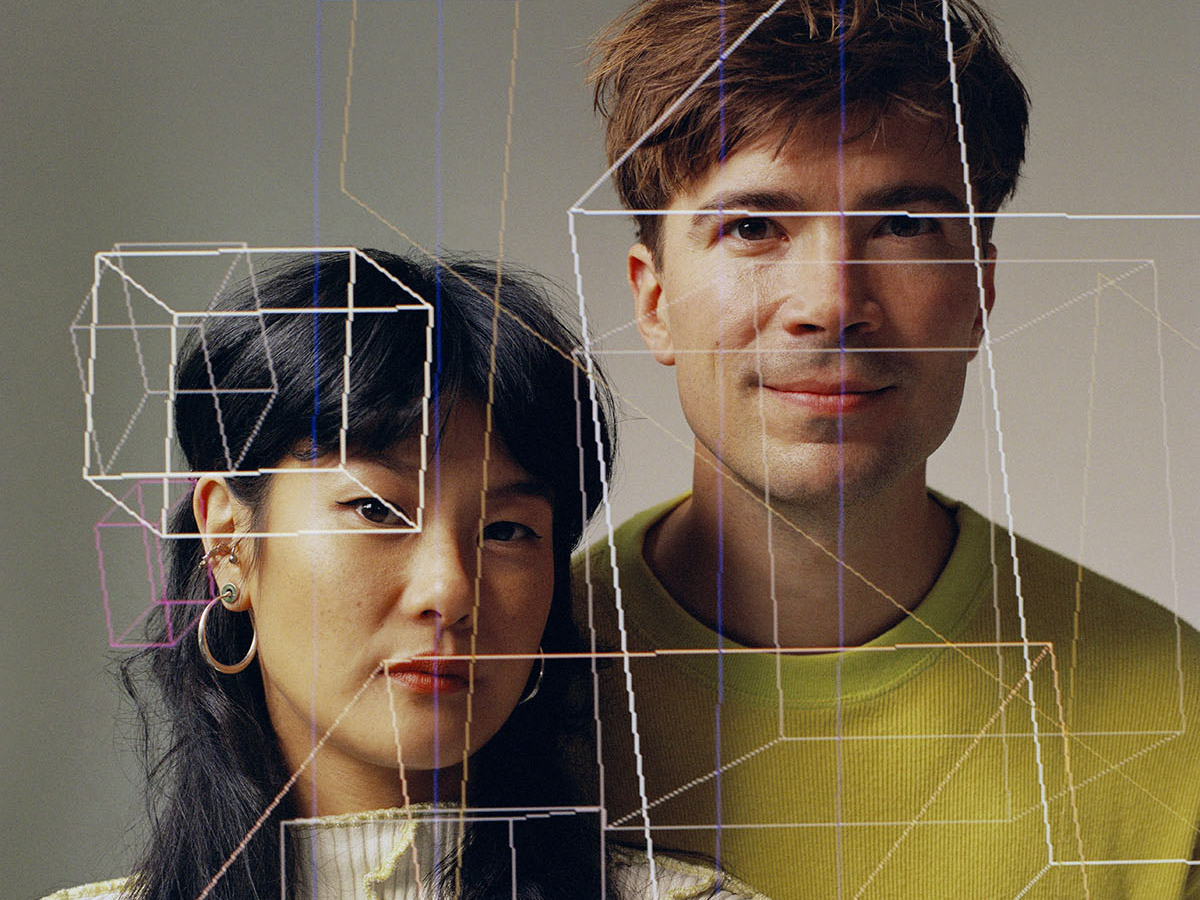 Copenhagen-based art and design duo Anny Wang and Tim Söderström are renowned for their visualisations of the realm between the digital and the physical. Their living universe of strangely human, but undoubtedly digital forms evades easy definition – as whimsical and familiar as it is unnerving and alien. It might be comforting to consider humans 'co-living' with technology as a future reality, but Wang & Söderström argue that it's already here. So, what does that look like, exactly? And can we stay human in the age of technology?
Following their first solo exhibition, Royal Chambers in Copenhagen, we caught up with the artist couple to hear their take.
Your work is really on the edge of technology and art. How did Wang & Söderström begin, and what got you where you are today?
WANG: We established our studio as a duo in 2016, but our practise was born back during our university studies, when we found this 3D software for making spatial and architectural renderings.
On weekends and evenings, we started playing with it – exploring the other tabs and features. We began by making still imagery, then slowly started animating and creating stuff with it.
What were you making? What possibilities did you see?
WANG: In the beginning, we did a lot of material exploration. There's no hierarchy in the digital world. You can use really expensive materials, like marble and gold and so on, that are very limited in the real world, and you can also break all the physical laws.
SÖDERSTRÖM: That was when we got the 3D printer, so our creations in the software could become small objects that we could touch. The 3D printer was really a gateway to creativity for us. We learned the software by ourselves, by watching YouTube tutorials, and we quickly noticed that digital technology and the digital world is shaped by few people, from a narrow demographic and background. We saw so much to explore, and so many ways to do things differently to them, but with the same tools.
WANG: It's not to criticise them, it's more that they were all subscribing to the same image of what digital is: very sci-fi-driven, very functional and efficient. And so those are also the associations that people in general have.
We thought, how can we broaden the aesthetic and the meaning of digital? How can we make the digital softer and more human? Today we produce images, video, sculpture and installation, and our work explores what digital can look and feel like, and how the world is changing through technology.
In your recent solo exhibition Royal Chambers, you present a digital world that is not hard and functional, but soft, animal and even sensual. Do you find that people think more openly about technology when they consider it through the lens of art?
SÖDERSTRÖM: I think when digital technology is always presented in its own space – perhaps that of science, engineering or computing – then it stays there. But the reality is that the digital is everywhere. We're so nested in it now, and art is a good way of talking about something that's everywhere, without placing it in a certain space.
What's your approach to making digital forms appear softer and more human?
WANG: We evoke and subvert the organic. We work very sculpturally and take cues from recognisable forms. Something might look like a nose, or resemble a heart chamber, but then it has this digital quality to it; it could be a kind of digital 'preciseness', or it might incorporate something that's very hard to make by hand.
SÖDERSTRÖM: The goal is not to only make the digital relate well to our world, but to create a third field where the human is mixed with the digital.
WANG: I think a lot of designers and artists work like this. You take the recognisable and add the unfamiliar. It often inspires a more personal response because everyone relates to the result slightly differently. You might see a small person or animal, and I might see a flower. When we see something foreign, we want to connect it to something relatable.
Are you pessimistic or optimistic about humans and the digital world coming together?
WANG: Both! And the reason is that today, a lot of digital elements in our lives are geared for a commercial world where it's not about your health or body, or expanding your senses. The potential is there, but instead we see situations where we sit uncomfortably, looking at blue screens that are not good for our eyes.
In the future, the digital will be more and more present in our lives. But how can we ensure it works with our human senses? We mustn't forget that we're still in our bodies all the time, experiencing these digital elements. We need those softer values.
When we make the digital more human, it's because thinking about technology as part of nature encourages a more holistic view of how we can co-live with the digital world, and our changing planet.
That sounds quite hopeful to me!
WANG: I think we actually are hopeful. As we see it, we live in a time where the digital future is still very mouldable. Many people have the opportunity to influence future technology by finding different ways of using it.
How you think about technology shapes how we build it. If we can broaden how we think about the digital, then we make sure that the technology that is being built will work for humans and the planet.
What are you working on right now?
WANG: We've been selected among a total of 34 designers and craftsmen to take part in the Biennale of Craft and Design here in Copenhagen in April 2023. The theme is 'converting' – from analogue to digital.
SÖDERSTRÖM: The setup is a dining table for two, where you have the chance to sit and eat with a digital avatar through a VR headset.
WANG: It explores this modern idea of leading a social life online. There's this big phenomenon called mukbang, where people sit and eat a lot on camera. There's an unhealthy aspect to it, but there's also a social aspect, where people feel less alone when they're watching. Maybe it gives them a dinner partner.
SÖDERSTRÖM: The viewer will experience something we try to express in every project: the digital world, intertwined with human qualities, and other social and emotional associations within that – like ideas of comfort and home.
The concept of 'home' was also central to Royal Chambers. Is that something you're going to push further in your future work?
SÖDERSTRÖM: Yes, actually. As an extension of Royal Chambers, we are publishing our first book next year, with the same title. It unfolds the term 'home' even more, through essays by writers from all kinds of different disciplines and backgrounds – a chef, for example, talking about home-cooked food – to give perspective on life and living, in this very rapidly changing world.
WANG: Coming from a very fast-paced and fleeting Instagram-based portfolio, we're excited to try this new medium that can reach globally, but also exist – hopefully – for a long time.
Web: www.wangsoderstrom.com Instagram: @wangsoderstrom Facebook: wangsoderstrom
Subscribe to Our Newsletter
Receive our monthly newsletter by email