A craving for ceramics
TEXT: SIGNE HANSEN | PHOTOS © CLAY
With works by 23 ceramic artists from five different countries, CLAY's new special exhibition, CERAMIC MOMENTUM – Staging the Object, is a must-see for anyone with an interest in ceramics. Celebrating the museum's 25th anniversary, the exhibition will be the culmination of recent years' expansions and investments.
Ceramics plays a significant role in Danish history and culture, but it is also an increasingly visible part of modern life. This is reflected in the visitor numbers of CLAY Museum of Ceramic Art Denmark, which focuses on ceramic art, craft and design. Located in Middelfart, the museum has more than tripled its visitor numbers since reopening after a major extension in 2015. In other words, despite its long history, ceramics just keeps getting hotter and hotter.
"There's an intense and growing interest, and not just among the old, loyal audience – it's very much the young generation who are turning their attention to ceramics," says museum director Pia Wirnfeldt. "It seems that as the world becomes more fast-paced, the lasting expression and materiality of ceramics have become extra significant, but that's just one of many explanations for the interest. In a Danish context, clay is present everywhere – we live in a country where the underground is filled with clay, and throughout our history we have dug up that clay and used it for all kinds of purposes: roof tiles, bricks and so on. But in porcelain, it has also become the centre of our social interactions, sharing a good meal or a cup of coffee. It's something that binds us together and tells a story of a shared identity across generations."
Further adding on to the growth of interest in ceramics is the use of social media to share and spread images of ceramic art. The contrast and interplay between the virtual and visual medium and the material side of ceramic art are what's at the centre of CERAMIC MOMENTUM – Staging the Object.
A treasury of ceramics
Founded in 1994 as the Museum of Ceramic Art – Grimmerhus, the museum reopened as the CLAY Museum of Ceramic Art Denmark in May 2015 after a major extension. The extension came after the museum received a huge donation of works from three of Denmark's renowned ceramic manufacturers, combined in the famous collection of Royal Copenhagen. The donation expanded the museum's collection from 3,000 to 60,000 works. "Receiving the historic collection of ceramics was a huge step in the development of the museum. It has meant that we can today present our modern ceramic exhibitions in a unique, historic perspective," explains Wirnfeldt.
To be able to do so, the museum expanded the original museum building from 1857 with a new 1,500-square-metre exhibition space. The extension houses The Treasury, where guests can walk through 250 years of ceramic history. "Piece after piece, you can see the development of Danish ceramics over 250 years. It's a true treasury, an intensive presentation of the craft as a whole," says Wirnfeldt. "It's set up to create a dialogue with the changing exhibitions of contemporary ceramic artists – to explore how their expression draws back to the long and proud traditions and techniques that characterise Danish ceramics."
An international outlook
Originated by a group of internationally inspired Danish ceramicists, CLAY was founded on the ambition to explore and highlight both Danish and international ceramics. With 23 internationally recognised ceramic artists, CERAMIC MOMENTUM – Staging the Object is unequivocally fulfilling that ambition.
Presenting the current trends and developments within the international world of ceramics, the exhibition explores the contrast and interaction between the materiality of the ceramic objects and the extensive use of social media by contemporary artists. "It's important for us to show the development, because it also means that ceramics is no longer as anchored in national trends and culture as it used to be, but is rather inspired by a virtual, global interchange of visuals," stresses Wirnfeldt.
The title and design of the exhibition – which is done by Johan Carlsson/ JAC Studios Denmark – refer to the exchange and staging of images and objects on social media. It's a reality that serves as both a condition and inspiration for the exhibiting ceramicists. "CERAMIC MOMENTUM is the most ambitious exhibition we've curated so far. Having the works, many of which are huge and very fragile, shipped to Denmark has been a lot of work," says Wirnfeldt, and rounds off: "But we also expect it to be rather spectacular – it really is a once-in-a-lifetime opportunity to see so many of these world-class artists exhibiting together."
CERAMIC MOMENTUM – Staging the Object opens 11 May.
Among the 23 artists exhibiting works at CERAMIC MOMENTUM – Staging the Object are:
Takuro Kuwata:
Bridging the historical tradition of Japanese pottery and contemporary culture, Japanese ceramic artist Kuwata is very aware of both his material and the significance of social media. He is one of the most followed ceramicists on Instagram.
Takuro Kuwata (b. 1981), Tea Bowl, 2013. Porcelain, pigment, gold, platinum. Photo: Takuro Kuwata, Courtesy of KOSAKU KANECHIKA
Nils Erichsen Martin:
Norwegian ceramic artist Martin has exhibited his humoristic and poetic works all over the world and has received a number of international grants.
Nils Erichsen Martin (b. 1969). Cody Lundin in Norway, 2018. Stoneware. Photo: Andrew Barton
Linda Sormin:
Born in Bangkok, Sormin emigrated to Canada at the age of five. Through her work, Sormin, who is a Professor of Ceramic Art at the New York State College of Ceramics at Alfred University, explores vulnerability, upheaval and change through sculpture and site-responsive installation.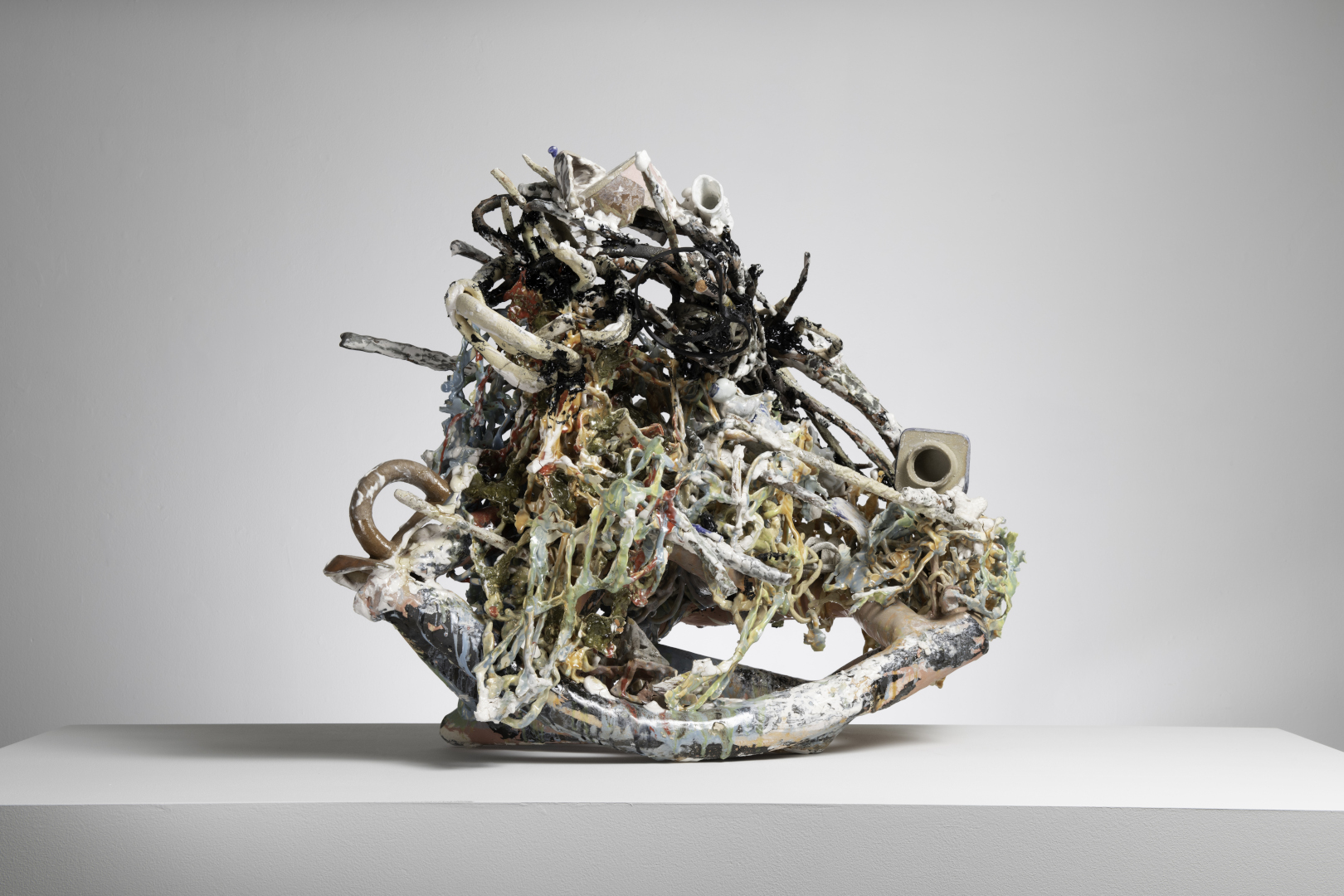 Linda Sormin (b. 1971). Sketch for Wet Dream Architecture, 2017. Glazed ceramic, discarded 3D prints. Copyright: Brian Oglesbee
Matt Wedel:
Having grown up around his father's pottery studio, the American ceramic artist Wedel works with the intrinsic properties of the material and the element of chance that accompanies the process of firing and glazing the clay. Intent on recreating the world from mud or clay, he enters the realm of mythological creation stories.
Matt Wedel (b. 1983). Flower Tree, 2015. Stoneware. Photo: Courtesy of L.A. Louver, Venice, CA
Steen Ipsen:
Born in Denmark, Ipsen lives and works in Copenhagen. From 1996 to 2004 he was head of the Institute of Glass and Ceramic at the Danish Design School. Steen is part of the avant-garde group of cutting-edge Danish ceramic artists, and his works are represented in permanent collections all over the world.
Steen Ipsen (b. 1966). Organic Movement 3/2015. White earthenware with black transfer decoration. Photo: Ole Akhøj
About CLAY and CERAMIC MOMENTUM – Staging the Object
CLAY opened as the Museum of Ceramic Art – Grimmerhus in October 1994.
From 2013 to 2015, the museum was closed due to a major extension and refurbishing.
In May 2015, it reopened under the new name, CLAY Museum of Ceramic Art Denmark.
CERAMIC MOMENTUM – Staging the Object opens on 11 May and runs until 3 November 2019.
The exhibition will present works by 23 artists from the US, Denmark, Norway, Sweden, Canada and Japan.
The exhibition is curated by Copenhagen Ceramics.
Instagram: @claykeramikmuseumdanmark