Cold Hand Winery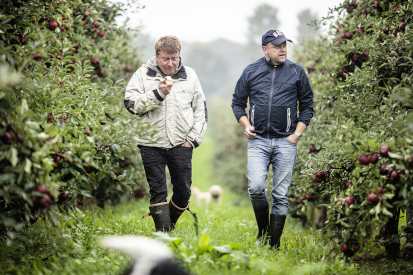 Danish fruit wines ripe for the picking
TEXT: LOUISE OLDER STEFFENSEN | PHOTOS © COLD HAND WINERY
Danish fruit wine is making waves as far away as the US, bringing new and unexpected flavours to the table. "Fruit wines had gone completely out of fashion. In the countries where there has even been a tradition for fruit wine, they've had quite a poor reputation for being sickly sweet and 'granny's favourite', and that's been quite well-deserved," says Jens Skovgaard Pedersen, founder and CEO of the prize-winning Cold Hand Winery. "No one has ever really made fruit wine with the same care, attention and quality as grape wine. Things are changing rapidly, though, as people across the globe realise how amazing they can be."
Jens Skovgaard Pedersen bought a little private orchard in 2006, just for personal enjoyment. His passion for apples soon grew out of control, however, and his orchard kept pace. What started out as a few litres of apple cider soon turned into giant crates of apple juice that Skovgaard and his wife had to frantically freeze to preserve. "By 2010, we didn't really know what to do with it all," Skovgaard recalls. And one day, he noticed a thick, sugary liquid dripping out of one of the crates. "I had a taste, and it was just delicious. Just like that, BAM, I knew what to do."
Skovgaard explains: "Fructose doesn't freeze. So, while the water in the apple freezes, all the good bits of the fruit do not – instead, they turn into a highly concentrated and ridiculously delicious, thick liquid. We get freezing hands in the concentration process, but the results are worth it!" Skovgaard got together with a local apple farmer, Flemming Villebro Jørgensen, and began the process of apple wine production. Today, their aptly-named company, Cold Hand Winery, produces some of the world's best fruit wines: many of their wines have won awards in and outside of Denmark, including the Pomme d'Or for Malus Danica and Dansk Vinshow's highest-ever score for Best Product in 2014, for their dessert wine Malus Feminam. Their apple wines have been joined by wines, dessert wines and sparkling wines based on pears, rhubarb, cherries and many other traditional Danish fruits.
The simple recipe for success
"We aren't trying to be a stand-in for grape wine; our fruit wines are lovely in their own right and make for a high-quality alternative for those who want a bit of an adventure," Skovgaard explains. "However much we'd like it to be, Scandinavia's weather just isn't ideal for grape production: they do much better in warmer climes. The Danish climate, however, does wonderful things for many other fruits and berries." The milder environment means fruit ripens over a longer period, allowing fruits and berries like apples and cherries to build up more complex, nuanced flavours. The results make for slightly more acidic, fresh-tasting fruit with a larger range of flavour profiles.
"Our apples and other fruit have just as many variables and subtleties as grapes. For one, every apple harvest is as different as each grape harvest. We know each variety like we know our own children," says Skovgaard. Cold Hand Winery grows more than 100 different varieties of apple and experiments extensively to get the best flavour combinations. "The ones that make the best wines for us, like Ingrid Marie and Filippa, are the hardy ones that are best suited to the Danish environment," Skovgaard adds. "We've definitely been endowed with a sense of the New Nordic ethos of using those ingredients that are best suited to the season and environment in order to get the best result. We don't want to emulate our southern neighbours anymore; we add value to the culinary world by experimenting with and introducing distinctly Nordic flavours. We're constantly trying out new ingredients, like beetroot juice. Someday, we'll add a fantastically earthy and very purple beetroot-apple wine to our repertoire."
Sparkling success
Their apple-based wines have reached cocktail bars in Berlin and Paris and restaurants as far away as California. On a recent trip to the US, Skovgaard was overwhelmed by the response to Cold Hand Winery's sparkling rhubarb wine, Rheum. "It's got a lovely, refreshing sharpness to it, which goes really well with salmon. It's difficult to explain its flavour as people don't really know what to expect, but that's what's nice about it too – our wines surprise people; they become an experience in their own right."
Cold Hand Winery offers numerous tastings and tours of the winery, and they are welcoming an increasing amount of visitors from Denmark and beyond. "We're actually building a pop-up restaurant and visiting centre now. At the moment, we're setting up these giant oak crates that will make up the seating areas. We'll have visiting chefs come in and cook up a menu based off our wines," Skovgaard reveals. "It's really exciting for us to be able to show people how well these wines perform, both on their own and as a dinner companion. We love having people try our wines with us for the first time; it's such a special experience."

Web: coldhandwinery.dk
Facebook: Cold Hand Winery
Instagram: @cold_hand_winery
Subscribe to Our Newsletter
Receive our monthly newsletter by email