Copenhagen Street Food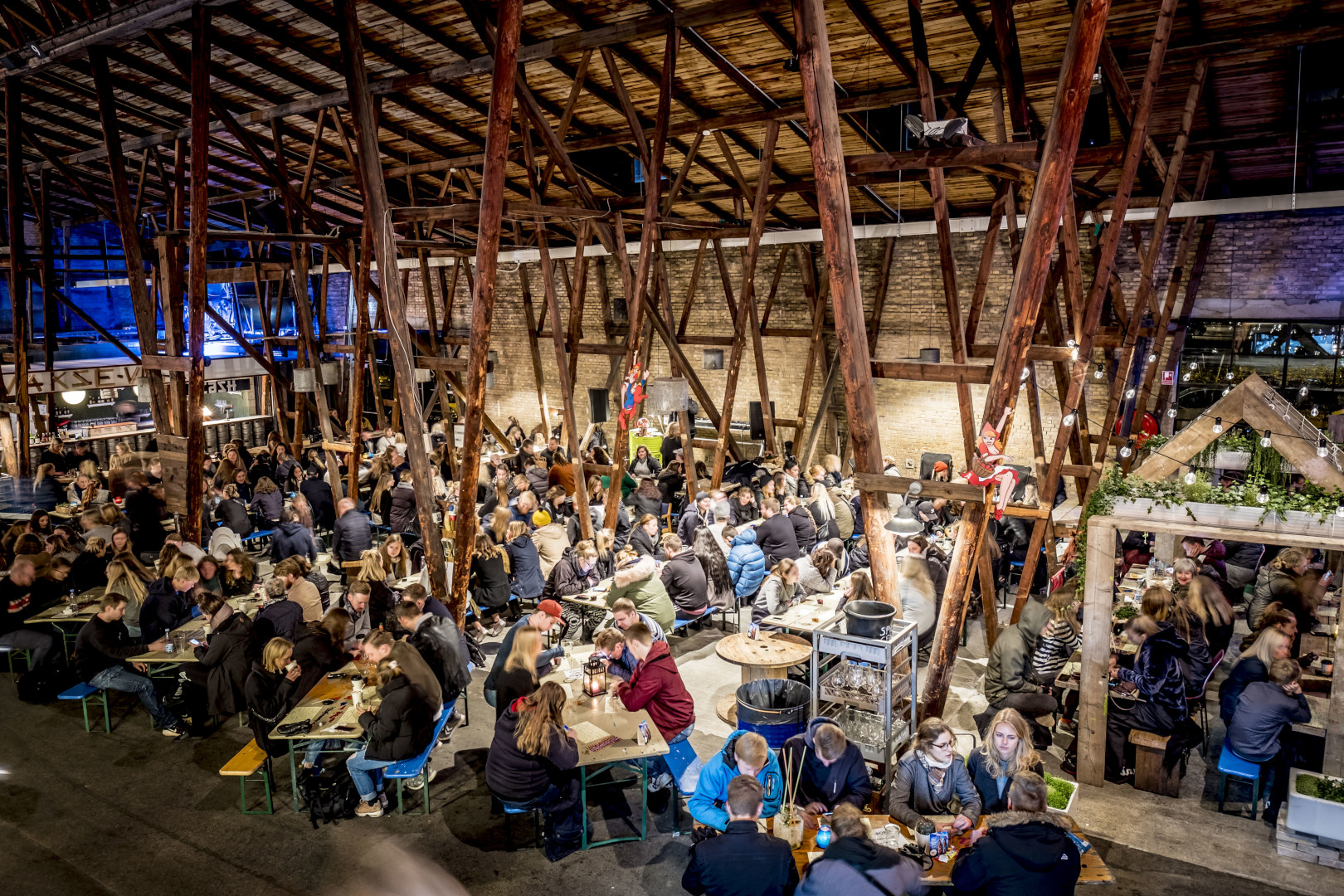 Innovation and hygge — street food the Danish way
TEXT: SIGNE HANSEN | TOP-IMAGE: JULIAN GROUP PR
Previously limited to the classic hotdog stand, street food has taken Denmark by storm, thanks to a wave of innovative, hip concepts. From gourmet pop-up stands, to music, art, innovation, and food from all over the world, Scan Magazine takes a look at three of the nation's recently opened street-food markets.
In May 2014, seven food trucks in an empty warehouse marked the opening of Copenhagen Street Food on Papirøen (the Paper Island). Behind the market was the Julian Group, a team of dedicated food enthusiasts led by restaurateur Jesper Møller. "Copenhagen didn't have a street-food market in the way most other cities had. We had a lot of beautiful restaurants and then there was the traditional hotdog stand, but something in between was missing," says Møller. "That's why we decided to create a street-food market that was unpretentious, cheerful and cheap, both for the vendors and visitors. We wanted a market with a variety of international food, and we wanted it to be affordable for everyone to eat there and to run a stand. It was also a way of embracing the start-up scene in Copenhagen and of giving entrepreneurs a chance to build up skills and experience before opening up on their own."
In 2017, after four successful years and 1.5 million visitors, Copenhagen Street Food on the Paper Island closed down. In May this year, the team behind it launched Reffen on Refshaleøen. This time, the scale was somewhat different, with 54 start-ups in the form of food stalls, bars, and creative workshops, open all year.

DENMARK'S THREE NEW STREET-FOOD MARKETS ARE BURSTING WITH TASTE EXPERIENCES FROM ALL OVER THE WORLD, PHOTOS © BRANDIS BRANDSDORTTIR
Odense's street food Mecca
Inspired by the new buzz of the capital's street-food scene, in 2017, Julian Group established Odense Street Food in Storms Pakhus, a beautiful old warehouse close to the water. Like Reffen, Storms Pakhus combines food stalls and creative stalls, run by local entrepreneurs. "We want it to be run by locals because most people love the city where they're from and that means that they engage themselves more. Passion is a very important thing in street food," says Møller.
The stands include a wide offering of food experiences, such as crispy Vietnamese spring rolls, juicy American-style burgers, authentic Mexican tacos, Italian pizzas and, of course, open sandwiches from Denmark. On top of this, there are a number of creative stalls that offer everything from upcycling design to tattoos. "You can go on a gastro-safari in the Pakhus or go to the barber shop and get a haircut while enjoying a cold beer," Møller explains.
Like Reffen, Storms Pakhus also hosts a number of concerts and other events, which are open for everyone. While the markets are large and full of different experiences, however, the atmosphere remains intimate and relaxed, and that is no coincidence according to Dan Husted, the creative director of Julian Group, who designed both markets. "We've created a number of small corners and rooms within the main space, where people can be private but still part of the market. Quite often, guests say it feels like being at a festival, because there is so much to taste and look at — the stalls, performing artists and, of course, all the other visitors. Food markets are a great place for people watching."
The concept has been awarded a number of prizes, including one by the Nordic region's leading gourmet guide White Guide, which rated Storms Pakhus among the top ten best street food/takeaway concepts in Denmark.

WITH 54 STALLS PROVIDING FOOD, BARS, AND CREATIVE WORKSHOPS, REFFEN, COPENHAGEN'S NEW STREET-FOOD MARKET, WELCOMES GUESTS ALL YEAR, PHOTOS © MARTIN KAUFMANN
Gourmet street food
Like Storms Pakhus in Odense, Reffen is located in an old industrial area by the water. The design of the market is inspired by the local history, as well as a focus on sustainability and recycling. At Reffen, this has resulted in a 'raw' feel, with old, colourful shipping containers and benches made of 100-year-old wood recycled from a nearby building. Every stall is designed by the stallholder so that it fits the individual concept and food. "At Reffen, we have 16 different nationalities and this is reflected in the design of the containers. Whether it's an organic juice truck, Peruvian ceviche stall, Italian organic polenta truck, a Romanian BBQ stall or a Danish sausage truck, they are like small postcards from all over world," Husted says. "We've also made an area with sand, a stage, deck chairs and a view of the water, so our guests can enjoy that beach feeling with some nice food, a beer in hand and great tunes from the DJ."

THE BRIDGE STREET KITCHEN (RIGHT) PRESENTS SOME OF COPENHAGEN'S BEST RESTAURANTS, AND CHEFS' INDIVIDUAL TAKES ON STREET FOOD, PHOTOS © JULIAN GROUP PR
A more understated market environment has been created in the capital's other new market, Broens Gadekøkken (The Bridge Street Kitchen). A collaboration between the team behind Reffen and some of the owners of the Michelin-starred restaurant Noma, the market offers a number of street-food kitchens and bars. The food stands are carefully selected and include Pal' Pueblo by PMY, which serves ceviche and empanadas, and Palægade Smørrebrød, serving classic Danish open sandwiches. "We are very honoured to be working with some of the owners of Noma on this market," says Møller. "While the other markets aim to give start-ups a chance to practise and get experience, this is the place where top professional chefs can give their take on street food." The market also hosts a number of pop-up stalls by visiting international chefs.
The three markets:
Storms Pakhus – Odense Street Food
Address: Storms Pakhus, Seebladsgade 21, 5000 Odense
Stalls 24 street-food stalls, six bars and seven creative workshops — all run by local entrepreneurs.
Area: 3,000 square metres
Awards:
The Nordic region's leading gourmet guide White Guide rated Storms Pakhus as in the top ten of the best street food/takeaway concepts in Denmark 2017–18.
Destination Fyn Klyngen, Funen's Tourism Industry Award – 'Årets Skulderklap'.
The weekly newspaper Ugeavisen Odense's award 'Årets Spire 2017'
Opening hours (all year):
The food stalls:
Sunday – Thursday: 11am – 9pm
Friday – Saturday: 11am – 10pm
The bars:
Monday – Thursday: 10am – 11pm
Friday – Saturday: 10am – 2am
Sunday: 10am – 1am
How to get there:
Odense is Denmark's third largest city, 1.5 hours from Copenhagen Central Station by train. Storms Pakhus is only five minutes' walk from Odense Central Station, and five minutes' walk from the Harbour Bath.
Website: www.stormspakhus.dk
Facebook: stormspakhus
Instagram: @stormspakhus
The Bridge Street Kitchen/ Broens Gadekøkken
Address: Strandgade 95, 1401 Copenhagen K
Stalls: Around 17 stalls, as well as changing pop-ups by chefs from all over the world.
Regular stalls include: Pal' Pueblo by PMY, Gasoline Grill, MAK-CIK by IBU, California Kitchen, Dessertboden, The Coffee Collective, GRØD, Palægade Smørrebrød, Kejser Sausage, Pizza Bro, Jacob & Jakob Ice Cream, The Organic Boho and Glød.
Opening hours (all year):
All week: 11.00am – 10.00pm
GRØD and The Coffee Collective:
Monday – Friday: 8am – 10pm
Saturday – Sunday: 9am – 10pm
How to get there:
The Greenlandic Trade Square is connected to Nyhavn via the bridge Inderhavnsbroen, and located a 10 –15 minute walk from Kgs. Nytorv and Christianshavn Metro Stations.
Website: www.thebridgestreetkitchen.com
Facebook: Broensgadekoekken
Instagram: @broensgadekoekken
Reffen
Location: Refshaleøen, Refshalevej 167 A, 1432 Copenhagen K
Stalls: 54 start-ups including food stalls, bars and creative workshops.
Area: 6,000 square metres
Opening hours:
May – September (plus week 7 and week 42): Open all week, including bank holidays
Food stalls: 11am – 9.00pm
Creative workshops: 12pm – 8pm
Bars: Sunday – Thursday: 10am – 10pm
Friday – Saturday: 10.00am – 12am
October – March: Weekends only (Friday, Saturday and Sunday)
Food stalls: 11am – 9pm
Creative workshops: 12pm – 8pm
Bars: 10am – 10pm
Getting there
Refshaleøen is connected to Copenhagen Central Station by bus 9A. The island can also be reached via waterbus routes 991 and 992, which sail regularly between downtown Copenhagen and Refshaleøen, as well as by the hop-on-hop-off tourist boats. In the evening, you can take Stromma evening transfer from Nyhavn to Reffen every half hour from 6.30pm. The trip takes about 15 minutes and the ticket (50 DKK — around 6 GBP) includes a free beer or a soft drink in one of the Reffen bars.
Website: www.reffen.dk
Facebook: Copenhagen Street Food – Reffen
Instagram: @reffen_copenhagenstreetfood
Subscribe to Our Newsletter
Receive our monthly newsletter by email