Drågen Smokehouse: Smoking salmon – a flavourful tale
With years of experience of working out at sea, Petter Aune came back to Norway with a dream of providing customers with tasty, high-quality Norwegian salmon products. Ten years after buying a facility in Møre og Romsdal, Drågen Smokehouse is a well-oiled family business selling traditionally smoked salmon and trout to visitors from all over the world.
TEXT: JULIE LINDEN | PHOTOS : DRÅGEN SMOKEHOUSE
A young man of 18, Petter Aune left his family to work as a fisherman in Alaska. Only three years later, he had climbed the ladder and become the fleet's youngest factory manager. Since then, Petter has been working in some of the world's most famous – and remote – corners, including the United States, Russia and Antarctica. With the experience gained, he saw room for improvement in the production lines of mass producers in the fishing industry.
Letting things take their time
"I didn't like the fact that products described as high-quality smoked salmon were often the exact opposite of decent quality. Most of these products are mass fabricated, machine smoked and come straight off steel shelves. Some are made in a hurry, without respecting the time it takes to give the fish the right taste and texture," he says, emphasising his love for genuine craftsmanship and the art of letting things take their time. "We take pride in our craftsmanship and use only local, pure and natural ingredients. Our reward is superior quality."
Situated less than 30 minutes from the famous Atlanterhavsveien – the curved, scenic Atlantic Road in the northwest archipelago – Drågen Smokehouse is listed as a must-visit location in travel guides such as Lonely Planet and is well known among food writers and foodie tourists. Here, you can combine the beauty of the Norwegian west coast, with all the fjords and mountains, with top-level cuisine. And why not fit in some snack shopping while you're at it? For those unable to visit the smokehouse, the business sells its products in over 80 Norwegian shops and restaurants – including Salmon House in Oslo Airport. "Our customers come from all over the world and appreciate the genuine flavours we have to offer," says Aune. "With so many gorgeous places to visit nearby, with wild and beautiful scenery, it's a great way to combine nature with a flavourful experience."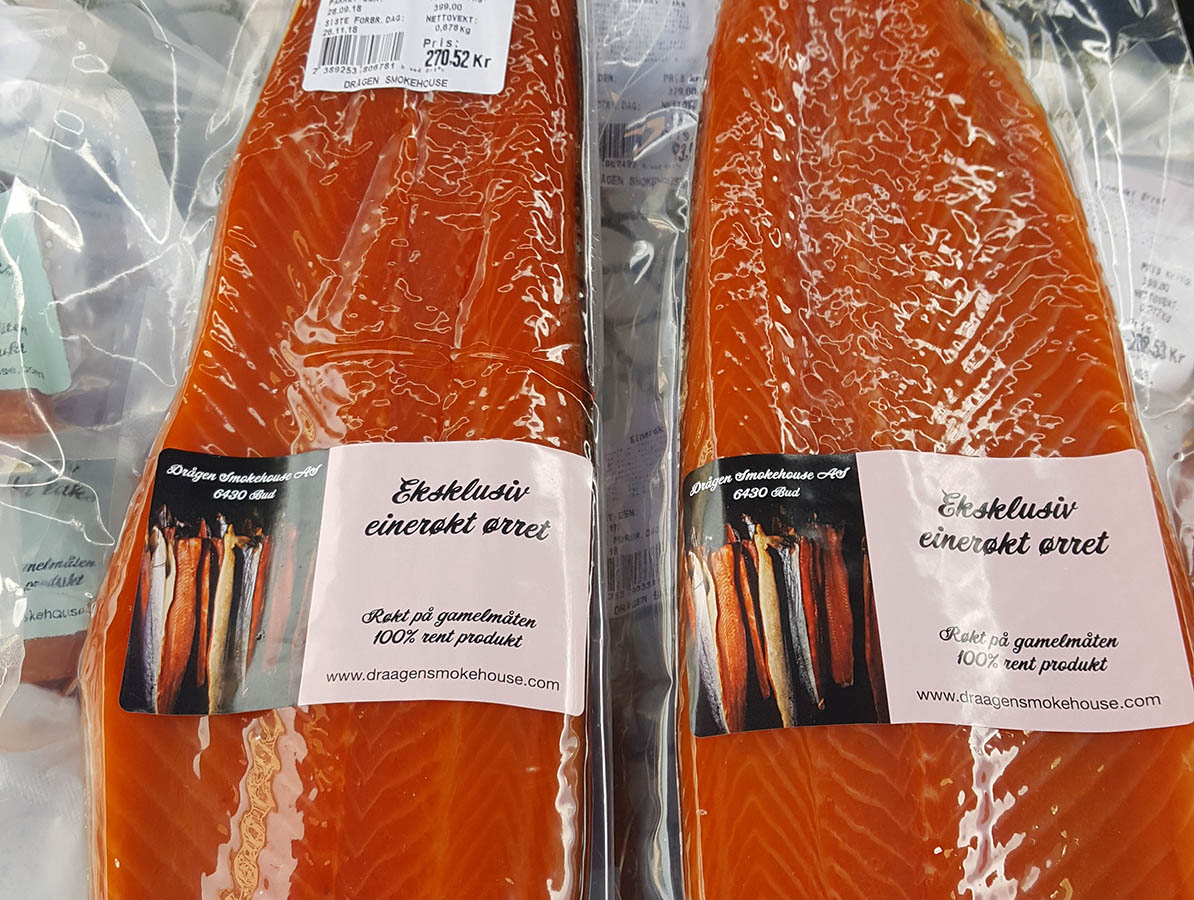 Drågen's salmon is always fresh from the North Sea, processed by hand and without additives.
Local flavours – from fish to salt
Staying true to the local flavours is important to Drågen Smokehouse, which uses locally grown juniper wood and herbs to smoke the fish. The salmon is farmed and harvested from the neighbouring island of Aukra, and even the salt is local – refined by North Sea Salt Works on the same island. Smoking the fish for long periods of time, just like in the olden days, Drågen Smokehouse achieves an authentic texture, flavour and quality of the fish.
As all products are fresh from the North Sea, processed by hand and without additives within 24 hours after the harvesting of the fish, a naturally fresh result is achieved every time. Although the process might not be speedy, the results are nothing short of fantastic. Some varieties of the fish are seasoned, and some are marinated in spirits – such as whiskey, brandy or Scandinavian aquavit – for an extra dash of goodness. "I don't know how traditional that last bit is, but it tastes good – and that's all that matters!" laughs Aune.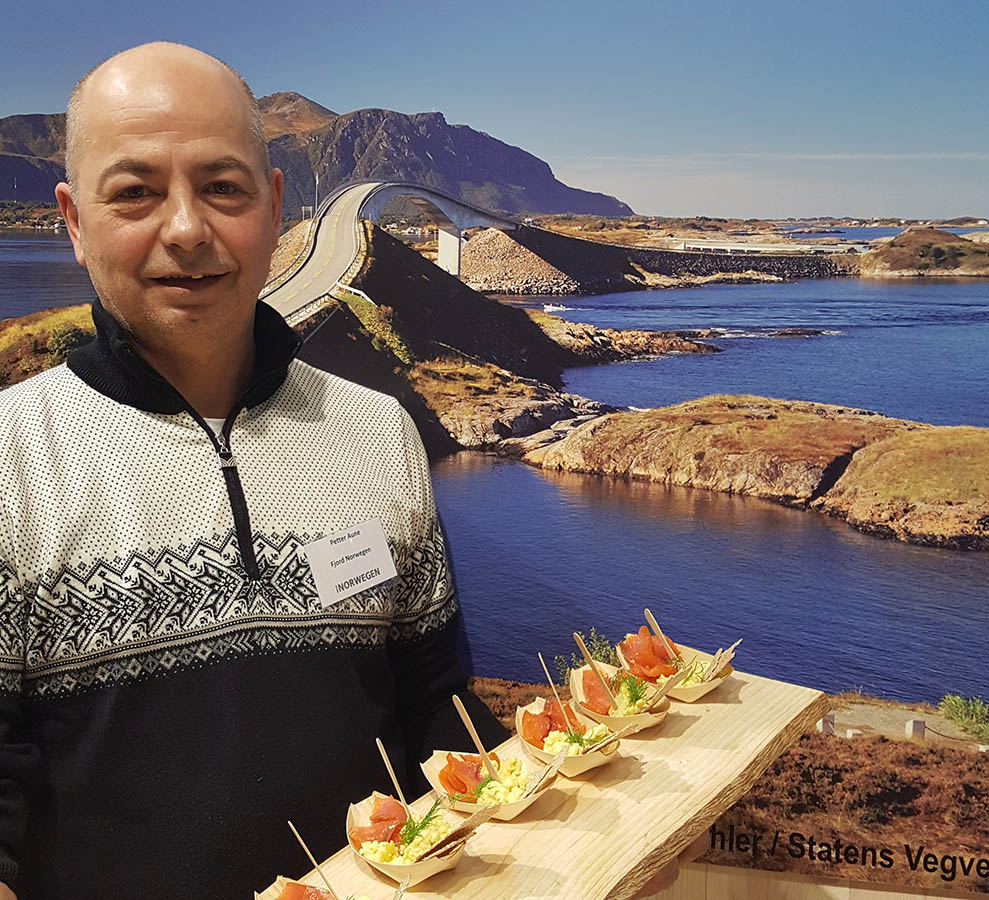 Situated close to the famous Atlanterhavsveien, Drågen Smokehouse is listed as a must-visit location.
A sunshine story built on hard work
Figures support his enthusiasm – last year, Drågen Smokehouse produced 32 tonnes of smoked fish, with the capacity to smoke even more this year. With the business up and running in its current guise for about six years, Aune says the venture has been a big success story – but not without hard work. "We've built Drågen Smokehouse from scratch, step by step, learning our lessons along the way. I've been lucky to have a father-in-law with lots of knowledge on traditional salmon smoking, and he's been a great help to me since the very start."
In 2016, the family business was crowned Business of the Year in its municipality, and with customers pouring in, the sky seems to be the limit. The smokehouse sells customised gift sets to businesses for the upcoming holiday season – a popular Christmas present for employees. A simple, natural product, made with love, care and true craftsmanship, says Aune, is the key to success. "It's all going the right way, for sure, and we're excited that people seem to love what we do."
Web: www.draagensmokehouse.com
Facebook: Drågen Smokehouse
Visit the shop and try some of the smokehouse favourites.
Subscribe to Our Newsletter
Receive our monthly newsletter by email