Ekstremsportveko: A festival combining extreme sports, music and family-friendly fun
By Linda Thompson
Every last week of June, a small town in western Norway turns into the extreme sports capital of the world. Visitors to Ekstremsportveko can watch top athletes extreme kayak, mountain bike and skydive, but also enjoy a full music line-up and try out many sports and activities themselves.
Ekstremsportveko is a festival unlike any other in the world. It pairs around 30 extreme sports competitions – from skydiving, rafting, paragliding and longboarding, to cliff diving and climbing – with a music programme in the evenings. Ekstremsportveko's live concert programme is spread out over the final three days of the event. This year, it features acts like rock phenomenon Turbonegro, hip-hop legend Grandmaster Flash, rap prodigy Kjartan Lauritzen and the interdisciplinary music and dance collective Tacobitch.
There is more to the largest extreme sports festival in the world – it is not just for watching stunning sports feats and enjoying great music. At Ekstremsportveko, visitors are invited and encouraged to try out the sports themselves. "We work tirelessly to include everyone so that they can experience the vibe and take part at their level," explains Aud Helen Singstad, the festival's head of marketing. "You don't need to throw yourself out of an airplane to be a part of the festival."
"But," she quips, "feel free to, if you have the certificate."
A family-friendly, laid-back vibe
The festival, which takes place during the last week of June this year, also hosts a Pride parade and several talks and film screenings which visitors can join for free.
Despite the scope of the event and the high-profile national and international athletes it draws, the festival has come to be known over the years for its family-friendly, laid-back vibe. It offers low-key activities ranging from mini MTB downhill and wind-tunnel, to climbing.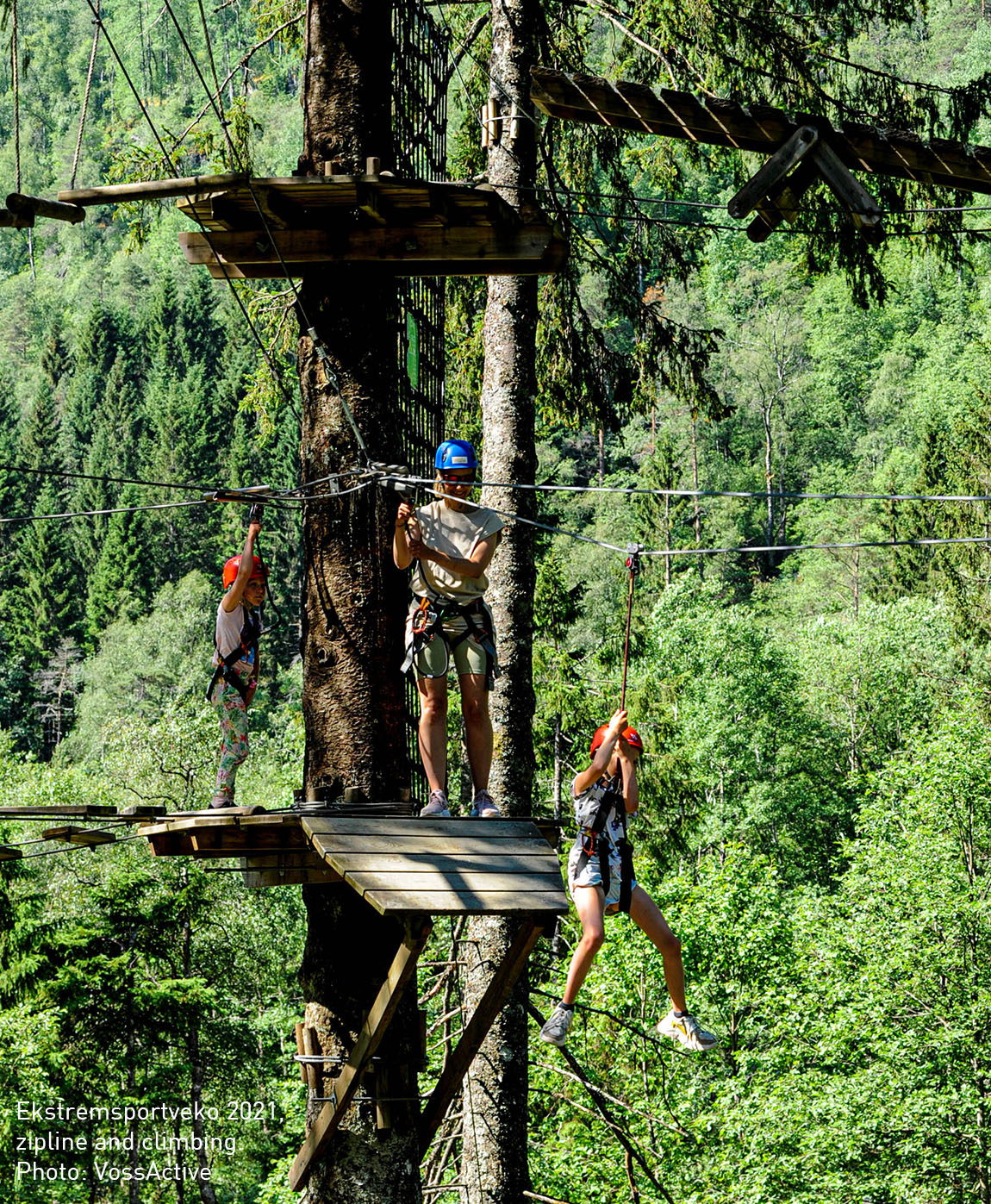 In the evenings, visitors and athletes gather in the main festival tent to celebrate that day's sports achievements with a prize ceremony and watch the video highlights of the day on the big screen. "It's the best feeling when we all come together and cheer each other on. The stoke is high when we're all watching the video of everything that's gone down that day," Singstad says, adding that the festival hosts so many simultaneous competitions that it is impossible to catch them all as a visitor.
Ekstremsportveko started out as a national extreme sports festival in 1998 with a modest programme of four sports disciplines – rafting, skydiving, paragliding and white-water kayaking. It is organised by the non-profit organisation Stiftinga Ekstreme Voss. The foundation has three people on staff year-round – Singstad being one of them – but otherwise relies completely on volunteers to make the festival a huge success year after year.
"That's also a big part of Ekstremsportveko. We have amazing volunteers who genuinely care about the festival, and they contribute to the festival's family atmosphere," Singstad explains. "You step into this open and warm community."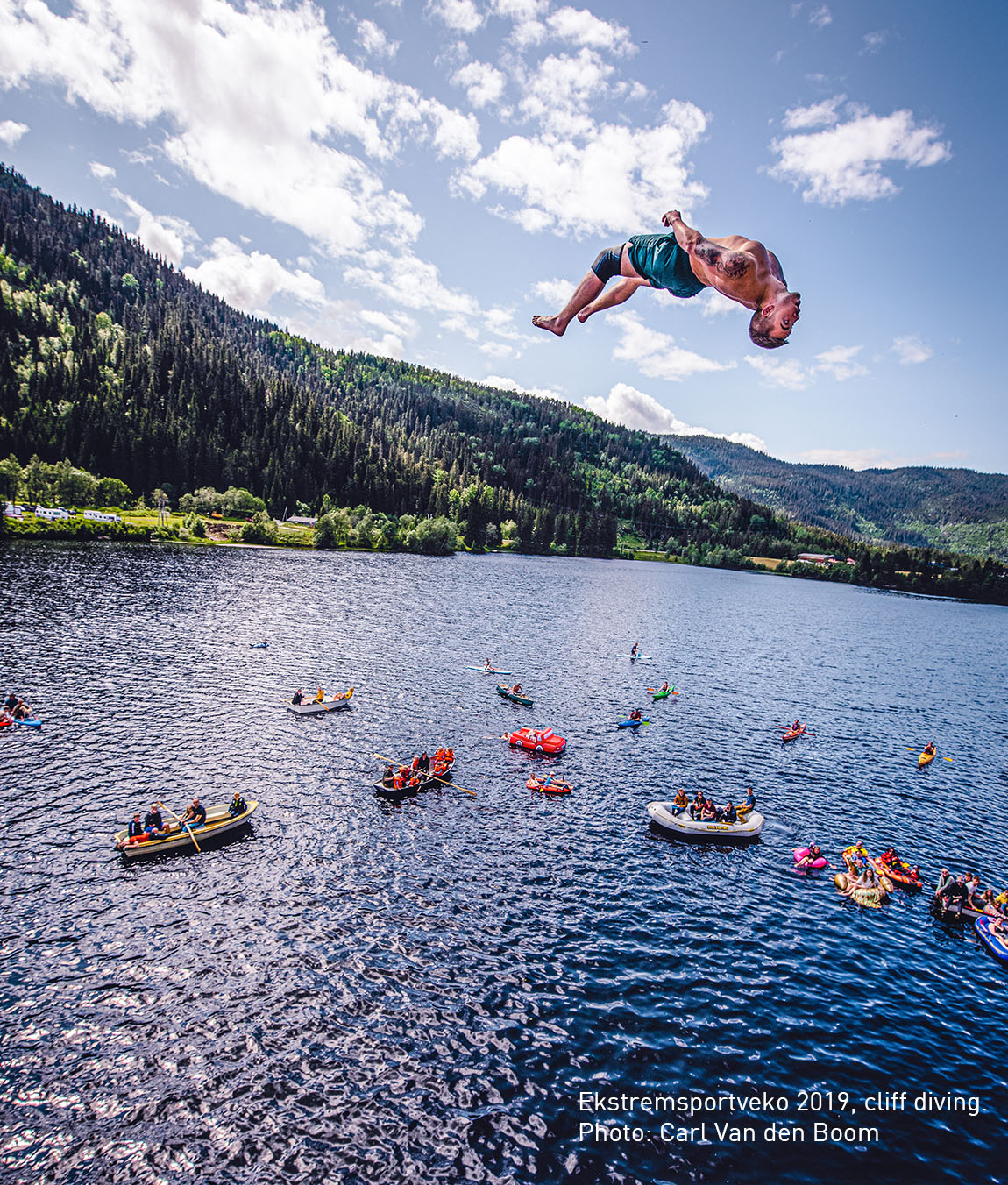 An extreme sports El Dorado
The festival is held in Voss in Vestland County in western Norway, and Ekstremsportveko has put the town of 15,000 people on the map as a destination for extreme sports.
During the festival, the town – surrounded by snow-capped mountains, forests, lakes and fast-flowing white-water rivers – turns into an extreme sports El Dorado for seven days. "The extraordinary thing about Voss is all the activities you can do within just a one-hour drive," Singstad enthuses. "This makes it the perfect base for an active week or holiday. Here, you can skydive, mountain bike, climb, longboard, raft, hike, kayak, or chill out at the many bathing spots in the area."
This year's edition will also host two major international events. The World Championship in Extreme Kayaking is a timed race that sees athletes kayak down challenging rapids and drops. "As an athlete, you need a strong skill set for this and need to be able to choose the right lines to become the champion," Singstad explains.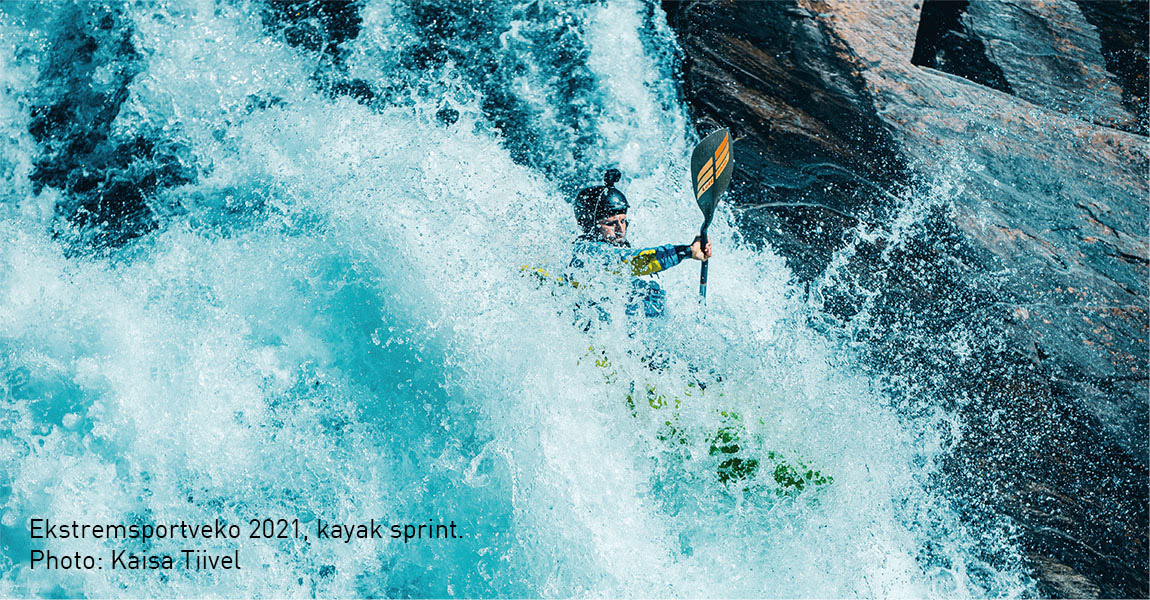 The second marquee event is the iXS European Downhill Cup, a famous mountain biking race held in Norway for the first time. "We are pretty excited that we get to host it, and we are hoping a lot of people will come to watch and maybe even join in from all over Europe," Singstad says.
Ekstremsportveko takes pride in being an eco-certified event and lives by the slogan 'leave nothing but a footprint'. The festival has a unique approach to building and taking down venues for the different sports competitions. "We try to leave as little of a footprint as we can with our activities and try not to build things that we aren't able to remove afterwards. That has been very important for us from the beginning," Singstad asserts.
"Play with nature, be bold, have fun, leave nothing but footprints, and always put safety first. For instance, we don't build a 'perfect' section for extreme kayaking. Instead, we find sections that lend themselves to testing different skills. We work with the river how it is, rather than altering it with stones or rocks."
This year, sports visitors can try out: Longboarding Gliding Climbing Mountain biking Indoor skydiving Kayaking Plus much more The 2022 edition in numbers: 1,500 athletes expected 50 countries represented 18,500 visitors expected 30 extreme sports competitions 800 volunteers 24th edition Web: www.ekstremsportveko.com Facebook: Ekstremsportveko Instagram: @ekstremsportveko
Subscribe to Our Newsletter
Receive our monthly newsletter by email