Enjoy an authentic Swedish 'fika' anywhere in the world
By Lena Hunter | Photos: Swedish Fika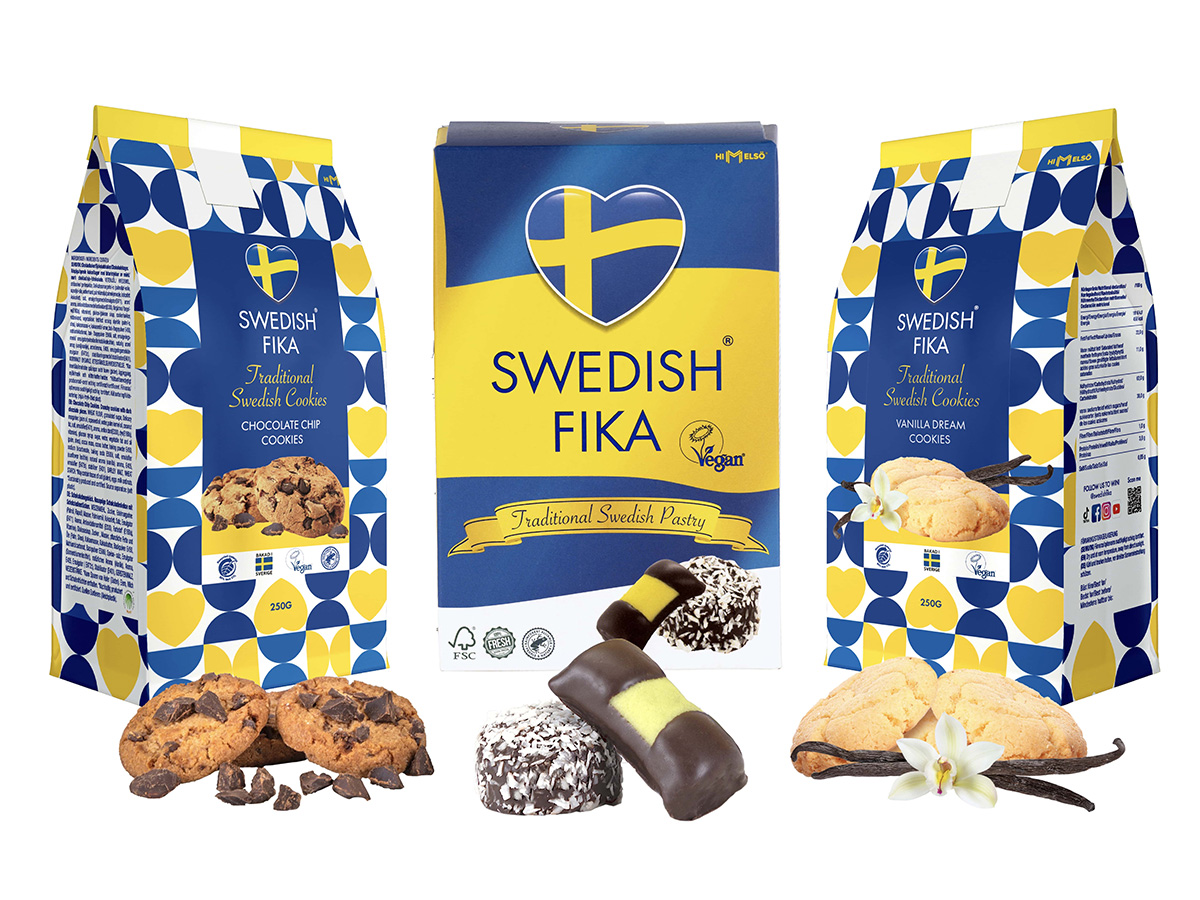 From the centuries-old tradition of baking 'lussekatter' (saffron buns) on St. Lucia's Day, to the modern habit of enjoying 'lördagsgodis' (Saturday sweets) at the weekend, Sweden is renowned for intertwining social celebrations with sugary treats. But no tradition is as beloved as the everyday 'fika'.
A 'fika' is a break for socialising over coffee, tea and pastries. The word originated from the Swedish word 'kaffi' in the 1700s, when drinking afternoon coffee with a snack at home became a regular – and uniquely Swedish – social event.
In the centuries since, this daily pause has become a matter of Swedish national identity, and certain homemade pastries and cookies have become fika essentials. The first to combine these fika essentials into a dedicated fika product was a small start-up called Himmelsö, which launched the confectionary line Swedish Fika in 2016.
Swedish Fika's initial offering, the Original Pastry Box, contained 'Chokladbollar' (Chocolate Balls) –golf-ball sized chocolate-mocha pastries smothered in chocolate and rolled in desiccated coconut, and 'Dammsugare' (Vacuum Cleaners) – classic marzipan-coated pastries with a delicious chocolate-oatmeal core. It was an instant success. Within weeks the Original Pastry Box became the best seller in its category in the Swedish Travel Retail market.
From must-have souvenirs to luxury delights
While the Original Pastry Box remains a favourite, Swedish Fika's all-vegan range has expanded to include Cinnamon Buns, Candy mix, Coffee Bags and the award-winning 'Pepparkakor' (Ginger Cookies). Annual cookie taste-tests are serious business in Sweden: competition is fierce and the standards high. So, it's an accolade of the highest order that Swedish Fika's ginger cookie was ranked best in the country (and by extension, perhaps the world!) for the third year running, by Sweden's biggest newspaper.
Swedish Fika has quickly evolved from being a must-have souvenir to a luxury delight. The newly launched 'Chokladkakor' (Chocolate Chip) and 'Vaniljdrömmar' (Vanilla Dream) cookies, which feature designer packaging, are hot property in the travel-retail and grocery markets, with Scandinavian and European stores fighting to be their exclusive distributor.
There are other pastries and cookies on the market, but none taste like the home-baked flavours of childhood memories like Swedish Fika's do. Each product is crafted sustainably, with the high-quality ingredients and packaging materials sourced largely from Scandinavia, and tied together with a deep respect for Nordic tradition and design.
Sweden's beloved fika culture is spreading beyond its borders, and today, Himmelsö's Swedish Fika products make it possible to enjoy authentic Swedish treats anywhere in the world.
Web: www.swedishfika.com Instagram: @swedishfika Facebook: SwedishFika
Subscribe to Our Newsletter
Receive our monthly newsletter by email