Fakkelgaarden Hotel & Restaurant: Culinary romance in immaculate settings
By Caroline Edwards | Photos: Fakkelgaarden
Fakkelgaarden Hotel & Restaurant is known for many things, but first and foremost it's their award-winning gourmet food and blissful location that springs to mind. Situated in rural charm overlooking Flensborg Fjord, guests can switch-off from the world and enjoy a first-class experience from the moment they arrive. Each room is light and spacious, resembling the nostalgic feel of a traditional beach hotel, the perfect setting for enjoying a gourmet holiday with your loved ones – or giving your partner the final 'yes'.
With stairs leading straight from the hotel to the water front, it's no wonder that there is a certain magic to Fakkelgaarden, a place that combines the love of French cuisine with local traditions. Situated in Kollund near Flensborg City, just a short drive from Germany, the hotel has its home in Sønderjylland, an area known for its traditional food and fresh produce.
Food first, hotel second
"The atmosphere at Fakkelgaarden is similar to that of the beach hotels from the 1920s, romantic and luxurious. However, despite being a top-notch hotel, it's the natural scenery and our gourmet kitchen that truly attracts people. Guests come here to enjoy what you could call a gourmet holiday," explains Pia Ravn, Commercial Manager at Fakkelgaarden. From the hotel rooms most guests can get a glimpse of the fjord, where ships and canoes often glide by and disappear into the horizon, and once the sunlight starts fading it's time to make their way down to the gourmet restaurant, The Tower. Located on two floors, it offers something for every taste. Upstairs you can enjoy the stunning views of the outside scenery whilst indulging in mouthwatering gourmet dishes and well-selected wine. Meanwhile, the downstairs offers food-enthusiasts the chance to get a look at the chefs in action from the open kitchen. Here, Head Chef Esben Krogh, whose career started at Fakkelgaarden when he was a young man, performs culinary wonders. After Krogh's training ended he took off to discover the world and landed himself a job at Michelin-restaurant Auberges de L'ill in France and many more, before returning back to where it all began, Fakkelgaarden.
"Our chefs are all very talented, and with Esben Krogh's expertise in French cuisine we can offer an outstanding gourmet experience, French with a local twist, always carefully prepared by using local produce from Sønderjylland," says Ravn.
Honest and authentic
Thanks to a passionate team, guests instantly feel at ease once they arrive at Fakkelgaarden.
"We wish to give our guests a rounded experience. It all needs to play together, food, hotel experience, surroundings and the atmosphere. This is not a place where you just come to crash, here you fully immerse yourself in what we are all about: good food and beautiful surroundings," tells Ravn. Fakkelgaarden offers various hotel-packages for guests, ranging from romantic gourmet-breaks to golf stays.
"We are close to the famous 75-kilometre long Gendarm Path, it goes straight through Kollund. In the old days it was used to catch smugglers. Now it's a beautiful hiking spot that takes you around the local area," explains Ravn, revealing that most guests don't want to leave Fakkelgaarden, which makes walking a great compromise.
"This is the kind of place where people switch-off and relax in the heart of peaceful countryside, enjoying the view from our terrasse facing Flensborg Fjord's calm water. Everything we do is centered around our first-class gourmet cuisine," says Ravn.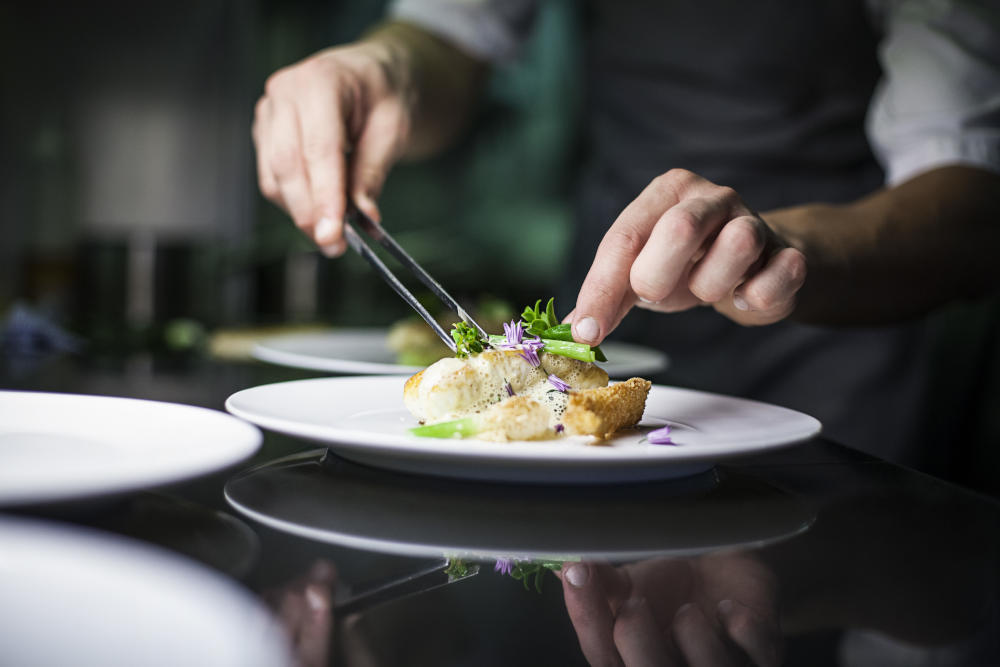 A place to celebrate
So perhaps it comes as no surprise that Fakkelgaarden is a sought-after wedding location. Apart from charming rooms and suites, the gourmet food and local area speaks for itself. This is the kind of place where you want to create lifelong memories.
"The combination of gourmet food, picturesque nature and romantic rooms facing the fjord, makes for an ideal wedding venue. If the group is big enough, we even close down the entire hotel and they have us all to themselves," says Ravn, who considers Fakkelgaarden to be a world of its own, a family you could say. Here the staff work close together to deliver the best and are known for their friendly attitude and unprecedented hospitality that often results in guests returning year after year, eager to get one more taste of Fakkelgaarden.
"We want to be remembered for those great experiences we have made possible. Romantic getaways, holidays, weddings  and important events. Every happy guest makes us proud," concludes Ravn, hoping that Fakkelgaarden can make people's dreams come true, at least for a day or two. Moreover, the hotel has exceptional conference facilities as well as wine tasting in Fakkelgaarden's striking wine cellar, so whether you seek a weekend-treat, a fairytale wedding or a memorable business meeting, Fakkelgaarden's team is ready to embrace you.
For more information, please visit www.fakkelgaarden.dk
Subscribe to Our Newsletter
Receive our monthly newsletter by email