Fashion Diary: May 2019
With nostalgia for the '90s running high at the moment, the fashion scene is full of sporty, oversized silhouettes, unisex designs and statement pastel colours. Comfort is a top priority, and we suggest staying up-to-date on the latest 'athleisure' wear trend with these key items.
Stand out from the crowd by wearing these cool Blue Skate sunglasses from Scandinavian menswear brand ZLCOPENHAGEN (top image). Where fashion meets fitness, they create classic designs that have a timeless appeal for the fashionable man who leads a healthy and active lifestyle.
ZLCOPENHAGEN, 'Blue Skate' sunglasses, £48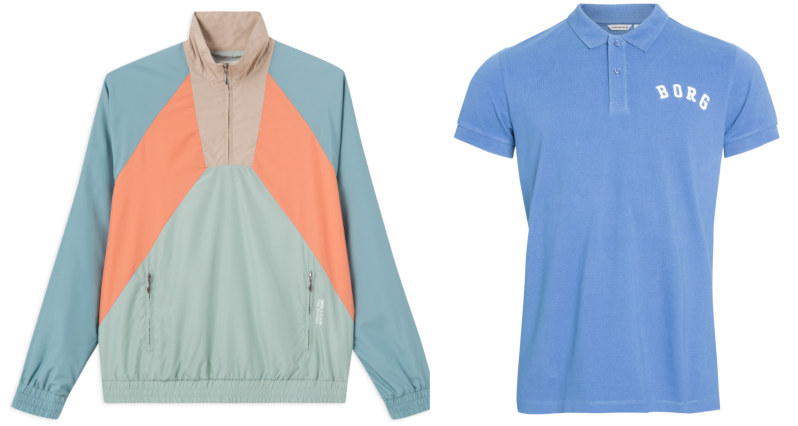 'Gaspar' jacket by Wood Wood, £175 (left image), 'Yonder' polo shirt by Björn Borg, £40 (right image)
The light performance Gaspar jacket from Wood Wood, in mint, features a '90s sport-inspired colour-blocked pattern on the front and back, which will make you look right on-trend this season. Complete the set with the matching Elliott trousers for a stylish and comfortable vibe.
The polo takes us back to urban fashion in the '90s. This regular fit Björn Borg polo shirt in pique fabric made from 100 per cent organic cotton features an iconic BORG embroidery on the chest and comes in a range of this season's colours. An essential item that completes your wardrobe and will look great both inside and outside of the gym.

Sweatshirt by Happy Wifey, approx £81
Happy Wifey is a Norwegian lifestyle brand for women, expressing a mix of retro style and Scandinavian design. Their signature sweatshirt, available in dusty pink, grey, white and black, is soft and comfy – a classic wardrobe staple that you can wear over and over again.

Superga X Dagmar, trainers by House of Dagmar, £100
For their Spring/Summer 19 collection, Swedish fashion brand House of Dagmar has done a collaboration with the Italian shoe brand Superga. Combining sporty and classic design inspired by femininity, the classic Superga-style trainers have been recreated in a polyknit material available in white, with soles in lilac, brown or white.

'Celest' skirt, £109. 'Cami' blouse, £130, 'Majah' glitter pumps, £175 by Custommade (right image), 'Marcel Calypso' trousers, approx £69,'Mason Wasted Youth', approx £34 by WeSC, 'Cross' bag, approx £34 by WeSC (left image)
Sporty does not have to mean a tracksuit. The Celest skirt from Custommade has a stretchy waistband that sits high on your frame and falls flattering to your silhouette, perfect for a sporty style. Give your outfit even more of an athletic look by wearing socks in your pumps and dress it up with a slouchy, cute blouse in a pastel colour palette.
Jump straight into the '90s with this energetic outfit. We love the oversized and relaxed fit, retro track-inspired patterns and bold colour choices teamed with a simple slogan tee. The trousers and T-shirt, both from Stockholm streetwear brand WeSC, are unisex.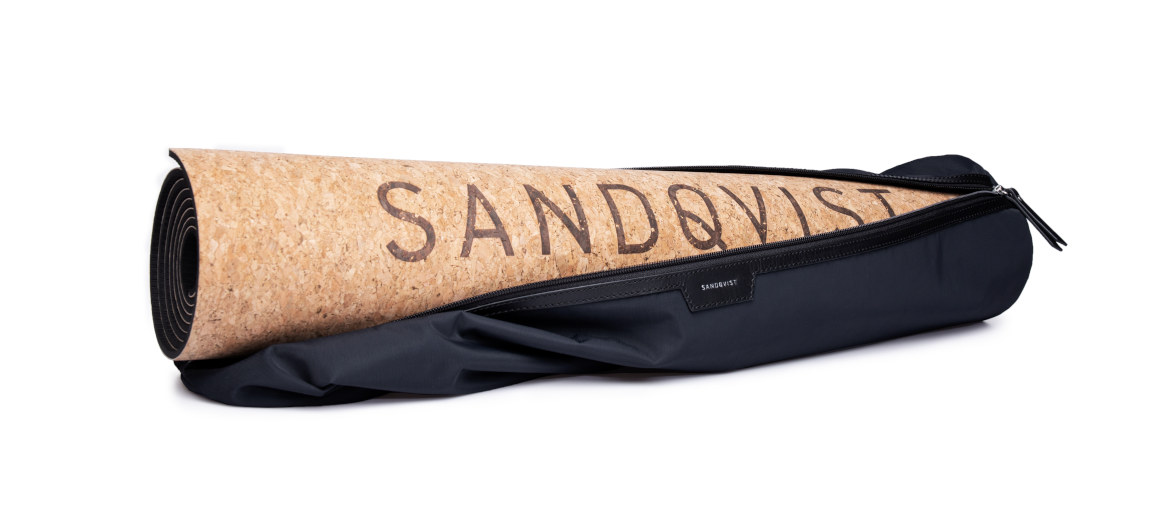 yoga mat, £49, 'Julia' yoga mat bag, £49 by Sandqvist
Swedish bag brand Sandqvist will help you not only look sporty but to also be sporty with its yoga mat made with a TPE base and a cork surface, giving the mat great stability and grip. Carry your yoga mat with you anywhere in the convenient Julia bag, which features a small zipper pocket inside for those small items that are easily lost while on the go. Available in powder and black.
TEXT: INGRID OPSTAD | PHOTOS © PRESS PHOTOS
Subscribe to Our Newsletter
Receive our monthly newsletter by email