Fermaatti Choir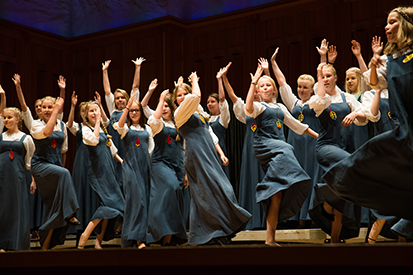 Bright Nordic sounds
TEXT: NDÉLA FAYE | PHOTOS © FERMAATTI AND IDA KUPARI
During its 40 years of existence, the Fermaatti youth choir has had hundreds of girls from Kalajoki, Finland, sing for them. The choir has travelled across Europe in various competitions – and four decades later, the ensemble shows no signs of stopping.
"Kalajoki is a very small town, located in the Northern Ostrobothnia region of Finland, and being part of a choir is such a formative experience. The choir members form such a close bond, and it feels like we are a family. Fermaatti also offers young people a great opportunity to travel: our girls have performed in Hungary, the Netherlands, Belgium, Germany, Italy, Ireland, Japan and France," says Soili Autio, the choir's director since 1979.
With their song repertoire ranging from old Latin church music to modern gospel and folk songs, Fermaatti is proud of its clear sounds. "In an age where so-called 'easy music' is everywhere, simpler a capella songs might not be very 'in' – but we are proud to showcase beautiful, clear and bright Nordic sounds that are reminiscent of a river flowing through a mountain," Autio proudly describes.
The Fermaatti choir currently has 32 singers, aged ten to 19. The choir has taken part in numerous competitions and performances around the world, and they have won gold at three major European music festivals: in the Netherlands in 1995, in Fivizzano, Italy in 1998, and in Calella in Spain in 2013. In 2000, the Finnish Broadcasting Company chose Fermaatti as Youth Choir of the Year. "In addition to the parish of Kalajoki and the local college, one of the most important backers of the choir has been the Fermaatti Choir Support Organisation, which consists of some of the girls' parents and which does selfless and invaluable youth work in the local area," Autio explains.
This spring, Fermaatti will be performing special concerts to celebrate its 40 years – and the concerts will also be Autio's last few before stepping down as director and passing the torch onto an ex-Fermaatti singer, Emma Räihälä. "Directing the choir has been rewarding and joyful; I also direct two adult choirs, so choirs are a big part of my life and I have a deep passion for my work. I get strength from the endless energy of the young people," Autio concludes.
Subscribe to Our Newsletter
Receive our monthly newsletter by email