Finnjävel: A true homage to Finland's culinary traditions
By Ndéla Faye | Photos: Nico Backström
Finnjävel offers diners a unique restaurant experience, diving into Finnish culture with its food as well as interior design. Located in the heart of Helsinki, the restaurant – which was awarded a Michelin star in 2021 – combines fine dining with traditional Finnish cuisine in an unprecedented way.
Finnjävel, literally translated as 'Finnish devil', is a pejorative term used in Sweden in the 1950s and '60s in reference to Finnish immigrants. "At that time, Finns mass-migrated to Sweden in search of a better future. As is so often the case, adapting to the new life was difficult. In the modern context, we at Finnjävel can now take the term as compliment. For us, it is synonymous with 'sisu', a Finnish concept of the combination of stamina, perseverance and ambition, seasoned with a pinch of megalomania," says Finnjävel Salonki's restaurant manager, Otto Sovelius.
Finnjävel was founded when chefs Henri Alén and Tommi Tuominen, both heavyweights on the Finnish culinary scene, realised that they knew embarrassingly little about the history of Finnish food. Originally, Finnjävel was meant to be a two-year project, after which the restaurant would close. By the time Finnjävel's doors were due to shut in 2018, the restaurant had risen to a level of success that took even the owners by surprise. It had garnered a reputation as a much-loved restaurant among Finnish and international diners alike. "We thought it was a pity that it was all coming to an end. After some deliberation, we decided to stage a comeback, and Finnjävel opened again in 2019," says Tuominen.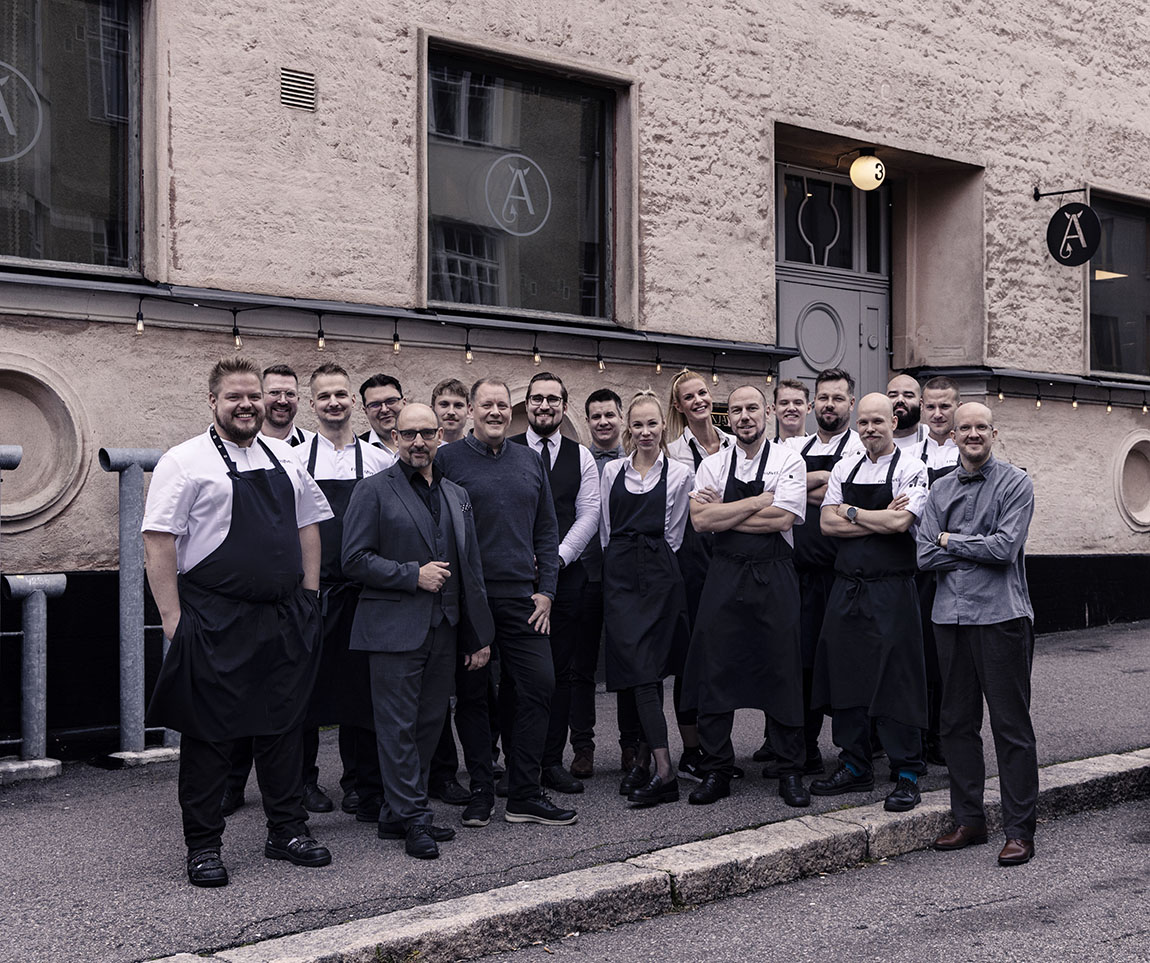 Finnish design, from floor to ceiling
Finnjävel is located in Helsingin Taidehalli (Kunsthalle Helsinki), an art exhibition space and landmark building in the architecture style of the Nordic classicism of the 1920s. The restaurant's décor – designed by the renowned Ateljé Sotamaa – has been carefully thought out to showcase and celebrate Finnish design and craftmanship. "Everything from the floor to the ceiling, down to the tiniest detail, such as the plates and cutlery, is Finnish design," says Sovelius.
Finnjävel consists of two restaurants on the same premises: Sali and Salonki, a fine-dining restaurant. Both restaurant's use Finnish ingredients and traditional Finnish cooking methods, such as curing, smoking and fermenting. The food is largely based on meat, fish, vegetables, dairy and eggs, and the recipes used at the restaurants have been passed down through generations.
"Our dishes are based on the type of food that Finns would have eaten 100 years ago. We are inspired by Finnish home cooking and the brilliant inventiveness Finns showed when having to cook with limited ingredients," says owner Timo Linnamäki.
A sophisticated dining experience
Finnjävel Salonki (The Salon) was awarded a Michelin star in 2021, as well as a Service Award for the best restaurant service in the Nordics. The restaurant offers diners a refined and intimate setting for fine dining. The menu, offering either five- or eight-course dinners, takes guests on a culinary journey through Finland's centuries-old food culture. Giving an indication of the slight tongue-in-cheek style of the place, the wine packages, served alongside the restaurant's wine list, are divided into 'good wines' and 'better wines'. On the other side of Finnjävel is Sali (The Hall), which is the place to enjoy a more casual – but still elegant – lunch or dinner.
"We have dug deep into the past in order to create the future of Finnish cuisine. Finland's location between Russia and Sweden has created quite a unique culinary culture, which differs from the other Nordic countries," Linnamäki explains.
The restaurants serve very traditional Finnish dishes – familiar to most Finns through the kinds of meals often served at school. On the menu are some of the most commonly loved or hated school meals, like 'läskisoosi', a traditional stew made from pork belly, fried with onions and flour, and 'tilliliha', which is meat slowly simmered with vegetables and seasoned with dill, among other things.
"Many Finns usually have a strong reaction when they hear of these dishes. We have taken these old recipes and brought them into modern times – and hopefully we can help people revisit their memories in a new light," Tuominen explains.
For international guests, Finnjävel offers an all-encompassing way to delve into Finnish culture. "We're serving truly authentic Finnish food. This is as traditional as it gets. That, coupled with the unique setting and being surrounded with Finnish design, is the icing on the cake. It's a must-visit when in Helsinki," he concludes.
Web: www.finnjavel.fi Facebook: Finnjavel Instagram: @finnjavelhelsinki
Subscribe to Our Newsletter
Receive our monthly newsletter by email