Fisketorget: From sea to plate with style
By Lisa Maria Berg | Photos: Fredrik Ringe
In the heart of Stavanger, by Vågen bay, sits the fishmonger and restaurant Fisketorget. The restaurant has taken seafood to a new level, selling whatever the ocean provides. And with the North Sea almost pouring in through the door, they do not have to go far to make a catch.
It is not without some feeling of astonishment that you enter into the organised chaos of the restaurant. As you step
in, a chef yells over your head "Guests at the door!" You have been spotted. Still confused as to whether you are finding yourself in an Italian port, South Asian fish market or a busy Mediterranean village, you are shown to a table – that is, if you have booked one – by a smiling sommelier. Where is the menu, you ask? Your lovely guide points to a large blackboard, just as a chef wipes a dish out and writes something else in its place. That is right. The second supply of fish of the day has come in, and it is different to the first. Here, the menu has to adapt to the sea.
Local produce
Fish has been sold at this site for over a hundred years and its central location highlights the importance of seafood in this seaside town. It was not until six years ago, however, that the sale of seafood moved to another level with the opening of the Fisketorget restaurant. Conceived as an on-the-side kind of thing, it has –161,000 portions of creamy fish soup later – come to be the flagship of the whole operation. "We wanted to change things around a little. We wanted to know where locally sourced seafood and produce could take us and our menu," says owner and chef Karl Erik Pallesen. He and his team are passionate about food and it has been a whirlwind six years. "Without
getting ahead of ourselves, between you and me, it is going very well. Our menus are based on the day's catch and we are always working with what is in front of us," says Pallesen, explaining the reason for the restaurant's success. "This keeps us experimenting and creative."
The menu
To some it might sound like something from a TV show, and it does all have a touch of Masterchef about it. But this is not a TV studio, this is a kitchen, and a very busy one. With fresh fish coming in up to three times a day, and often without really knowing what kind it will be this time, the chefs have to think on their feet. "We always start the day by looking at what our local supplier and the sea have provided us with that day," Pallesen explains. "Then we throw ideas out there – what do we want to create?" And so it is, with perhaps the best produce of the world, that the kitchen takes upon it this challenge. Thankfully, the local vegetables and seafood are in the best of hands. Pallesen – formerly a member of the Norwegian national cooking team – will, together with his right hand man Lars Erik Kristiansen and the rest of the team, guide the cod, salmon, king crab, crayfish and shrimp on its culinary journey from the sea to your plate.
Breathe, relax and enjoy
Let us return to the busy floor of the restaurant. You have sat down. You have ordered something from the ever-changing board. In front of you is a glass of chilled white wine. During your day you have visited museums, you have strolled through the streets of Stavanger, you have seen the town. Soon you will get on a boat, or in a car, or catch your flight. But for now, you can breathe. Perhaps you ordered the famous fish soup – whose recipe is a secret and has only been revealed once to a regular customer from Singapore, who at one time had to cancel her yearly trip and was, after being sworn to secrecy, given the recipe to make at home. Or maybe you went for a traditional platter
of cured herring with potatoes and egg. Or perhaps on this particular day the crayfish man (yes, the crayfish supplier
is one man in a boat) caught a really good batch and you find yourself nibbling away at those. Or perhaps crab came in this morning and the team decided to make an Asian-inspired dish that just happens to go perfectly with that wine you ordered. Or maybe you thought: 'You know what? Today I would like just the simplest of all', and in front of you are shrimps, bread and some homemade aioli. Pure and simple and so tremendously delicious.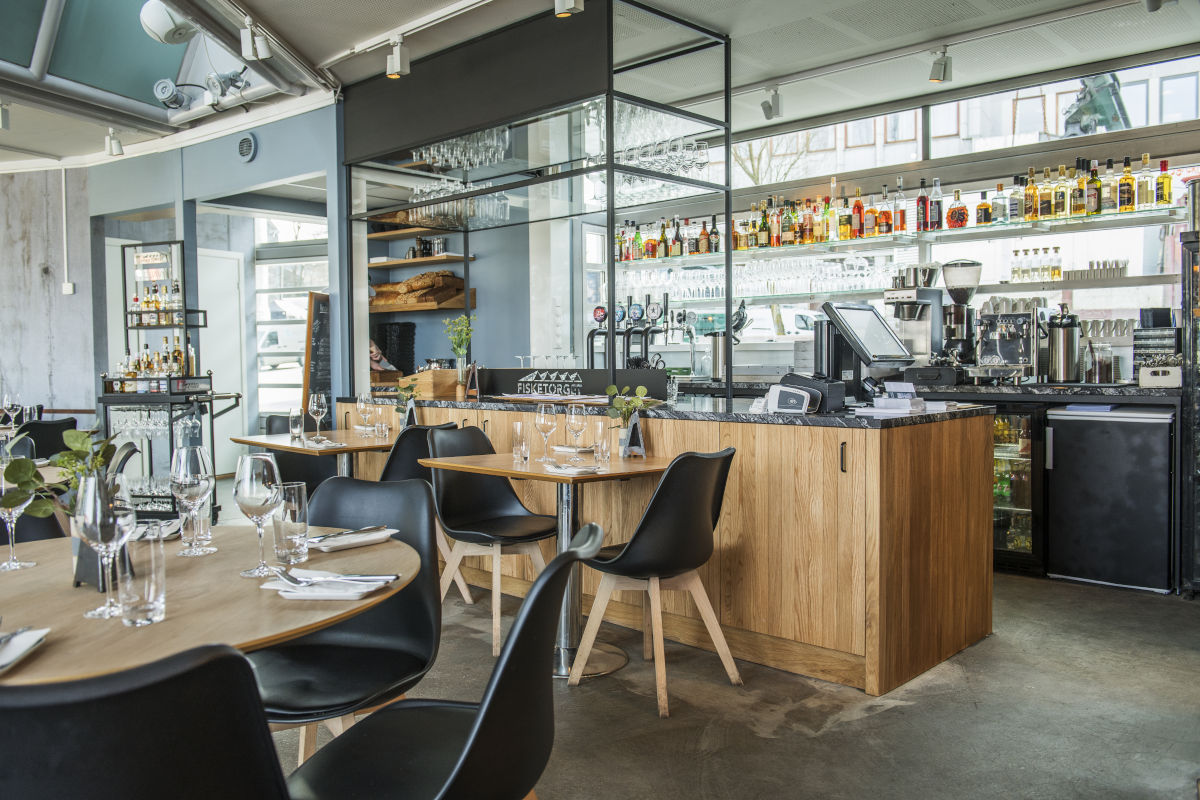 Subscribe to Our Newsletter
Receive our monthly newsletter by email