Fjellstua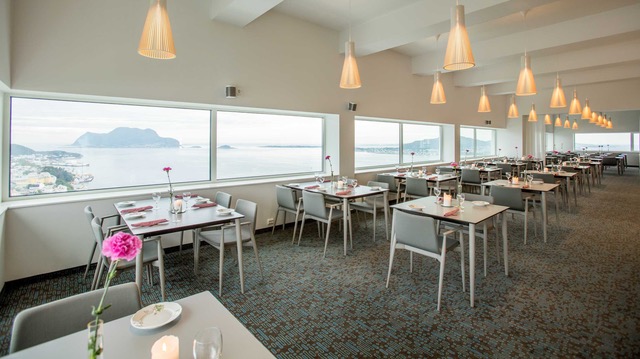 Dinner atop a mountain with panoramic views
As one of the oldest eateries in Ålesund, Fjellstua is located at the very top of Ålesund, with unparalleled views of the town. Situated 418 steps up from the town park on top of the town mountain at the viewpoint Aksla, Fjellstua welcomes guests to stop by for lunch, dinner, coffee or drinks – inside or outside, depending on the weather.
In 2015, Fjellstua went through major renovations in both the café and the restaurant and, as a result, the management decided to open for dinner in the evening and lunch during the day. It now welcomes a whopping 300,000 tourists every year. Dating back to 1903, Fjellstua is a top attraction known both for its magnificent views from the restaurant located 130 metres above sea level, and for the food made using only the best ingredients. Catering to all taste buds, their food includes a range of allergen-free dishes.
Local food made from scratch
"We produce all our dishes from scratch and use local suppliers where possible – especially our klipfish, cured meats and whale products," explains owner Helge Jan Breivik Farstad, who runs Fjellstua with his wife Hege. "We cater to a wide range of customers – from businessmen who want to come up for a better lunch or dinner, to families who want to bring their children."
Fjellstua serves up to 400 portions of fish soup per week, which equals almost 80 litres. Farstad explains that the fish soup is a best-seller, with whale steak, seafood salads, sandwiches and klipfish close behind. The café and restaurant also features banquet facilities and an outdoor area that seats up to 200.
Most visitors currently arrive at Fjellstua by bus, but there are conversations taking place at the moment to see whether a lift transporting people from Ålesund town to Fjellstua could be a possibility, making it even easier for tourists to visit the viewpoint and restaurant.
Subscribe to Our Newsletter
Receive our monthly newsletter by email