Frilandsmuseet: The museum where you step back in time to the old Denmark
By Josefine Older Steffensen | Photos: Frilandsmuseet
O nly 30 minutes from the centre of Copenhagen, it is possible to experience 250 years of Danish history. Old Denmark – Open Air Museum was established in 1897 to showcase the history of the Danish countryside, and today it has over 50 original buildings, which give you an insight into what it was like to live and work in the Danish countryside up to 300 years ago.
"Old Denmark is an interactive museum, and one where history comes to life. All of our buildings are original buildings from the Danish countryside, which have been taken apart brick by brick, moved from near and far, and put together again within the museum. The interiors are collected and curated to fit certain time periods, so every building you step into is a time warp," explains Brittany Overgaard, press and marketing manager for Old Denmark – Open Air Museum.
The open-air museum is brought to life further with lots of volunteers and staff who dress in historic Danish costumes and use the buildings the way they originally would have been used. It is possible to visit a cottage and try freshly baked bread, try your hand at churning butter, or even have a go at chopping wood. There are always lots of events throughout the season, too, for both kids and adults to enjoy.
Explore and immerse
A visit to Frilandsmuseet truly takes you on a tour of the old Danish landscape. There are traditional breeds of horses, goats, pigs, cows and sheep, to mention a few of the animals present throughout the museum. The buildings have also been sourced from all the corners of Denmark, including what is now Germany, Sweden and the Faroe Islands, showcasing the many sides to Denmark.
"One of the best ways to experience the museum is to get an overview from our horse-drawn carriages, which depart from the entrance. It gives a good idea of how big it is and how much there is to explore. After that, it's all about exploring and joining in on the activities, and maybe being pulled along by a pony when your feet get tired," suggests Overgaard.
There is something rather exciting and magical about fully immersing yourself in history, and in a place where you won't see anything modern throughout your visit. With Sorgenfri train station a ten-minute walk away and buses that stop right outside the front door, this museum offers a fun and easy way to spend the day.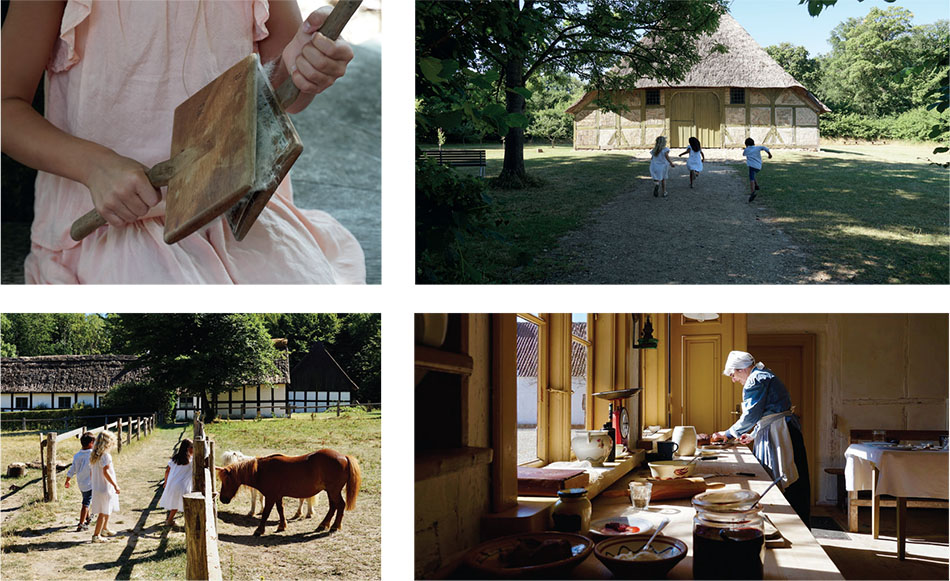 Frilandsmuseet is open from 9 April to 20 December. Closed on Mondays. Free admission for children under 18. www.frilandsmuseet.dk Facebook: frilandsmuseet Instagram: @frilandsmuseet
Subscribe to Our Newsletter
Receive our monthly newsletter by email