Gabrielle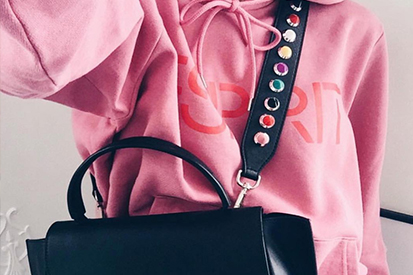 Make a statement with vegan fashion accessories
TEXT: LIZ LONGDEN | PHOTO © EMELIE
Gabrielle BY P is a brand inspired by owner Pauline Längbo's sister Gabrielle, a young woman whom Pauline describes as having the courage to express herself through her own personal style and to be true to herself. Producing a range of vegan bag straps, accessories and soon handbags too, the brand hopes to empower its customers to do the same.
25-year-old designer Pauline takes much of her inspiration from her travels, and not least from the colour and vibrancy of her most recent love, Rio De Janeiro. Yet, although Pauline laughs when she describes her designs as "not typically Swedish design", since they feature vibrant colors and shapes, she is happily surprised that her Rainbow Black Bag Strap has come to be the most popular accessory among her Swedish customers.
Indeed, little over a year after its launch, Gabrielle BY P's products are stocked in over 20 retailers worldwide and the brand is growing rapidly, although Pauline stresses that the company's core values are paramount, and that she is therefore very selective about which partners she collaborates with.
Chief among these values are Pauline's love for animals and the environment, and the importance she places on sustainability. For this reason, Gabrielle BY P's products are 100 per cent vegan. "I want to prove that ethics and fashion can go hand in hand," she explains. "I love my products as much as I love my animal friends; therefore, production is friendly to all involved in the process."
As a young businesswoman, Pauline also stresses the importance of support from other women, and she is especially grateful for the encouragement she has received from the internationally renowned jewellery designer Efva Attling, whom she has always looked up to. "It's fantastic to have such an inspirational and powerful woman wearing my designs," she says. "I still can't believe it."
Subscribe to Our Newsletter
Receive our monthly newsletter by email