Gastro Cafe Kallio: Brutally tasty
MAIN PHOTO: Gastro Café Kallio is a brutal bistro: classic with a modern twist.
A daring menu, clever use of ingredients, and extravagant theme nights make dining at Gastro Café Kallio a truly special experience.
TEXT: HANNA HEISKANEN | PHOTOS: JUHANI LEHMUS
When did you last taste lamb testicles? Or mallard eggs? Both are all in a day's menu at Gastro Café Kallio, an eatery located in Helsinki's trendy Kallio neighbourhood. The restaurant, which started off as a café and bakery, has over the past few years gained something of a cult following among the city's culinary connoisseurs.
When asked to describe the Gastro Café's approach to cooking, Kare Karhu, who co-owns the restaurant with Julia Juvonen, opts for classic with a modern twist. "It's a brutal bistro. We've more or less put the space together ourselves using cheap materials. But the cooking itself is quite classical, Nordic dishes with French and Russian influences. Food we want to eat," Karhu says.
The decision to serve red meat was a conscious one. Gastro Café Kallio has embraced the so-called nose-to-tail approach to preparing meat. Using all parts of the carcass for food is one way of decreasing the production of meat. "It's also about respect for the animal: we don't just prepare a few steaks and throw the rest to waste," Karhu explains.
Gastro Café Kallio prepares its own sausages and also continues the tradition set by the bakery by baking all the bread served. Many of the restaurant's trusted suppliers are local, and in the summer, you might get lucky with the homemade ice cream. If you're still hesitating to order dessert, consider that Julia Juvonen has represented Finland in international culinary competitions in the pastry category.
To keep things exciting, Gastro Café Kallio's menu changes on a whim. "If we've received, say, a small amount of lamb testicles, they are served until we run out," says Karhu. A Gastro Café Kallio specialty is fish served whole, bones and all. Every now and again, patrons are treated to a long, ten-to-14-course Sunday menu designed by visiting culinary stars. There are also occasional theme nights – feasts for all senses, including live music.
"We like to collaborate with our neighbours and are looking forward to hosting an exhibition by artist Nanna Susi, whose studio is close by. The food at the opening will of course be inspired by her paintings," says Karhu.
Web: gastrocafe.fi
Facebook: Gastro Café Kallio
Instagram: @gastrocafekallio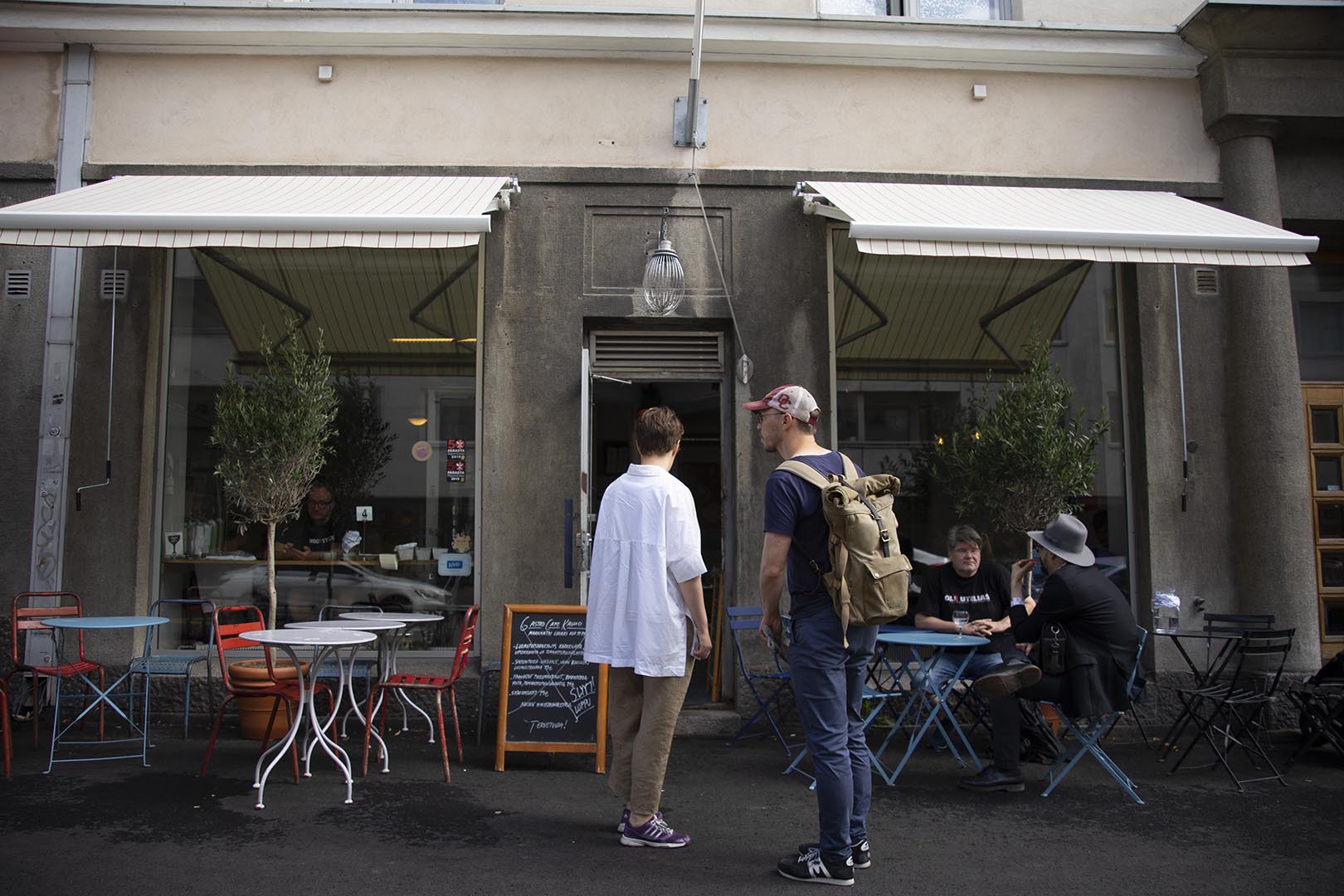 The edgy Kallio neighbourhood provides the perfect home for the restaurant.
Subscribe to Our Newsletter
Receive our monthly newsletter by email