Geiranger Chocolate: Chocolate with a view
By Emma Rodin | Photos: Geiranger Chocolate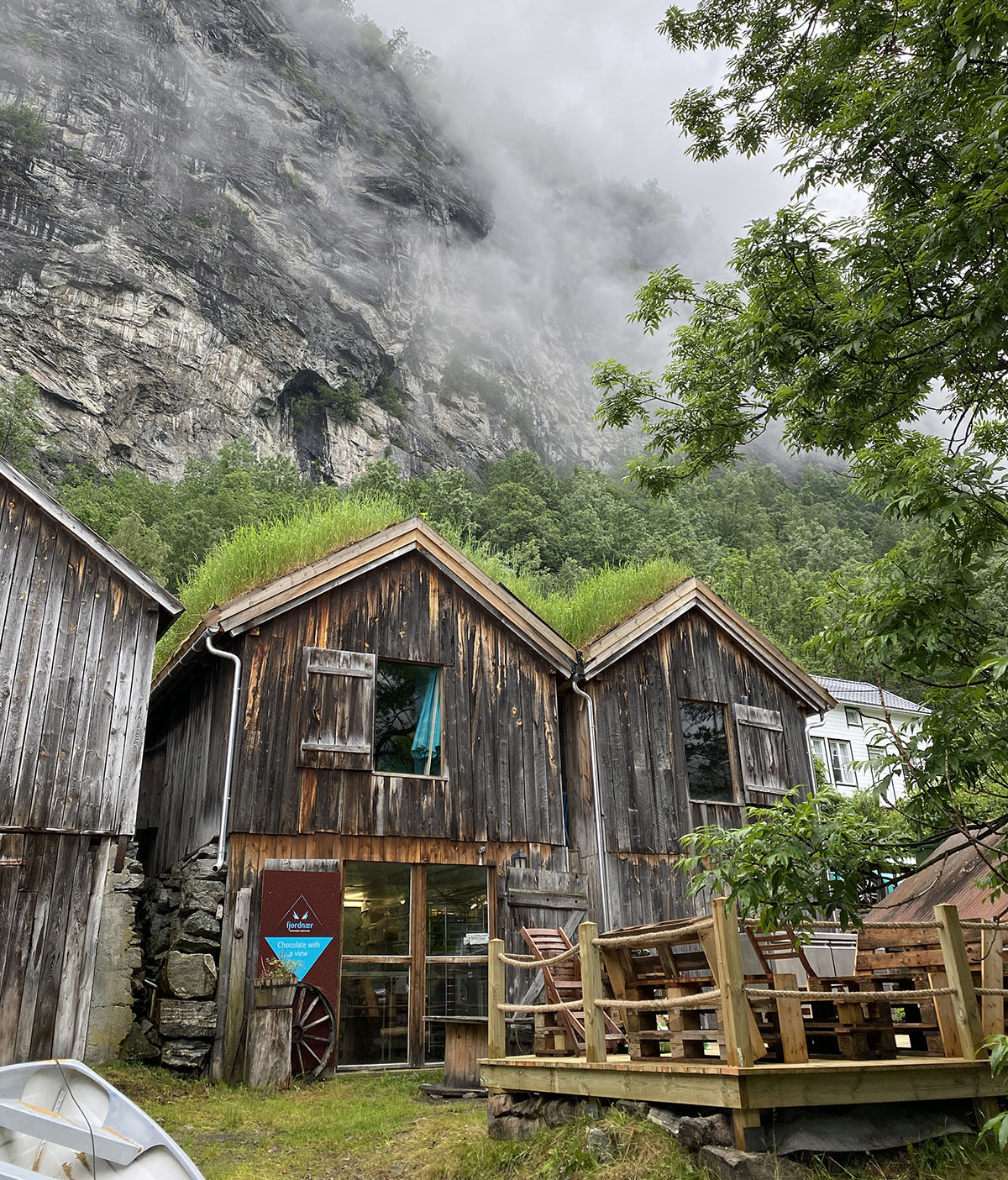 For a chocolate experience like no other, head to Norway's scenic Geiranger and pop by the village's sweet spot with the same name. Surrounded by stunning fjords and mountains, this little haven will treat not only your tastebuds, but all your senses at once.
'Physio turned award-winning chocolate maker' has a nice ring to it. It's perhaps also the best way to describe Bengt Dahlberg, creative chocolate manager and founder of Geiranger Chocolate. A life-long lover of desserts and all things sweet, Dahlberg grew up helping his mother in the kitchen to make all sorts of bakes and cakes. "I've loved chocolate for as long as I can remember, so it's fantastic to now be in a position where I create confectionary for a living," he says.
You might not believe it, but a mere four-day crash course is the foundation of Dahlberg's chocolate-making knowledge. However, that's not a bad thing, but quite the opposite. "Because I've never been trained the classic way, I've had to think outside the box right from the start," Dahlberg explains.
This style of thinking comes through clear as day in his chocolate brand's offering, which now includes close to 20 different quality-made confectionaries. Inspired by the surrounding fjords and mountains, the idea is to mainly use ingredients that can be sourced locally, mixed with exciting and sometimes unexpected ones Dahlberg can find elsewhere.
The good kind of different
One of those ingredients is 'brunost' – a much-loved Norwegian brown cheese, which by some is regarded as a national treasure. Named Vesterås, the cheese-based chocolate is made by melting brown cheese and mixing it with supreme summer honey from local farm Haavardgarden. "In adding honey, the caramel taste of the cheese really comes out and delivers a distinct Norwegian taste that you might not expect," says Dahlberg. This innovative product has earned Geiranger Chocolate two prestigious prizes: one from the International Chocolate Awards, and one from the Academy of Chocolate.
The cheesiness doesn't end there. The Geiranger brand also makes a chocolate mixed with Kraftkar, an award-winning blue cheese from local, family-run cheesemaker Tingvollost. A dash of aquavit and Himalayan salt are also part of the recipe, which was awarded gold in the 2016 round of the Academy of Chocolate awards. In fact, half of the products on offer have been recognised with various awards over the years – an impressive feat from Dahlberg and his humble business.

Fancy chocolate pizza?
Other unusual chocolate ingredients include olives and beer, but there are also plenty of familiar flavours on offer. Those who enjoy blueberries should try Skageflå, while those who fancy a boozier alternative should reach for the whisky-infused Friaren. And aside from mountain peak-shaped wraps of chocolates, there's even more to taste from the Geiranger brand. For instance, you can head to the shop's accompanying café for a slice of chocolate cheesecake, or a chocolate waffle served on a stick – not to mention Geiranger's best-selling hot chocolate and homemade 'softis', the velvety ice cream loved by visitors.
"We're also planning to open a second shop and café close to the ferry station in Eidsdal," says Dahlberg. Here, travellers will be able to pick up pizzas before they jump aboard the ferry or try 'svele', a traditional Norwegian pancake. Expect chocolate elements throughout.
Understanding the taste
Speaking of news, two new organic chocolate bars will join the brand's offering this coming summer: one milk chocolate bar and one dark chocolate bar. The purpose of these is not only to offer something utterly delicious, but also to help educate consumers.
"I want people to understand the difference between industrially made chocolate and hand-made varieties," explains Dahlberg. "Many have a preconception that dark chocolate comes with a bitter taste, but that's not true. It all comes down to the fermentation process of the chocolate bean, which is often skipped when large quantities of chocolate are made," says Dahlberg, and adds: "If you just let the process run its course, the sweetness of the pulp will be absorbed by the bean, which completely transforms the end product."
Dahlberg wants customers to enjoy chocolate by using all of the senses. "Slow down, then slow down a bit more," he says. "Then touch, look, listen, smell and notice how your senses act, all before you actually taste the chocolate. Let the flavours develop in your mouth and enjoy the moment."
A firm believer that chocolate should be enjoyed as an experience, rather than just eaten without consideration, Dahlberg and his team of chocolate lovers are set to share their love and expertise with visitors this summer – and beyond. Just look out for a little quaint boat house on Geiranger's high street with a turquoise bike parked outside, and you'll know you've found a little piece of heaven.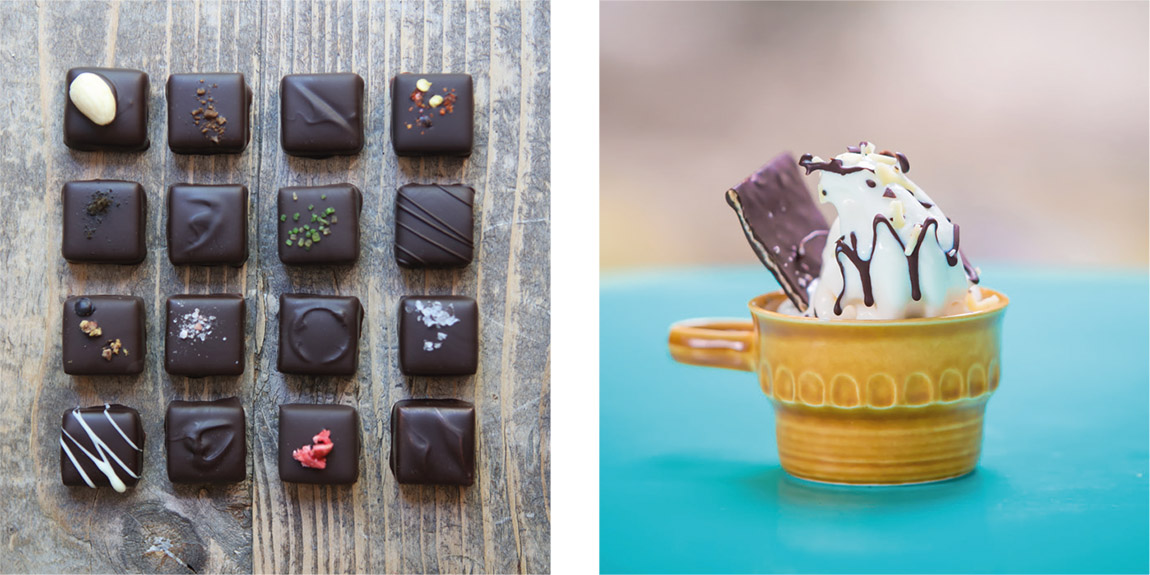 Web: www.geirangersjokolade.no Facebook: GeirangerSjokolade Instagram: @geirangersjokolade
Subscribe to Our Newsletter
Receive our monthly newsletter by email