Get the Scandi look
Text: Ingrid Opstad | Press photos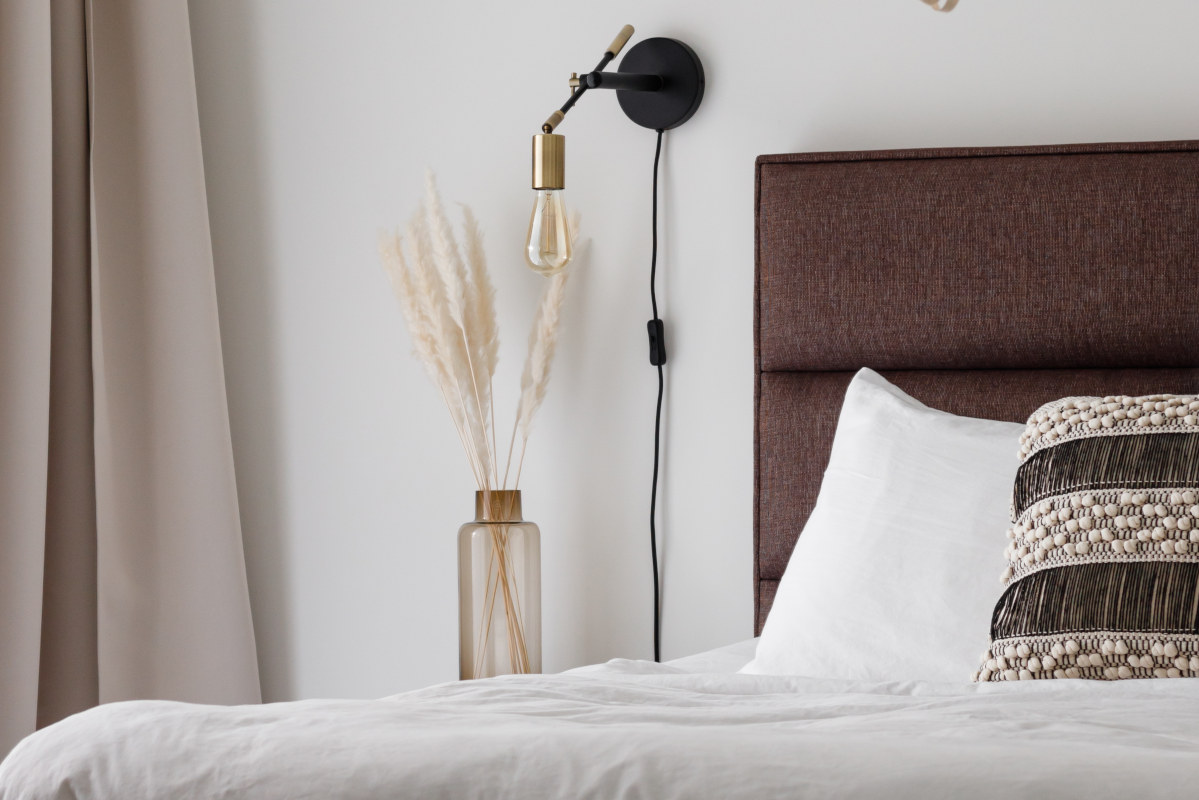 Are you looking to update your bedroom in a minimal style with neural accents and decorative Nordic details? We covet this beautiful bedroom by Ida Thun, a Swede living in Ireland, who sure has an eye for interiors. Keep reading for inspiration on how you can recreate the look with Scandinavian design items for a calming bedroom in neutral shades.
The beautiful wall lamp in Ida's home is by Swedish company By Rydéns but no longer in production, but the Staple wall lamp from Menu will do the trick if you want to get a similar look. Available in both brass and a black version, it is a fresh take on iconic, modern design. The lamp is a part of the Tribeca collection, which was inspired by the glamour of New York in the 1930s and rediscovered by Danish designer Søren Rose.
Menu, 'Staple' wall lamp, brass, £221
A fabric pendant lamp can help create a soft and effortlessly stylish look, perfect for the bedroom. We think this beautiful Pendant B7 lamp by Danish designer Birgit Østergaard is a great alternative – a hand-made product with a high degree of finish and flair for details. The design is created from sail cloth with white leather lacing. The unique structure is emphasised when the lamp is turned on, and it provides pleasant light in your home without dazzling.
Birgit Østergaard, 'Pendant B7' lamp, £325
We love how the beige curtains in Ida's home tie in the whole look of the bedroom with their natural shades. Her curtains are from Ellos but no longer available, but these velvet curtain lengths from H&M Home are a great option for a similar vibe. The velvet curtains are made from a viscose and cotton blend with a wide, cased heading and are 120 by 250 centimetres.
H&M Home, two-pack velvet curtain lengths, £69.99
A big trend in Scandinavian interior design at the moment is using pampas grass as a decorative element, and we think it adds a delicate and beautiful touch to a minimal Nordic home. Ida has displayed these decorative, small ivory-white Cortaderia pampas grass on her nightstand. They are approximately 40 to 50 centimetres long and come in a pack of around five, from The Little Deer, which also sells a great variety of other dried grass and flowers.
The Little Deer, 'Cortaderia' pampas grass, £11.50
A new duvet cover to snuggle up under when you go to bed can be worth more than can be described in words. Swedish brand Juniper offers a curated assortment of timeless, luxury-quality bed sheets at a fraction of the price of traditional retailers – perfect for adding 'hygge' in an affordable way.
Juniper, the duvet cover single, £200
Juniper, the duvet cover set of two, £250
In Ida's calm bedroom, she has used the Skybox side table from BePureHome, but we suggest going Scandi with the more affordable and similar 'Björknäs' bedside table from IKEA. The classic collection has its roots in the Scandinavian craftsmanship tradition and is made with durable, natural materials. Tip: if you want to get the same look as Ida, paint the 'Björknäs' bedside table – but make sure to prepare the wood properly beforehand.
Ikea, 'Björknäs' bedside table, £70
The Hedria glass vase from Danish homeware brand Lene Bjerre in Major Brown adds a lovely touch and looks beautiful on the nightstand. Use it with fragrant flowers in the summer, cosy branches in the winter, or pampas grass as seen in Ida's home.
Lene Bjerre, 'Hedria' vase, £30.75
This lovely, handmade macrame and knot cushion in off-white with black pattern is perfect for adding a bit of bohemian Scandi style to a minimal bedroom. It really ties in all of the warm, neutral tones and adds a touch of texture to this simple room, making it inviting and cosy.
Nordal, bohemian Scandi macrame cushion, £29
Subscribe to Our Newsletter
Receive our monthly newsletter by email