Godstedlund Hotel & Konference: High-end quality and homely 'hygge
By Trine Jensen-Martin | Photos: Ingrid Riis
On Lolland-Falster south of Copenhagen you will find this exquisite, intimate hotel. It's equally suited for hosting events, romantic getaways, family holidays, and business meetings, and the combination of refined luxury and a warm welcome has guests returning time and time again.
Nestled within the grounds of Maribo Lakes nature park, Godstedlund is a real gem – whether you need a room for a night, a delectable meal, or simply time to switch off in peaceful surroundings. Proprietors and hosts Esbern Juhl and Thomas Havskjær fell in love with the building – an old schoolhouse – and bought it in January 2017. Within four months they had restored the property and opened a small boutique hotel.
A personal touch
Juhl and Havskjær are the essence of Godstedlund and their presence and attention to detail is evident in every aspect of the place. "We talk to all our guests, and to us they are not just paying customers," says Juhl. The hotel is also their home, so the pair are always around to help or chat – something they truly value.
"When you visit us, we invite you into our home with open arms," they explain, in unison. This means they get to know their guests, and vice versa. "We have a family that has come to stay with us every year for the past five years," Havskjær says – which bears witness to both the family friendliness of Godstedlund and the quality of service that Juhl and Havskjær offer their guests. It's not just families that return; some business guests drive that extra hour and a half from Copenhagen for a one-night stay in between meetings, simply to soak up the beauty and homeliness of the place.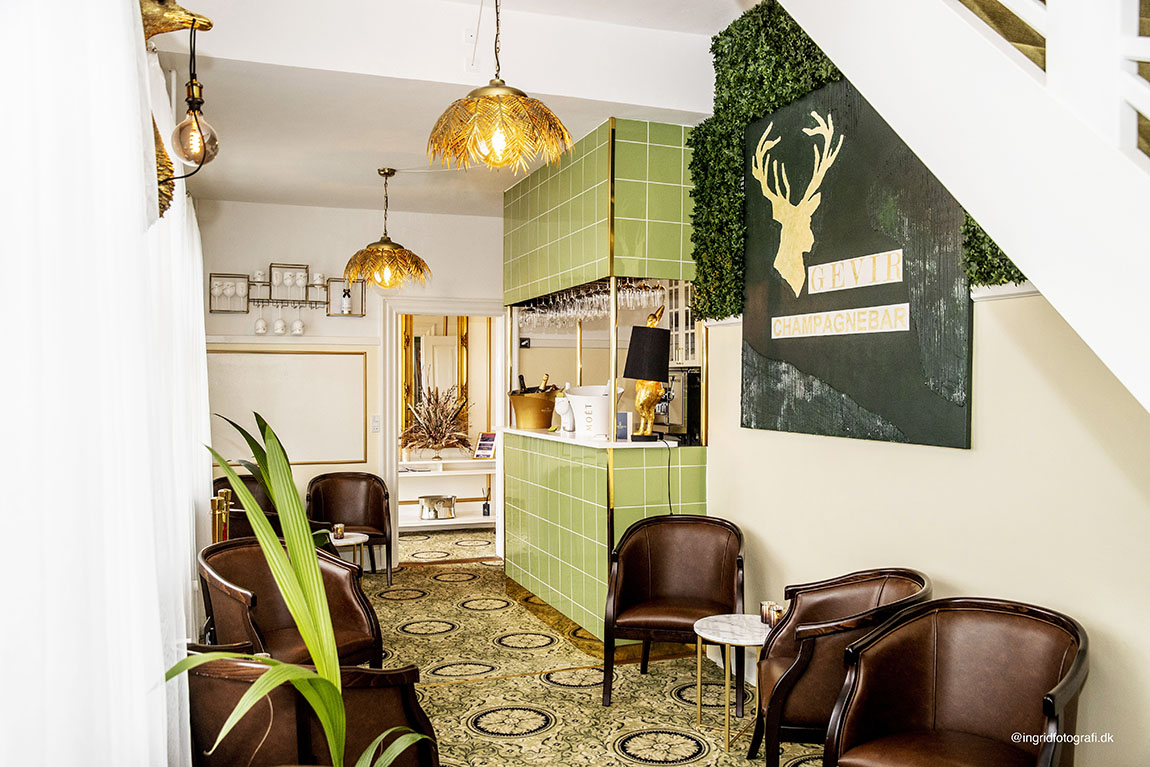 Many different experiences under one roof
The hotel has seven rooms, each decorated and finished with Juhl's expert eye for design, as well as a restaurant, an intimate conference facility, and the only Champagne bar in southern Denmark. "You'd have to travel to Copenhagen or Berlin for a Champagne bar like ours!" Havskjær says proudly.
Small leadership groups come here because of the non-invasive and discrete service, ideal for when you need privacy. "They appreciate the anonymity and being able work in peace," Juhl says. "My style of cooking is French and rustic," explains Havskjær, who runs Restaurant Thomas, humbly adding that he "can cook but isn't a chef". To this end, they regularly call on Sussanne Bruun, a highly skilled chef, with more than 30 years' experience in the catering business. "Sussanne's cooking is Michelin-star level" says Havskjær, which allows them to cater for all types of events, offering high-end cuisine that looks as good as it tastes.
Down-to-earth luxury for everyone
"We want to be exclusive and inclusive," they say passionately. "Godstedlund is a warm and convivial place and a chance to experience some of life's indulgences," they continue. Whilst they focus on luxury and high-end quality, Juhl and Havskjær are far from snobbish, and extend their welcome to all their guests, no matter who they are.
"We represent the local community and want to introduce all the wonderful things the area has to offer," Havskjær says. Supporting local producers such as Østergård Winery is of huge importance to them; and the local community, in turn, supports Godstedlund.
Juhl and Havskjær never lose sight of what matters to them; the quality of the experience at Godstedlund is crucial. They create a feeling of coming home, of being looked after and pampered, in the privacy, peace and quiet that the surroundings provide.
A trip around the world at brunch
Juhl and Havskjær continuously refine Godstedlund and have exciting plans in the pipeline. They currently offer a classic Moët afternoon tea which is increasingly popular and, this autumn, they will up the ante. "With Sussanne Bruun's help, we are planning an outstanding Champagne brunch with an international touch, so you feel as if you have taken a trip around the world at brunch," Havskjær explains. With ambition and enthusiasm, the pair pour time and attention into every new development of Godstedlund. It's a labour of love which continues to please its many guests.
Great experiences, beautifully made
Juhl and Havskjær are genuinely warm and hospitable people – an utter delight to meet – and they themselves oversee every aspect of the daily running of the hotel and restaurant. Their beautifully-made experiences are the trademarks of Godstedlund – from the setting, to the service you receive at every turn, the décor in the hotel and rooms, and the menu and wine list in Restaurant Thomas. Everything is done exquisitely, with a sense of homeliness at the centre.
Web: www.godstedlund.dk Instagram: @godstedlund.dk Facebook: Godstedlund Susanne Bruun Instagram: @mad_med__stil
Subscribe to Our Newsletter
Receive our monthly newsletter by email