Grådi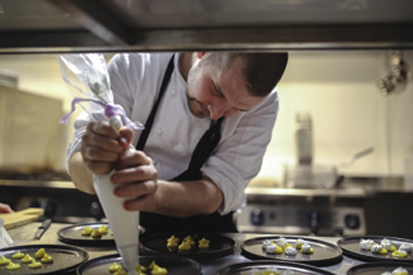 The neighbourhood restaurant with city-wide reach
TEXT: ALYSSA NILSEN | PHOTOS © NATALIA TUNHEIM
In the heart of the buzzing area of Tøyen in Oslo, popular neighbourhood restaurant Grådi has become one of the most popular new hotspots in the Norwegian capital. With its fusion menu, location and innovative take on familiar dishes, Grådi invites people to visit, enjoy, and be a little more greedy.
Grådi opened its doors two years ago, in January of 2017, after a year of development and concept building. It was set up after its founders, Julia Holmboe and Natalia Tunheim, found a commercial space on Facebook, and in the spur of the moment decided to start a restaurant. Neither had any previous experience of founding restaurants, but they had previously worked together for years at Delicatessen tapas bar, founded by Øystein Gjerde. He became their mentor and role model in terms of how to run a restaurant with the people, the team and the community as the centre point. "We both had a wish of keeping the heritage and values we'd learnt at Delicatessen alive. This was our chance, so we grabbed it," says Tunheim.
Though the original commercial space turned out to be too pricey, the girls soon found a new location at Sørligata 40b, in a worn-down 250-square-metre large space. With a readily built concept and a manifesto stating 'At Tøyen, with Tøyen for Tøyen', they won against other concepts competing for the same space, and a year later, the restaurant opened its doors to the neighbourhood and the city. By that time, kitchen manager Christian Rognmo, who has previously been involved in starting several new restaurants in Copenhagen, had joined the team. "He took a massive chance on us," says Tunheim. "He quit his job in a canteen to start working with two utterly inexperienced restaurant owners. He had just moved back to Norway with his wife and three kids, dreaming of a calmer life."
Tunheim continues: "Christian is the backbone of the restaurant, and a giant part of the Grådi soul. He has never-ending energy, is chock-full of ideas, and rarely makes it out the door on time when he's telling us stories of his days in Copenhagen."
Consisting of a multinational team, Grådi is a melting pot of flavours, ideas, experiences and backgrounds. The team, which Tunheim says is the number-one reason they have made it this far, consists of people from Colombia, Thailand, Indonesia, Poland, the Dominican Republic, Peru, the Philippines, Sweden, Britain, Germany, Nepal, America and Norway. Their differences, similarities and unity are clearly reflected in the menu, which often combines familiar dishes with brand-new combinations of flavours and ingredients. Instead of tortillas or bao, they will make Norwegian-style potato tortillas with pulled pork. "We love strong flavours," Tunheim says, "with down-to-earth no-frills ingredients."
Be a little more greedy
The double meaning of the name is another part of the concept: Grådi, a reworked version of the Norwegian word 'grådig', meaning 'greedy', is what they want their customers to allow themselves to be when they visit the restaurant. "We play with the deadly sins," Tunheim explains. "We want people to allow themselves to be greedy, to indulge and not always worry what others might think. It is a strength to want a lot from life, and to want it all at the same time."
The names of the dishes are also a distinctive part of the Grådi personality. "There are no rules, other than having fun," Tunheim continues. "We want the dishes and the drinks to have personality."
The finished concept is clearly one that appeals to the Oslo soul. What started out as a neighbourhood restaurant has become a highlight for the whole city. The immensely popular brunches instantly set them apart from other restaurants, as one of the first brunch spots in the capital. Inspired by brunch trends in Copenhagen and New York and worldwide breakfast trends, they draw people in from the whole city with their spicy cheddar waffles with fried chicken and jalapeno sauce, pulled Hitra-crab toast with dill mayo, and burnt avocado on Danish rye bread.
The weekends are buzzing with the sounds of families with toddlers and children, large groups of friends celebrate their birthdays here, and tourists find their way here in the summer, when the warm breeze makes the trees sway lazily and the streets are quiet and relaxed.
Subscribe to Our Newsletter
Receive our monthly newsletter by email