Grus Grus: Simple pleasures
Text : Liz Longden | Photos: Tobias Regell
If the mention of wine bars makes you think of intimidating staff and impenetrable wine lists, think again. Stockholm's Grus Grus offers one of the capital's best and most exciting selections of wines in laidback and unpretentious surroundings – and there's delicious food to boot.
Given that 'grus' in Swedish means gravel or grit, you'd be forgiven for thinking the name 'Grus grus' was inspired by the concept of terroir. In fact, it is a tongue-in-cheek homage to its sister-bar, the historic Tranan restaurant – 'Tranan' for 'the crane' in English, in Latin 'grus'. The name is nevertheless fitting in another sense, because this is an establishment that prides itself on being down-to-earth. "Our concept is really of a place where people can just come to hang out with family, friends or colleagues and enjoy great wine and great food," says Patricia Dominguez, Grus Grus manager and head sommelier. "We take inspiration very much from the southern European way of enjoying food and drink – in a sociable way, without complicating things too much."
The bar has been open since April 2018, and stands out from the crowd in particular in its championing of what Dominguez calls 'artisanal' wines. "It's about wines that are made by human hands," she explains. "Typically, they come from simpler, smaller farms, who don't have the money for large, expensive machinery. The quality is no less, but there's a much greater contact with nature, and often a family tradition and generations of expertise behind these wines."
Many of these vineyards are situated in less well-known wine-producing areas, such as Switzerland, Hungary and Slovakia, to name just a few, and Dominguez argues that the different terroirs, grapes varieties and wine-making traditions result in unique and exciting variations in taste. However, established wine producing nations can throw up some surprises, too. Dominguez cites Italy as one example. "The tradition of winemaking is deeply rooted in the Italian heart, and wine is made everywhere there," Dominguez says, "so we're always discovering new grape varieties that we had no idea existed. It's tremendous fun."
Sharing that excitement of discovering something new is what Dominguez and her colleagues are all about. One way in which they do this is to offer 'mini tastings' with a different theme every week, in order to introduce customers to wines they may not have seen or tried before. "We think it's nice to be able to show our guests the different possibilities that these wines offer, without them having to buy a whole bottle, or even a whole glass," Dominguez explains, adding that the tastings can be enjoyed by everyone, whatever their background. "We have customers who perhaps don't know so much about wine and would just like a bit of general background and a few pointers, and then we have experts who really know a lot but maybe haven't had the opportunity to try those particular wines, and for them we'll obviously go into much more detail."
The bar also hosts regular 'Meet the winemaker' events, where producers from around the world are invited to introduce and chat about their wines, and guests can enjoy a tasting session here, too.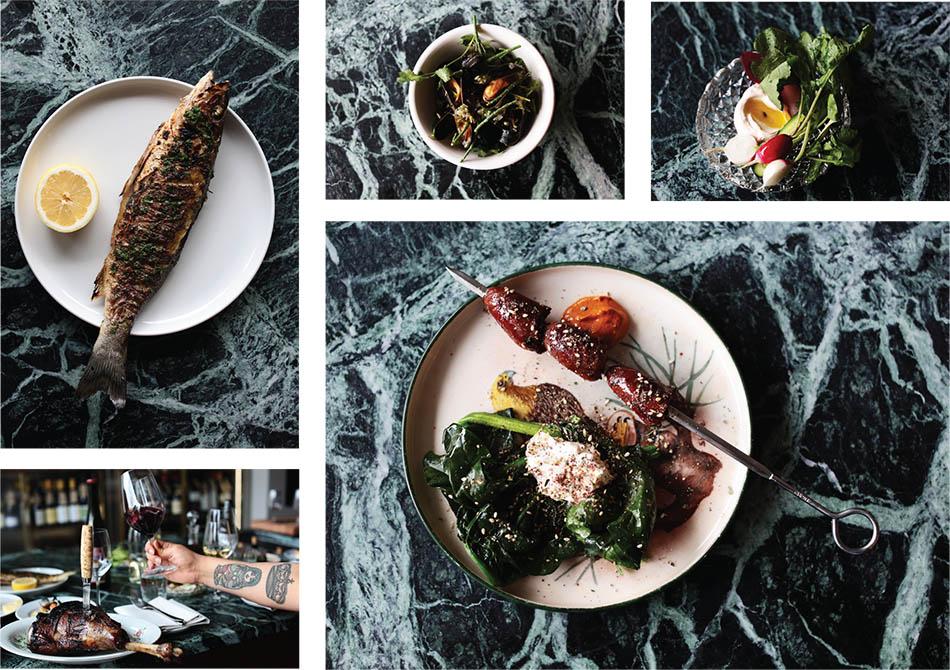 The art of simplicity
There is more to Grus Grus than just wine, however. The establishment also has a kitchen serving a high-quality menu of smaller dishes, inspired by French, Spanish and Italian cuisine. "Rather than a restaurant in the classic sense, we would describe ourselves instead as a wine bar with very, very good food," Dominguez explains. "The feeling is something similar to a Spanish tapas bar, a taverna or a rural French bistro."
In particular, Grus Grus places emphasis on fresh and seasonal produce and simple dishes that stand out for the quality of their ingredients. Grilled fish, tortilla, bread and pate, and buffalo mozzarella with fresh tomatoes are just some of the staples. "It's not the classic starter, main course, dessert formula. It's much more food that can be shared and enjoyed more informally," says Dominguez.
For this same reason, only half of Grus Grus' tables can be booked, with the rest reserved for drop-in guests. "It's important to us that this is a place where people can drop by, sit down, and have a glass and a bite to eat," Dominguez adds. "We want our guests to feel at home, so we work hard to keep it simple."
Subscribe to Our Newsletter
Receive our monthly newsletter by email