Guðrun & Guðrun: Modern designs suffused with tradition
By Trine Jensen-Martin | Photos: Beinta á Torkisheyggi
When 'that sweater' which featured in a renowned Danish TV-series reached near cult-status, the Faroese designers behind it suddenly found the attention of the world turned on their products. The sweater became an iconic best-seller for a business that is synonymous with exquisite and conscientious products.
Founded in 2000 by Guðrun Rógvadóttir and Guðrun Ludvig, Guðrun & Guðrun use old knitting traditions from their native Faroe Islands. The story behind the creation of Sarah Lund's famous 'vón' sweater is close to their core. When Ludvig found one of her father's old fisherman's jumpers – knitted in Faroese wool with traditional plural patterns and multiple colours – she imagined designing a modern version that kept the essence of the original. The pattern was stripped down, using only two colours, and the shape was adapted to suit different curves. Thus, a softer and more feminine version of a classic, masculine sweater was created.
An absence of fashion
"We are inspired by our immediate surroundings," says Rógvadóttir. "There is an absence of fashion, so our inspiration comes from all around." As such, you sense the expressions of the landscapes and the culture in each hand-knitted piece. Ludvig once said that "the sky is a new painting each day, so how can you not feel inspired?"
The latest collection is no exception, and the inspiration taken from the light and colour of the Faroe Islands is evident in each piece. The shades and textures express the changing skies, landscapes and seasons, and whilst the style feels undeniably Scandinavian, it is undoubtedly Faroese.
"We use waste materials like wool and lambskin," Rógvadóttir says. They strive to source raw materials locally, and always use natural fibres – so the company was born sustainable and all production meets European standards. Another important focus is on supporting women's empowerment. From the outset, the idea was to employ women to knit the designs, to give them an opportunity to earn an income.
There are exciting plans in the pipeline, including creating a resale platform, and eventually to replicate their wonderful Torshavn flagship store elsewhere. And with a striking new AW collection of beautiful handmade pieces, they continue to champion a very old tradition, whilst staying current, relevant and exciting.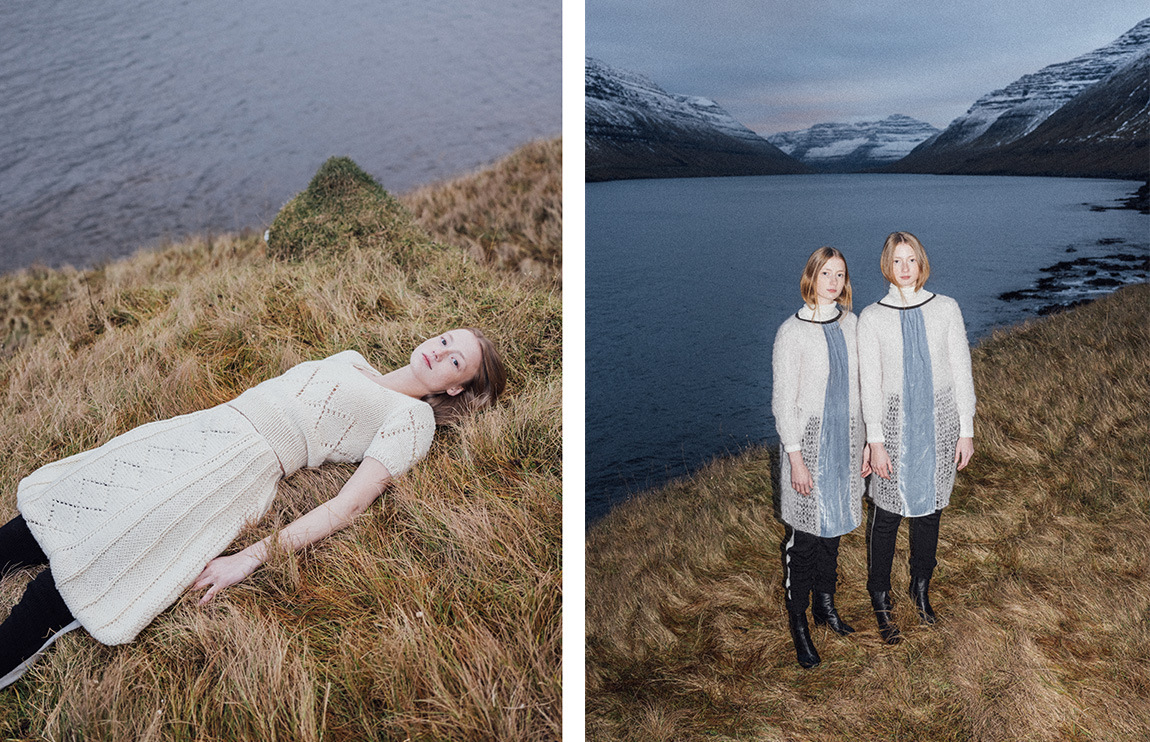 Web: www.gudrungudrun.com Instagram: @gudrungudrun_ Facebook: Guðrun&Guðrun Guðrun & Guðrun flagship store Niels Finsens Gøta 13 100 Tórshavn Faroe Islands
Subscribe to Our Newsletter
Receive our monthly newsletter by email