Heimdal Chokolade
Heimdal Chokolade – when the quality is genuine
TEXT: INGRID OPSTAD | PHOTOS © HUGO LANDE
If you are after tasty, traditional, quality chocolate, you should pay a visit to Heimdal Chokolade on Torvgaten in Arendal, Norway. Here, in this charming sweet shop, visitors can purchase delicious, homemade treats while also experiencing a real chocolate factory from the inside to see how it is all done – a true paradise for all chocoholics.
Heimdal Chokolade retail shop and factory is run by Morten Arnesen, an experienced chocolate maker and artist with a big love and passion for the sweet life. "I grew up working alongside my dad in his little sweet shop, Tommeliten Kakepynt in Oslo, so you can say that it was in my blood to go down this path," says Arnesen. He later graduated from the famous chocolate school Callebaut College in Belgium and is always on the hunt for inspiration travelling around different countries to research new flavours, ingredients and products.
Norwegian chocolate with Danish heritage
Although Heimdal Chokolade is now a business located in Norway, the story actually began in Denmark, where the former owner searched for someone to take over his chocolate factory after his retirement. It was the adventurous Arnesen from Oslo who replied to the advert, and after going to Denmark with his family to work and learn in the factory for four years, he ended up bringing the knowledge and name back with him to Norway.
Heimdal Chokolade started in Tromøy on the ground floor of Arnesen's own house in 1990 and later moved to Arendal centre, to its current premises on Torvgaten in 2000. Known for using the most exclusive ingredients, Arnesen still uses the good, old recipes that were passed down to him during his time in Denmark, but has brought along his own new and modern influences. "We have grown considerably since the start. Our premises are probably double the size they were when we first started almost 20 years ago," he says. "Every year, we have seen a steady increase when it comes to sales, so it says a lot about people's love of chocolate."
Handmade with a focus on quality and knowledge
The philosophy is as simple today as it was when the Norwegian chocolate maker took over Heimdal; everything is made by hand, with a focus on quality and knowledge. "The good taste has become a trademark for us. We focus on giving our customers a wide variety of flavours and shapes to enjoy, and our aim from the start was to be an open place where you are welcome to see the chocolate being made, to learn and, of course, to have a taste," says Arnesen. With the production facilities under the same roof as the shop, Arnesen and his colleagues create exclusive and homemade confectionery for all occasions. "Easter and Christmas are both busy times for us. We create a lot of custom designs each season, so you will always find something new alongside our trusted classics," he says.
Irresistible, rich and tasty, dark and mysterious, soft and magical, light and airy – Arnesen has something for everyone's taste in his chocolate shop. You can find chilli, mild strawberry cream and real cognac; flavours of cranberries, lime, raspberries and nuts. Or what about soft nougat, truffles, marzipan, mint spots and pastel plates? "Our delicious and sweet Norwegian strawberries dipped in white chocolate are a popular choice, especially in the summer months. They are big with the tourists," says Arnesen.
One of the first in Norway to sell red Ruby chocolate
The light-red-coloured Ruby chocolate is a fourth type of chocolate, which is based on a different cocoa bean than the three most popular and well-known types: dark, white and milk. Introduced in 2017 by Barry Callebaut, a Belgian-Swiss cocoa company, this new chocolate has an intense fruitiness with fresh, sour notes. "It offers a completely unique and new taste that is neither too sweet nor too bitter. It is quite different from normal chocolate, and still unknown to most people. I recommend coming by to taste it for yourself, as we are one of the first in Norway to sell it," says Arnesen. "We pride ourselves on providing chocolate only of the highest quality, and on always being at the forefront when it comes to new trends in the world of chocolate."
He concludes: "Chocolate has many qualities and is available in many forms, but it is always best when it is homemade using the finest ingredients. And that is how we make all our chocolates. We don't use almond or cognac essence, for instance, but real almonds and real brandy. The quality is genuine."
Facebook: heimdalchokolade
Contact: morten@heimdalchokolade.no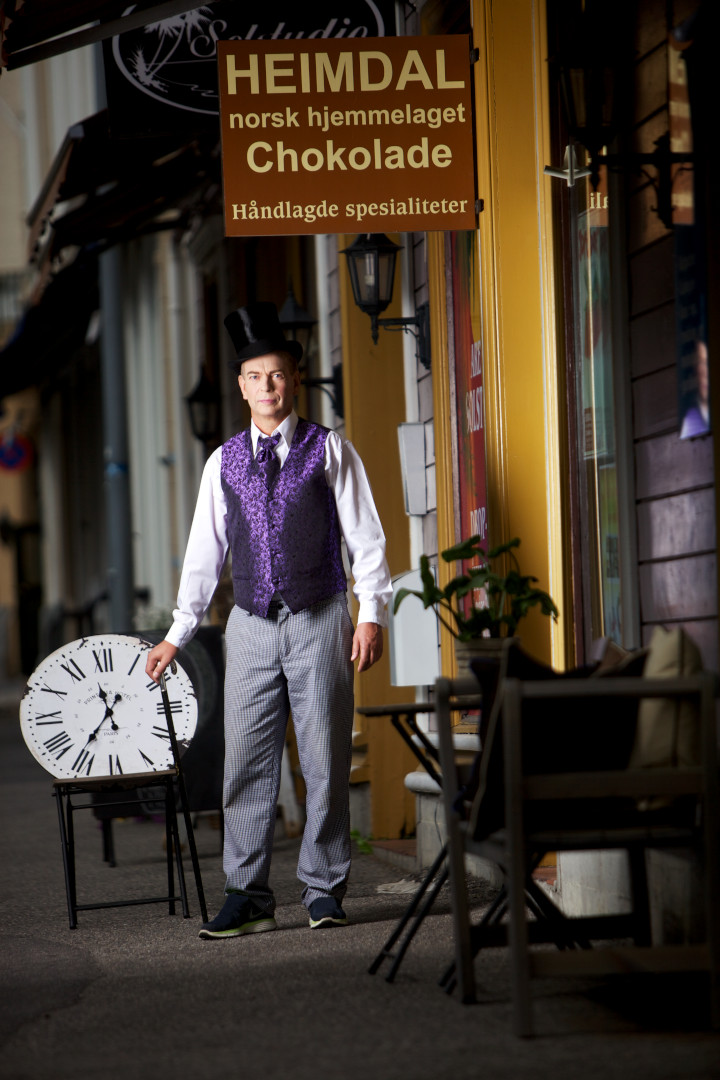 Subscribe to Our Newsletter
Receive our monthly newsletter by email