High professionalism and a homely atmosphere
Shorter wait times, high professionalism, advanced technology and interdisciplinary studies – the structure of Mølholm Private Hospital, where doctors and specialists are co-owners of the hospital, has plenty of advantages.
The patient is at the centre of attention. This is a phrase almost every hospital uses freely when describing their vision, but at Mølholm Private Hospital, they do more than just use the phrase loosely. They live up to it. The structure of the hospital is rather unique, and it helps ensure an overall better experience for their patients.
"The fact that it is doctors and specialists who own the hospital has a lot of advantages. First of all, the level of responsibility towards one's patients is higher, as you get to treat and follow your patient through the entire treatment process. This makes the relationship between patient and doctor closer and warmer than in many other hospitals, and I think this is one of the reasons why we are the only private hospital in Denmark to have received the Danish Health Authority's quality accreditation and certification without any remarks since the accreditation scheme was introduced," says Thorbjørn Sommer, chief physician at Mølholm Private Hospital.
The hospital was founded in 1992 and has since become one of the country's leading private hospitals, offering almost every kind of examination, treatment and operation. The many specialities ensure a short wait time for the patients, as the departments work closely together.


LEFT: THORBJØRN SOMMER, RIGHT: PRIVATHOSPITALET MØLHOLM SCANNER
High expertise across fields
Usually, when a patient has a problem, they go to see a general practitioner, who refers them to a clinic. If the clinic then deems that there is nothing wrong with the patient within their area of expertise, they will then send the patient back to their general practitioner, who has to take another look before yet again making a referral to a new clinic.
"It's quite a time-consuming process that we can avoid here. If you come to Mølholm to see a gynaecologist, for instance, but they then find out that your problem actually has something to do with, say, your stomach, they can quickly get you an appointment with an intestine surgeon," Sommer explains.
Another advantage of having so many specialities under one roof is the opportunity of interdisciplinary studies. Some clinics arrange common conferences to share experiences and studies on a weekly basis.
"Most of our clinic owners have been and still are involved in a lot of research. It means a lot to us that we have high expertise and professionalism, as well as ethics, when it comes to when and when not to operate. It's important that our staff don't just clock in and out, but that they take pride in what they do and that they are constantly eager to develop their skills and keep up with the latest developments in their respective fields," says Sommer, and adds: "We offer our employees training, and each clinic has meetings every quarter, where they debate relevant cases and look at new ways to improve. The interdisciplinary cooperation creates a special feeling amongst our staff, and that is a feeling that our patients can sense as well."
Mølholm Private Hospital is up to date when it comes to having the latest technology available, which ensures a keen focus on safety.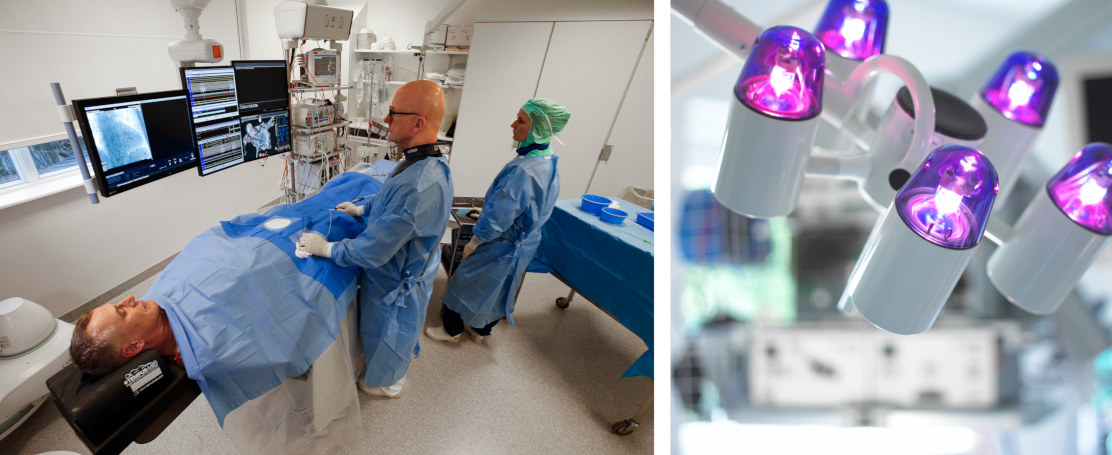 Operations abroad
It is not only the structure, but also the surroundings, that create a special atmosphere at Mølholm Private Hospital. It is located in the heart of Denmark on a picturesque hill overlooking the town of Vejle. The hospital is made up of old villas that have been remodelled, and there is a garden for the patients and their loved ones to use when at the hospital.
"We often have patients tell us that it doesn't feel like a hospital. Some even say that there is a homely atmosphere, and that means a lot to us. Besides guaranteeing good treatment, our surroundings are important as they help the patients to feel more comfortable during their stay," says Sommer.
Up until now, Mølholm has mostly treated patients from Denmark, but a new collaboration with the organisation Operations Abroad Worldwide will in the future help more patients from the UK to get their treatment and surgery at Mølholm. The collaboration will be initiated at the beginning of this year.
Web: www.molholm.dk and www.operationsabroadworldwide.co.uk
TEXT: NICOLAI LISBERG| PHOTOS © HARTMANN SCHMIDT FOTOGRAFI AND MICHAEL OHRT FERNEL
Subscribe to Our Newsletter
Receive our monthly newsletter by email