Holms Røgeri og Restaurant: Deliciously fishy business
Text: Louise Older Steffensen | Photos © Holms Røgeri Og Restaurant
The island of Rømø lies nestled in the southernmost gulf of western Jutland, just half an hour's drive from the German border. Surrounded by the UNESCO-protected Wadden Sea, which stretches from Jutland to the Netherlands, Rømø acts as a perfect gateway to some of Denmark's most beautiful nature and the flourishing wildlife that the area is famous for. "I wouldn't want to live anywhere else," says Alexandra Paprotny, who moved north of the border to run Rømø's well-known Holms Røgeri og Restaurant, which celebrates Jutland's and Denmark's long culinary history of seafood and smokeries.
Fish smokeries have been a staple of Denmark's never-ending coastline for centuries. As an island people, large parts of the population were heavily reliant on fishing, and one of the best and most delicious ways to preserve the treasures of the seas was to smoke the fish. Smoked fish dishes, such as smoked mackerel and herring, remain firm Danish favourites, and charming little 'røgerier' – smokeries – can still be found all over Denmark's many islands. Holms Røgeri og Restaurant is everything a proper Danish fish restaurant should be, with Alexandra and her husband Peter Paprotny offering up the expected traditional Danish dishes as well as their own creations using all the best ingredients from land and sea.
You're in good hands whatever meal you go for. Both Alexandra and her husband have had extensive careers as chefs, having trained in Germany in the 1980s, and Peter was hired as master chef at the very beginning by the Holms, when they first opened the restaurant. When the Holms decided to retire, they asked Peter to take charge of their beloved restaurant if he wanted to – and he really did. "I was a bit hesitant to take over at first," Alexandra admits. "I knew that it would be a lot of work and a commitment for many years into the future. Running a restaurant is a full-time job, particularly during the summer season when people flock to the region from all over Denmark and Germany. But we'd both fallen in love with Rømø and with Holms Røgeri. It turned out to be a great decision and I can't imagine living anywhere else."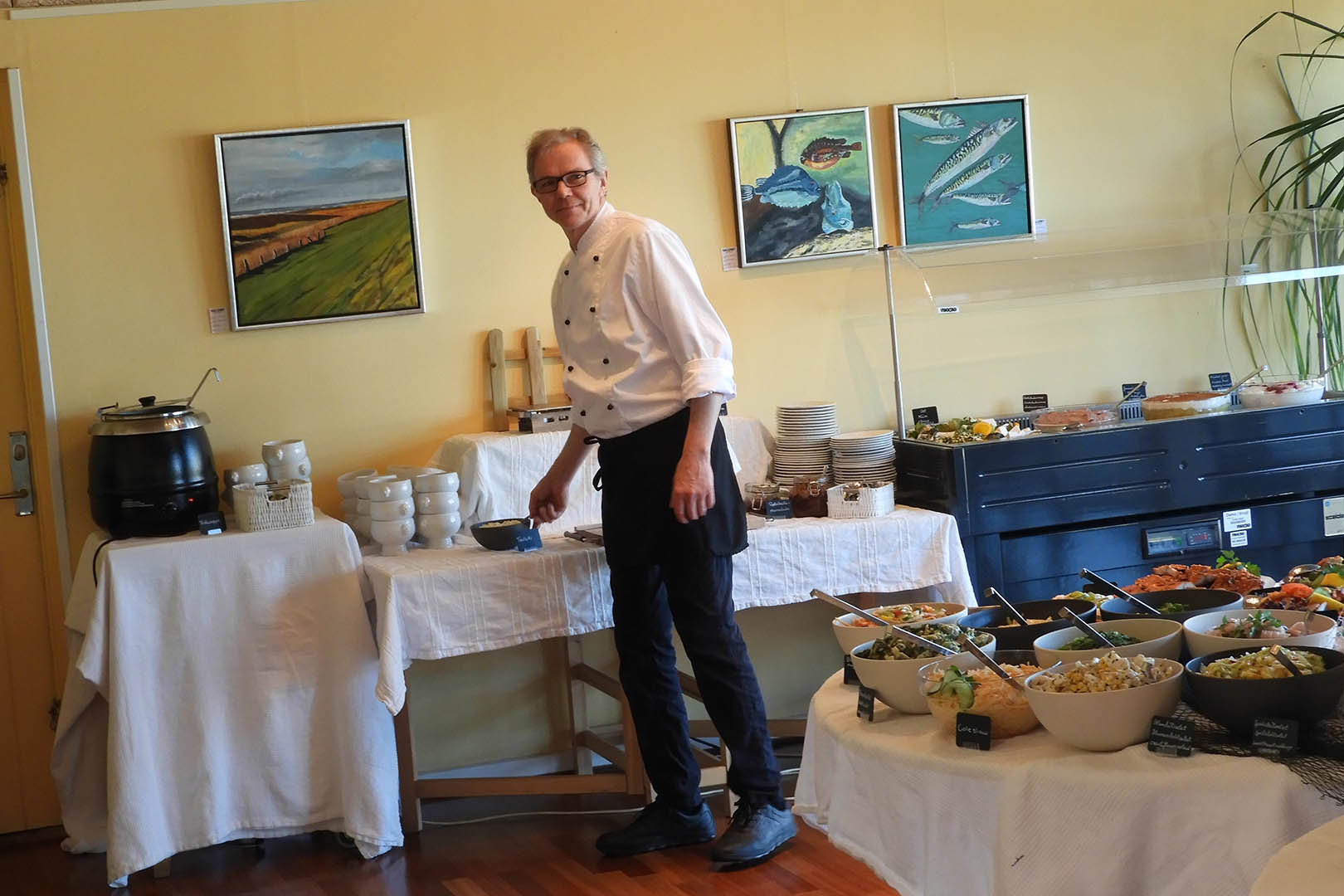 Rømø on the menu
The Paprotnys seem to have made their way northwards towards the border through a series of happy accidents. When their four children were young, they decided to put them into Danish-speaking schools south of the border, and the parents naturally followed, working together in a series of restaurants that fast approached Denmark. When Peter got the opportunity, he decided to go full Dane, and the family moved with him to Rømø a few years later. "It is a lovely place to visit and an even lovelier place to grow up," Alexandra says. "We get all the best bits of island culture, but we're also permanently connected to mainland Jutland by a road now, so there's easy access to and from the mainland all year round. On Rømø, everyone knows each other and is proud of the island. With its wildlife, its beaches and the ever-changing seas, Rømø is a very special place, and we love giving tourists a real taste of the area."
Apart from the restaurant, Holms Røgeri also includes a fishmonger on the harbourfront. Depending on what's available on the day, customers can put together their own fresh fish platter to take away. Peter and his crew smoke batches of fish up to several times a day, so visitors are guaranteed some of the freshest smoked fish they'll find anywhere. The restaurant is located less than 500 metres away, and from Friday through Sunday, it offers up a bountiful evening buffet, which will satiate even the greatest fish fan's wildest desires. The buffet promises a taste of the North Sea, and it delivers on all accounts, from savoury shellfish to succulent homemade fish salads and, of course, countless cases of smoked and pan-fried plaice.
Alexandra and Peter may be busy, but they have a great support system in place to help them through the popular months, from their children and children-in-law to their excellent staff, who are all locals but come from as far away as Syria. All have in common that they love what they do and the place where they live. "It does sometimes get a bit much with all the fish for us," Alexandra laughs, "but luckily there's a great pizzeria down the road that we have been known to frequent. We're very lucky to have easy access to all these delicious delicacies, however, and having to suss out new flavours, ingredients and combinations spices things up both for us and for our clients. We do get a lot of regular and returning customers, which is the greatest compliment."
www.holmsrogeri.dk Facebook: holmsrogeri
Subscribe to Our Newsletter
Receive our monthly newsletter by email