Hörby Bruk: 100 years of Swedish quality
By Hanna Andersson | Photos: Hörby Bruk
For over 100 years, Hörby Bruk have built a business focusing on quality, function and design, with a mission to create the best garden and building equipment on the market. They create products for both professionals and home use, and are proud to say that their production is based in Sweden.
"Made in Sweden. We are proud to be able to put this sticker on our products. We have, during the past five years or so, actively worked to bring as much of our production back to Sweden and Hörby here in Skåne. We have invested time and money in making sure we can oversee that our products are up to the highest standards, and that they will continue to make life easier for their users," says Göran Sjöberg, CEO of Hörby Bruk.
Hörby Bruk have become a household name in Sweden, but their quality products are quickly becoming popular across Europe. Their garden and building-site equipment are the loyal tools that will last in both your everyday and professional life.
"The fact that we build our products here in Sweden means that we always have products available in stock, and that we can supply our customers with what they need, whenever they need them," says Sjöberg.
For a more sustainable future
Hörby Bruk are passionate about quality products that will last. Anything that might wear with time is available in store or online, so that you can replace it and continue to use the equipment. They encourage the 'care, repair, share' model, by teaching their clients how to care for their products properly, how to repair them, and where you can share or lend products.
"We are always working towards a more sustainable future, and it is extremely important for us that our products last for a long time, often for generations! Our world-renowned wheelbarrows, for example, are made of a few basic components that are designed to last over time, but you will also be able to exchange the different pieces when they start to break down. This means that you don't have to buy a new product, you can simply swap the parts that need an update," explains Sjöberg. He continues: "our garden swings – the 'cancan swings' – can be constructed in your garden now, for your grandchildren to use in 30 years' time!"
Safety and ergonomics
Hörby Bruk's products are created for the user and are ergonomically developed to ensure your safety. "Safety and ergonomics are at the forefront of our operations, as this is integrated with our mission to provide quality products that last for a long time. This includes your comfort and continued interest in using the products. The safety of our swings is of utmost importance and the children using them should be able to do whatever they like with them, without being in any danger," Sjöberg says.
"Our products are not complicated. This means we can focus on the details and make sure that they are of the highest quality. We can ensure that our products, such as the wheelbarrow, trollies and other equipment, are ergonomically functional. With our wheelbarrows, you will be able to lift 90 kilogrammes without injuring yourself. In fact, their unique design means that you only lift 15-20 per cent of the weight in the wheelbarrow."
Further development
Keeping the production in Sweden will be essential as Hörby Bruk continues to develop. "The fact that a lot of our production is automatic means that we can continue to have our production here in Sweden, as well as keeping our prices at a fair level. We are developing along with the technology available, and the truth is that many of the solutions and inventions are from companies around Sweden as well. We cooperate with Swedish machine manufacturers in Småland, and our welding robots are also Swedish made. This further contributes to our mission to be part of Made in Sweden," Sjöberg says.
Whether you are after a loyal wheelbarrow for your summer house or a functional trolley for your business, Hörby Bruk will provide them, and ensure that you get products made for you and your needs, of the highest Swedish quality.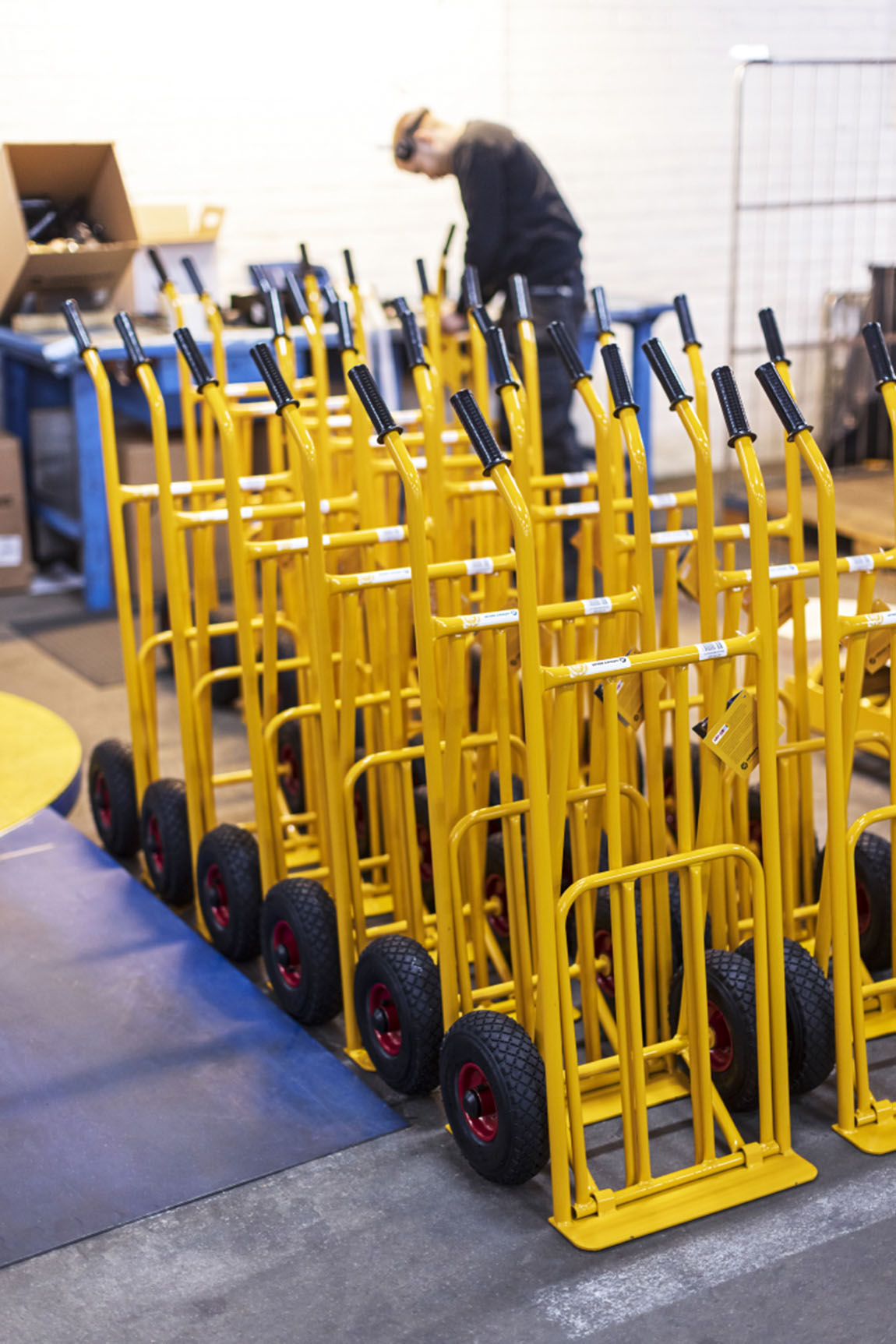 Web: www.horbybruk.se Instagram: @horbybruk Facebook: AB Hörby Bruk
Subscribe to Our Newsletter
Receive our monthly newsletter by email