Hunsfos Bryggeri AS: Treating beer as a craft
By Alyssa Nilsen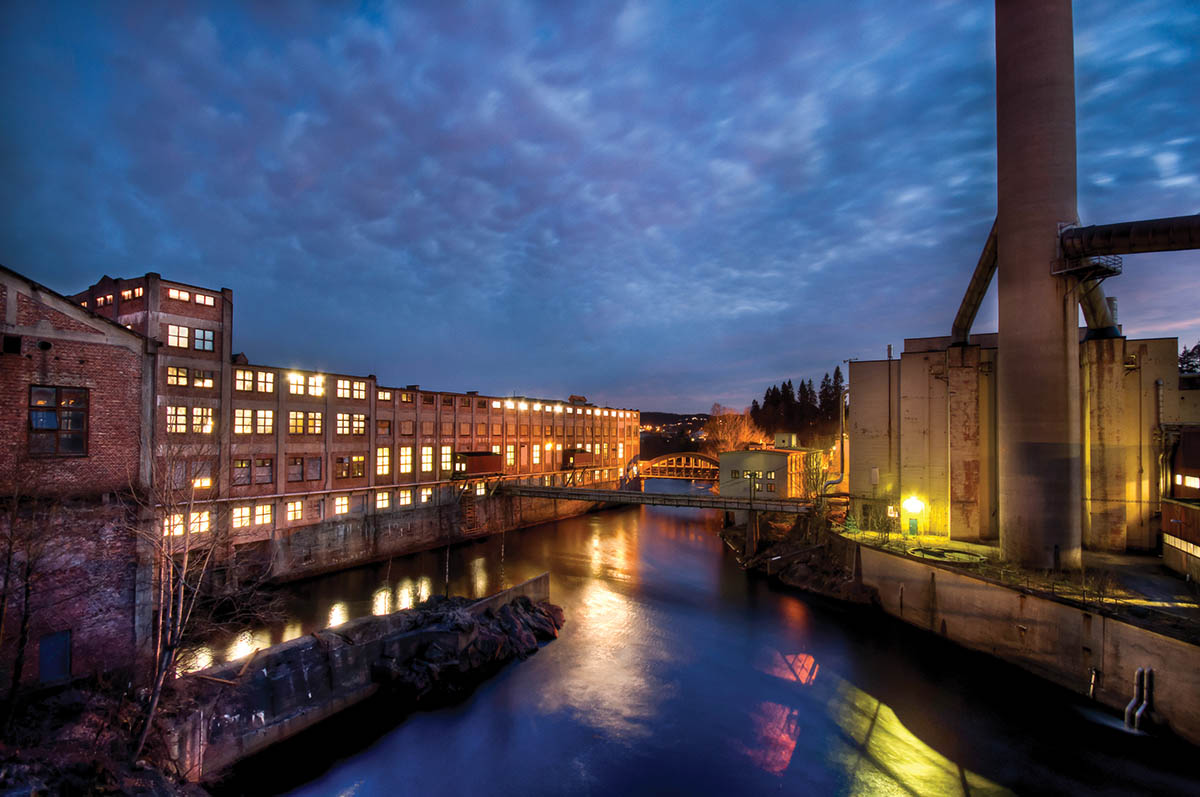 C raft beer has become increasingly popular in Norway, and one of the companies behind its success is Hunsfos Bryggeri AS. Established in 2014 by beer enthusiasts, Hunsfos has grown into a brewery selling beer both nationally and internationally, and its products have gone on to win international awards.
Since 2016, Hunsfos has been producing beer in the mill house of the historical Hunsfos Fabrikker. With a focus on craft and quality, Hunsfos Bryggeri has found a different path for its production than many other craft beer breweries.
The factory in which they've set up production used to be a paper factory in the olden days, and the company has integrated elements from its past into the modern brewery. It's all about keeping Hunsfos' industrial history, values and culture alive.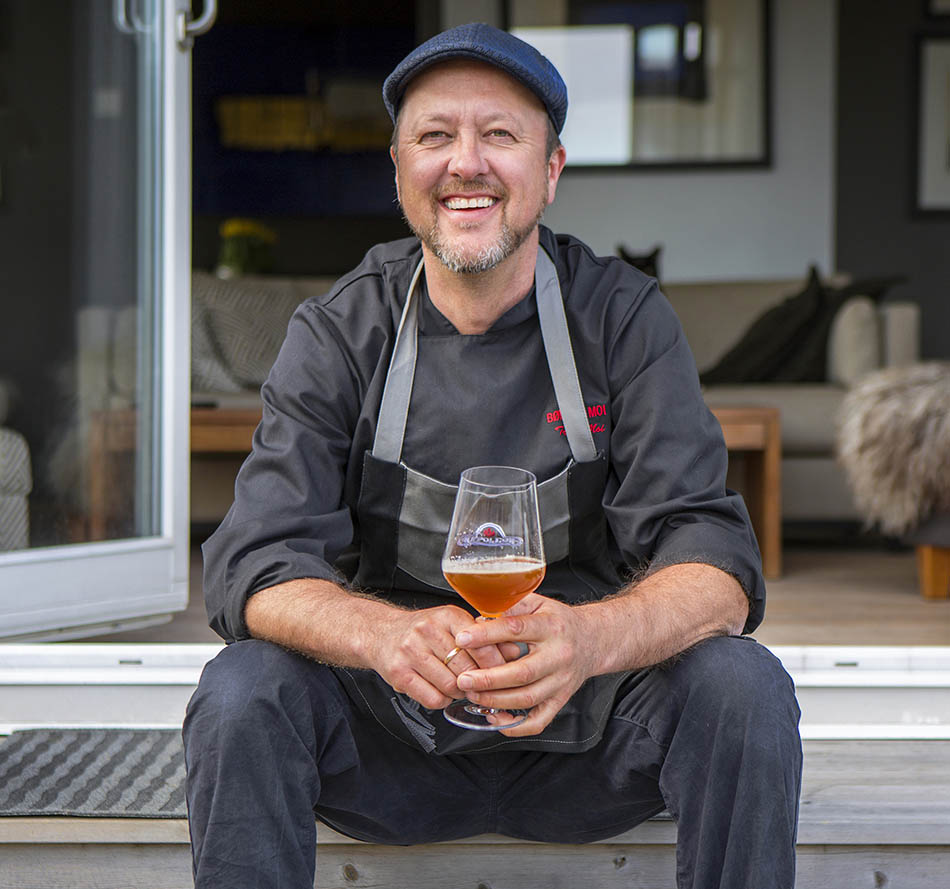 Even the packaging has a deeper intention and meaning than just containing the products. Wooden crates for storing and carrying beer bottles in are sold in collaboration with Ressurs1, a centre for people who have been unfortunate in life and have fallen through the systems as a result. Their hand-crafted products are both beautiful and made to last, and are perfect for the quality-conscious Hunsfos Bryggeri.
So far, it has proven a successful recipe: Hunsfos beer is now, in addition to being available at the brewery shop and online, also for sale in grocery and specialty shops across the country, as well as nationwide at Vinmonopolet (the government-owned retailer, which is the only one in Norway allowed to sell beverages with alcohol content higher than 4.7 per cent). The products are also served in pubs and restaurants all over Norway, and recently, they've started exporting beer to Denmark with hopes of expanding even further.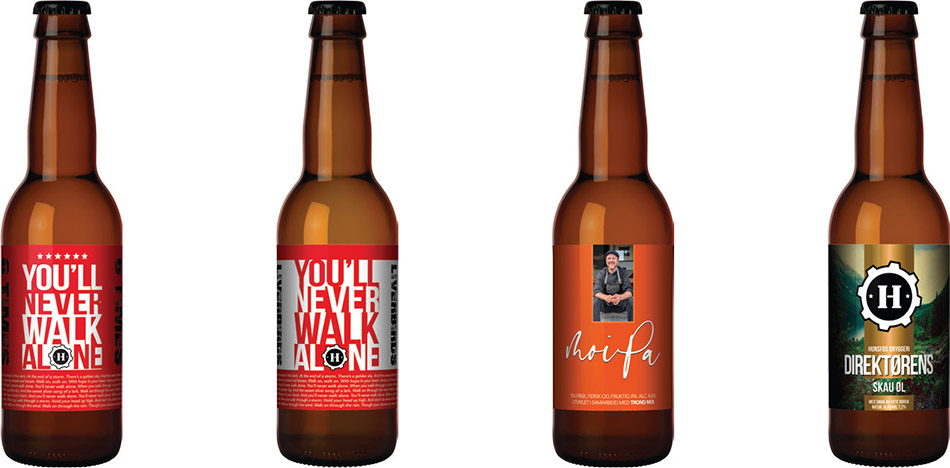 Beer for the people
In addition to the brewery shop, Hunsfos Bryggeri also arranges guided tours and beer tastings at the brewery, allowing people to learn a little bit more about the history and production process and, of course, sample the results. They wish to not only get to taste the beer, but also learn to love the art and passion of craft beer. "Our focus is on beer as an actual craft. It's not just another product – it's an art," say CEO Gjøran Thomassen and co-owner Alfred Tambini Berntsen. "We make the products we want to make and which we enjoy the taste of, as well as products we feel are lacking from our assortment. The trend in Norway has been to make the most special or peculiar beers possible; we're the opposite. You don't have to taste our beer several times to be able to like it. It's for everybody. Beer for the people!"
There is one product, though, that stands out from the rest. Direktørens Skau, at 7.2 per cent, is a seasonal beer that can only be brewed once per year. Brewed on fresh shoots from juniper, spruce, pine and bog-myrtle, the harvest is limited to springtime, meaning the brewing can only take place in early summer. The result is a specialty beer produced in very limited quantities, only 800 litres per year.
One of their most notable beers is a fruity IPA, named Moipa, made in collaboration with famous Norwegian chef Trond Moi. Other products include two beers dedicated to Liverpool FC, Liverbirds lager and 6 Times Pale Ale. Initially made for Liverpool supporters to enjoy at a local pub in Kristiansand, the beers are now available across Norway and in Denmark, due to popular demand. Both carry the phrase and lyrics of the Liverpool anthem, You'll Never Walk Alone, on red and white labels. The beers come with a gift box and are popular presents.
There's also Direktørens Jul, a strong, dark Christmas beer, which was awarded the top score in Norwegian national newspaper VG's Christmas Beer Test of 2018, and also won the bronze medal at London Beer Competition in 2019.
On the first Friday of each month, the brewery opens the factory doors for craft beer lovers to come in and have a look and try some of the products. In addition to brewery related events, concerts and dances also take place at Hunsfos Bryggeri. The venue has capacity for 700 people, making it ideal for events.
Brewery outlet opening hours: Monday to Friday, 10am to 4pm hunsfos-bryggeri.no Facebook: hunsfosbryggeri Instagram: @hunsfosbryggeri
Subscribe to Our Newsletter
Receive our monthly newsletter by email