IKEA museum: A destination for curious people
By Malin Norman | Photos: © Inter IKEA Systems B.V. 2020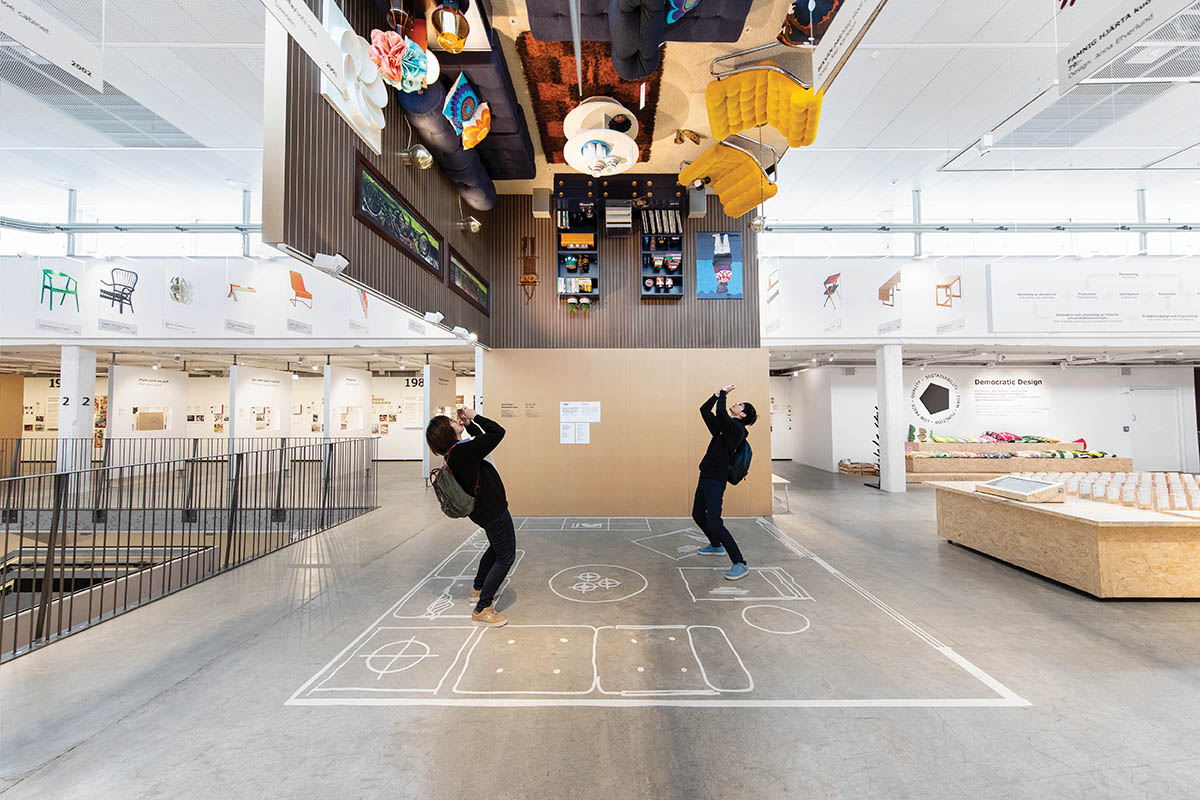 In the heart of Älmhult is the IKEA Museum, which tells the story not only of the famous home furnishing company, but also of Sweden's journey into modern times. New at the museum this spring are not-to-miss exhibitions Look Music and Sustain Able Voices.
"We welcome everyone to the IKEA Museum," says Cecilia Johansson, manager at IKEA Museum. "At IKEA, we have always been curious about life at home, and we know that many are curious about us and our story, too. So, we wanted to create a meeting place where people can find out about our roots and how we work."
The museum is located in what was the very first IKEA store from 1958 in Älmhult, and the building has been restored to its original form according to drawings by architect Claes Knutson. The main exhibition shows the story of IKEA, as well as the life and achievements of founder Ingvar Kamprad and the development of the region of Småland. The museum gives behind-the-scenes peeks at how the IKEA range is created through IKEA Democratic Design principles and how it shapes ways of working. Visitors can also see a broader aspect of what IKEA is curious about and where the company is going.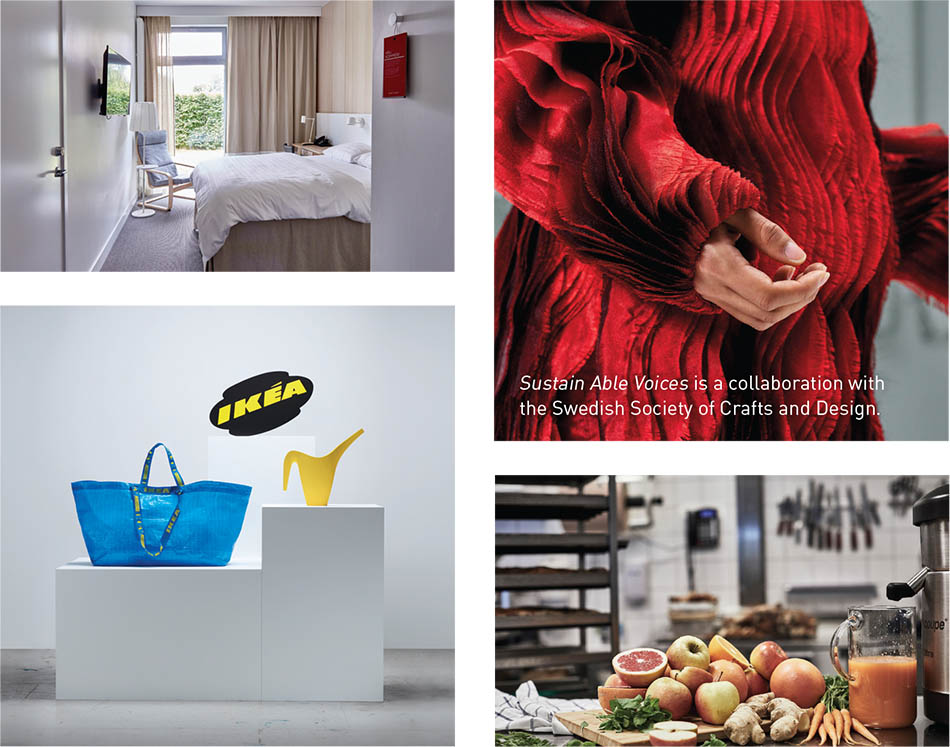 Music and young design
IKEA Museum hosts a number of temporary exhibitions too: for instance, the recent EveryBody, about inclusive design and how society needs to adapt to everyone for a good home environment. Currently showing is Look Music, until 3 May, which presents IKEA's relationship with music and its impact on the product range. Music fills the home with life and brings people together, and in this exhibition, visitors can experience music like never before. "We share some old gems such as spin discs from the 1970s, but we also look into the future of innovative listening in IKEA SYMFONISK," says Anna Sandberg Falk, curator at IKEA Museum.
Later this spring, the museum will present Sustain Able Voices in a collaboration with the Swedish Society of Crafts and Design. The exhibition shows award-winning, young Swedish designers from 2004 to 2020 in areas such as interior design, furniture, product design and architecture, and their thinking around sustainability. It will be open from 5 March to 13 September. The next exhibition, opening in the summer, is a playful, interactive experience for both adults and children.
Visitors can take part in a range of activities related to the ongoing exhibitions, such as talks, workshops, and after work events called Äfterwork. Afterwards, why not visit the shop with a unique range of IKEA products, newly produced as well as vintage, souvenirs and IKEA miniatures. And re-energise in the museum restaurant, where food is prepared from scratch and the menu is based around the famous meatballs, including everything from salmon balls to veggie balls.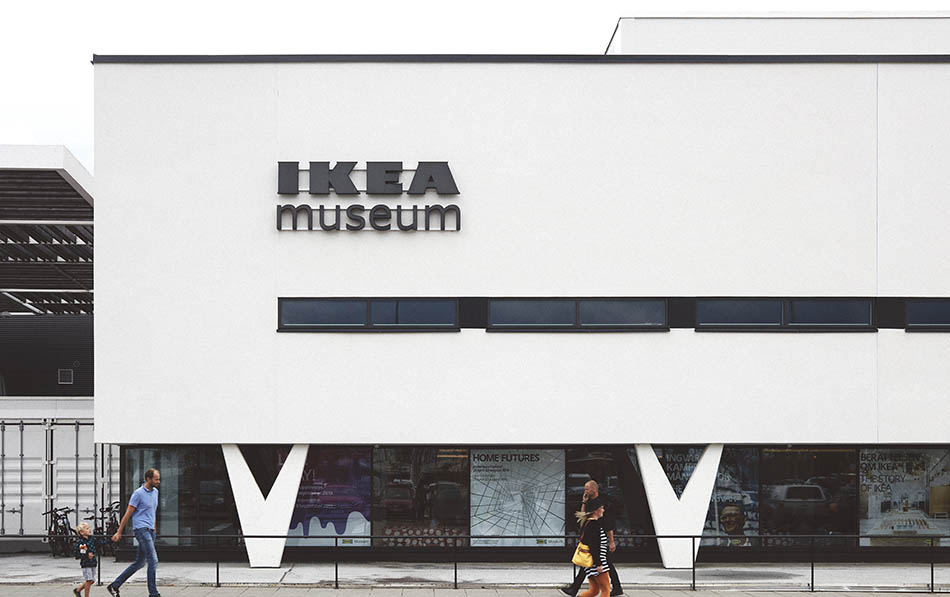 IKEA Hotell, an unknown gem
Just across the street from IKEA Museum is the only IKEA Hotell in the world. IKEA's founder, Kamprad, had been in America and was inspired by the motel concept. IKEA Motel opened for shop customers to stay overnight, which eventually developed into a unique IKEA Hotell, welcoming guests from all over the world.
All 254 hotel rooms, public areas and meeting rooms are, of course, furnished with IKEA products. The restaurant serves a Scandinavian menu, based on produce from Småland, and there are plenty of events such as live music. "We want to be a home away from home and a meeting place for all guests visiting, working or living in Älmhult," says Malin Lundgren, manager at IKEA Hotell.
And Älmhult has plenty more to discover: for instance, nearby Råshult, birthplace of the famous botanist Carl von Linnaeus, who formalised the system of naming organisms. There is a lot to explore in the close vicinity in terms of design, and both Malmö and Copenhagen in Denmark are not far. Welcome to Småland and Älmhult, the heart of IKEA.
Connections: Älmhult is a small town in the middle of the deep, Swedish forest, but with a convenient two-hour direct train connection from Copenhagen airport and 3.5 hours by fast-speed train from Stockholm. The closest airport, in Växjö, is less than an hour's drive away. Visit the IKEA Museum and discover The Story of IKEA. Open daily, 10am to 6pm. Web: www.IKEAmuseum.com Facebook: IKEAmuseum Instagram: @IKEAmuseum
Subscribe to Our Newsletter
Receive our monthly newsletter by email