JensenGrill: Grills, mead and events at the beautiful Endrupgaard
TEXT: HEIDI KOKBORG | PHOTOS: JENSENGRILL
Annemarie and Mads Hartvig Jensen have each built up their own business at Endrupgaard, the old family farm. All three businesses go hand in hand: Endrupgaard offers the perfect surroundings for hosting events like barbecueing classes and mead tastings, tying the three businesses together beautifully.
In 2010, Mads Hartvig Jensen founded JensenGrill. In 2016, he took over the family farm, Endrupgaard, and in 2018, his wife, Annemarie Hartvig Jensen, started her company, Underfundig. Running three businesses might sound like an overwhelming task to some, but this couple loves it.
Annemarie worked as a pharmacist for 17 years before she got her degree as a brew master from the University of Copenhagen. During years working at Carlsberg, Jacobsen Micro Brewery and Skands, she grew increasingly interested in mead, which is the oldest alcoholic drink based on fermented honey. "I wanted to make a new interpretation of the old drink," says Annemarie.
In 2018, the new, fantastic mead was ready and Underfundig was established in the basement of their house in Frederiksberg. "Everything was carried in and out by hand. We produced in 200-litre tanks, because that was the only thing we could fit through the doors," she says.
Since then, the sales have increased and new products have been added. In 2020, Annemarie was ready to put a new sparkling mead into production. "In order to make that, we needed an entirely different production set-up. The old horse stables on the farm were renovated and made into a brewery, and today most of our production takes place there," Annemarie explains.
A hassle-free grill
In another building on the farm, Mads is producing his JensenGrill products. His interest in barbecueing came after spending time in Australia, where he became a bit of a barbecueing enthusiast. Then he brought his new passion back to Denmark. One thing that always annoyed him was the hassle of using charcoal and the missing flavour from the gas grill. With his background as a product developing engineer, he decided to design and produce his own grill in 2004.
The design and functionality combining gas, charcoal and a smoker in one unique unit is still the cornerstone among all the JensenGrill products today. "I have taken the best from all worlds and eliminated the hassles. Use the gas to ignite the charcoal, use it as a traditional gas grill, or transform it into a smoker. You never run out of heat when barbecueing on charcoal, as the gas burner can always be used as a supplement. A handle in the front adjusts the distance between the charcoal and the grate, giving you perfect heat control," Mads explains. "Design is a personal matter, but I have made something very unique. It's minimalistic and beautiful, and I think it fits our proud Scandinavian tradition."
Everything is made using high-quality materials, and the few parts that wear out over the years can be easily replaced, giving you a grill that lasts for a very long time. "Once you have tried JensenGrill, you will never look back," Mads asserts. "The functionality and flexibility are extraordinary; a grill from JensenGrill is a must for every foodie. Each grill is carefully designed and hand-built here at Endrupgaard."
Sparkling mead, barbecueing techniques and activities in the park
"Endrupgaard has a gorgeous view overlooking Esrum Lake, and we already have both my production and my wife's mead production here, so creating events that include both businesses was a natural addition," says Mads.
Whether you are looking for a company activity, something to do with your friends, or a weekend activity for the family, the barbecueing classes are always a huge hit among visitors. A grilling class will teach you a range of tips and tricks about grilling, plus you get a unique opportunity to try a JensenGrill.
"Making food is always a nice social activity. In the summer, you can use our park, tennis court or football goals to play games or have a little competition, if you need a social activity on top of the food and grilling," says Mads.
During 2022, the couple also plans to expand the events on Endrupgaard to include mead tastings, and to collaborate with locals – so stay tuned, as there will without a doubt be an event for you.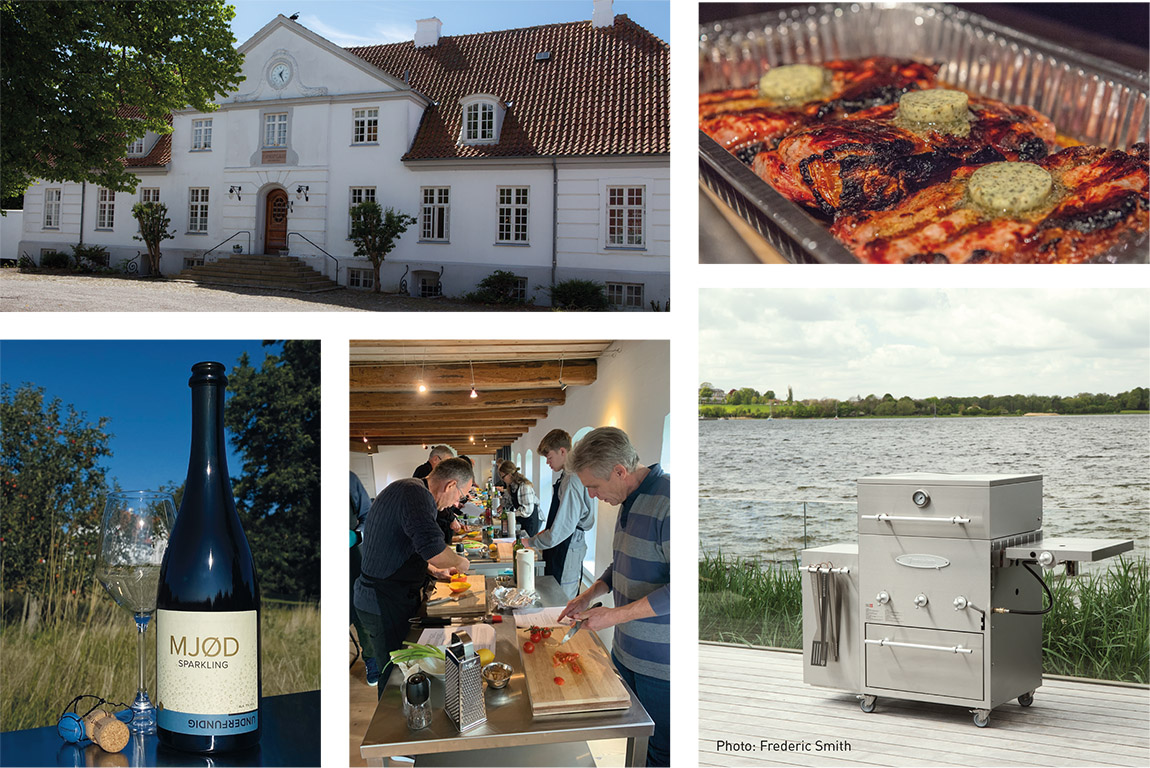 Web: www.endrupgaard.dk www.jensengrill.com www.underfundig.dk Facebook: JensenGrill Facebook: UNDERFUNDIGmjød Instagram: @jensengrill @underfundigmjod Youtube: JensenGrill
Subscribe to Our Newsletter
Receive our monthly newsletter by email