Jølstraholmen: Riverside luxury and winter adventures
TEXT: SUNNIVA MOEN | PHOTOS: JØLSTRAHOLMEN
Amid the picturesque mountains, glaciers and valleys of the Sunnfjord district in Vestland, Norway, runs river Jølstra. Here, Engel and Leiv opened the campsite Jølstraholmen back in 1962. Three generations later, the family is still running the site, now a resort with year-round luxury chalets, river suites, a pool, a sauna and several nature activities.
Jølstraholmen is a family-owned business in Jølster in Sunnfjord in the western part of Norway, a part of FjordNorway, the official tourist board of Western Norway. The district has uniquely Norwegian nature with its fjord views, mountains, rivers and lakes, and gleaming glaciers in the distance – perfect for exploration and nature experiences. And in the heart of it all lies Jølstrahomen with its luxury chalets, river suites and immediate access to adventure.
At Jølstraholmen, you can find a natural pool with water from the river, with kayaks and SUP boards for the kids, a house for social gatherings, a sauna, a waterslide, a big playground and the possibility to rent an e-bike, regular bikes, kayaks, canoes and electric boats for fishing at Jølstravatne.
Jølstraholmen is a Green Key certified location in Norway due to its approach to clean energy, recycling and eco-friendly materials and operations.
A luxury room with a view
There are 21 year-round chalets and, by the river, two river suites, built in a triangular shape with a panoramic window replacing the wall facing the river, offering stunning views of the surrounding scenery. The suites, suitable for two guests each, are built on poles leaning out towards the river. The suites also feature heated floors, a double bed, a fridge for Champagne, and a private barbeque outside.
"There's even a hammock you can hang in front of the window of the cabin," says owner Kristine Hjelmbrekke. "It's the perfect way to relax while taking in the view."
Each suite also has a luxury bathroom next to the cabin, with a full view of the river. One suite features a rain shower symbolising the Jølstra waterfall. The other has a bathtub built into the cabin floor for a luxurious soak while watching the river race past outside.
Year-round activities and experiences
The location in Jølster in Sunnfjord, near some of the most stunning nature Norway has to offer, allows for a range of activities. Put snowshoes or skis on and try your hand at alpine skiing at Jølster Skisenter, or go ski mountaineering. The countless peaks in Jølster mean that there are opportunities for everyone. From the easily accessible peaks with top-level car parks to the harder-toreach peaks, everyone can experience the thrill of climbing a snowy mountain, no matter their level of experience.
Jølstraholmen arranges Sunnfjordruta, a three-day guided peak tour for those who want to experience the Jølster mountains. In addition, there are twoday mountaineering courses for smaller groups when pre-booked.
For an even more exotic adventure, the Haugabreen and Jostedalsbreen glaciers are among the more accessible glaciers in Norway, allowing for glacier walks in the summer months and skiing at Grovabreen in the winter months. The Jølstra river offers rafting and riverboard opportunities as well as kayaking and fishing. Moreover, visitors have access to nearby go-cart tracks and paintball with Jølster Rafting and an 18-hole golf course at Sunnfjord Golfklubb, right next to the resort.
Cultural and culinary experiences
Astruptunet is a museum dedicated to the famous painter Nikolai Astrup (1880-1928). His great grand-daughter, Kari-Astrup Geelmuyden, still lives in Jølster. She produces aprons for the Norwegian national costume, 'bunad', and runs a ceramics workshop and shop.
Fjordamattunet offers cooking classes of traditional cooking in beautiful surroundings. Jølstramuseet is a combined offering of restaurants and museums.
In Jølstraholmen, there is also a barn where you can book private dinners and do local fruit wine and beer tasting, for groups of ten people or more.
Here, you'll also find the Norwegian Scenic Routes over Gaularfjellet with its majestic viewpoint, Huldefossen in Førde.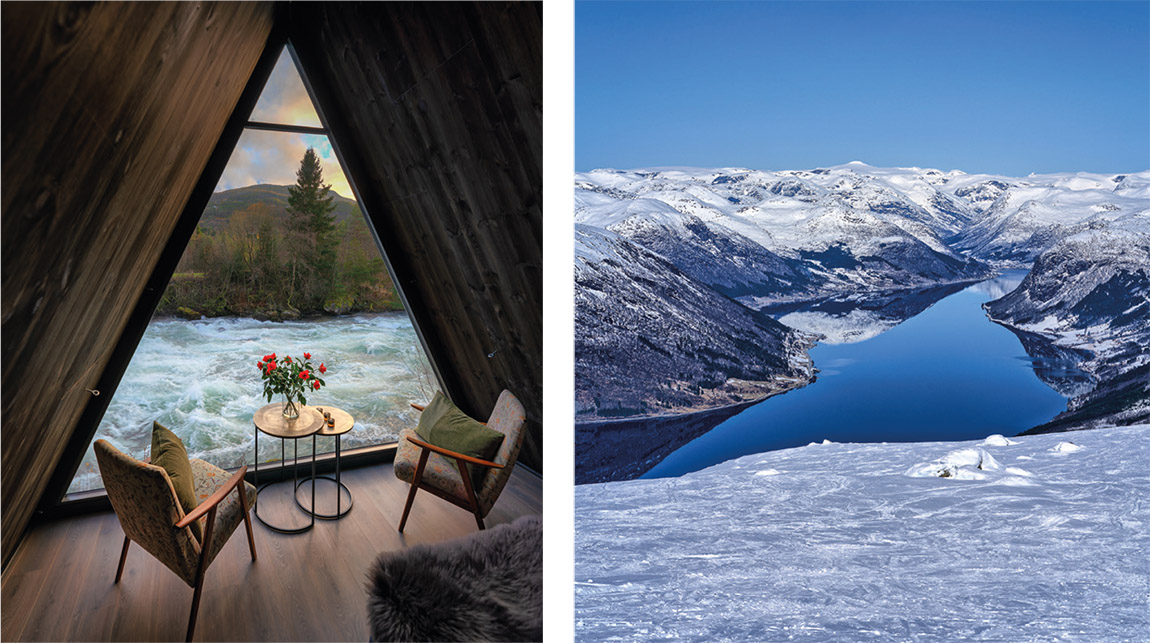 Getting there: Jølstraholmen is located a three-hour drive from Bergen and a seven-hour drive from Oslo. The nearest airport is Bringeland airport in Førde, a 45-minute drive from the site. It is also possible to use public transport and take the bus to Jølstraholmen from any of the big cities in Norway. The bus stops right next to the resort. Visit Jølstraholmen online at: Web: www.jolstraholmen.no Facebook: Jolstraholmen Instagram: @Jolstraholmen Visit the Sunnfjord area at: Web: www.sunnfjord.no Instagram: @visitsunnfjord
Subscribe to Our Newsletter
Receive our monthly newsletter by email