KARM ARKITEKTUR: A house in a greenhouse in the middle of nature
Text: Heidi Kokborg | Photos: Susanne Dencker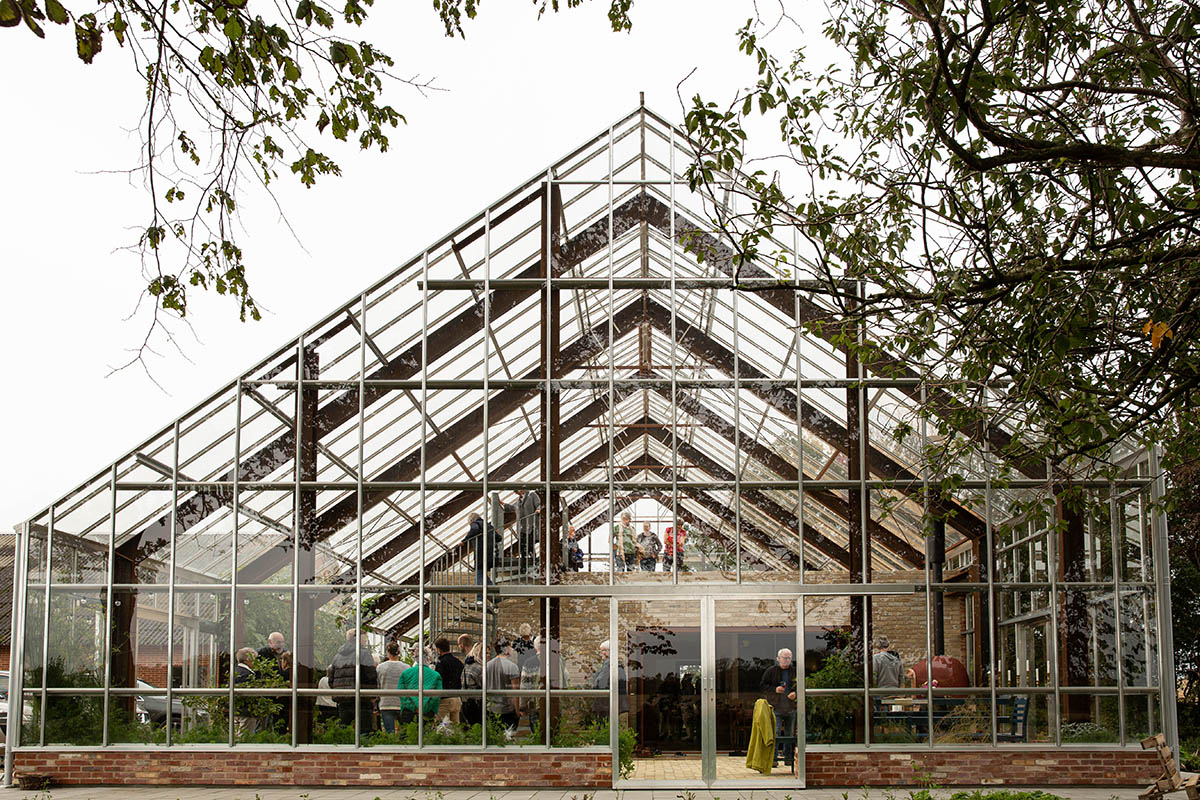 Yes, you read that right. A house in a greenhouse. This is one of architect Laura Mazanti's latest projects. The house is colourful, full of personality and character, and unique in every way. It is the kind of house that makes you turn around, and the kind of project that Mazanti loves to work on.
One of Mazanti's latest creations is a one-of-a-kind house. How often do you come across a house built in a greenhouse? Probably not very often. But if you find yourself wandering around Hanklit on northern Mors, you will indeed see a house that fits that very description. "It is a very special house. At first, I was a little sceptical when the clients told me they wanted a house in a greenhouse. Was that even possible? Turns out it was, and the result is quite extraordinary," smiles Mazanti, the architect behind the design.
The greenhouse covers 247 square metres, of which 122 make up the actual house. However, part of the greenhouse works as an extension for the living room, so the room feels bigger. "The house is in the middle of nature. It has fantastic views of both the sea and Hanklit, which is one of the most famous sights on Mors," Mazanti explains.
Another unique thing about the house is the materials it is made from. Back in the day, there used to be an old farm on the land. The family wanted to incorporate some of the old, historic farm into the house, so they decided to hand-clean 20,000 of the old bricks and build their new home with them. "The bricks are all in different shapes, which really makes the house even more fantastic. Even though the house is new, it feels warm because of the old bricks," says Mazanti.
The colours, too, add character and personality to the house. For instance, the bathroom is green, the kitchen is blue, and in the living room there is a blushed pink wall. "The colours give each room character and personality," says the architect.
The cherry on top is the yoga studio. Currently, the old pigsty works as the yoga studio, but in the future the plan is to also use the rooftop as a yoga studio. So, if you fancy practising yoga on a rooftop with stunning views, you know where to go.
Laura Mazanti is an architect and the owner of KARM ARKITEKTUR. She works on all kinds of projects for private individuals and public institutions alike.
Anna Marie Madsen and Rasmus Møller own the house in the greenhouse.
Web: www.karm.dk Instagram: @karm_arkitektur
Subscribe to Our Newsletter
Receive our monthly newsletter by email