Kilo&Gram
Text: Sunniva Davies-Rommetveit | Photos © Kilo&Gram
Delicious vegan food in Bergen
K ilo&Gram is an innovative café and restaurant serving scrumptious vegan and vegetarian food. This, along with its zero-waste ethos, makes the café as innovative as its food is delicious.
Located in the heart of Norway's trendy second city, Bergen, Kilo&Gram decided to offer a new and refreshing take on a normal Bergenese breakfast and lunch menu. Given that veganism and vegetarianism is not yet a concept with a firm foothold in Norway, Kilo&Gram's founder Lena Widen decided that the time was right to introduce Bergen to the wonders of vegan food. "I got the inspiration for the café from my children," she explains. "My son has been vegan for several years, and my daughter and her partner have always been very focused on the environment and the concept of zero waste."
The café serves delicious vegan soups, main courses, desserts and snacks – all from organic fruit and vegetables sourced locally from Voss. Its dishes have resoundingly positive reviews online, from the mouth-wateringly good peanut butter fat balls covered in desiccated coconut, to its delicious raw brownies.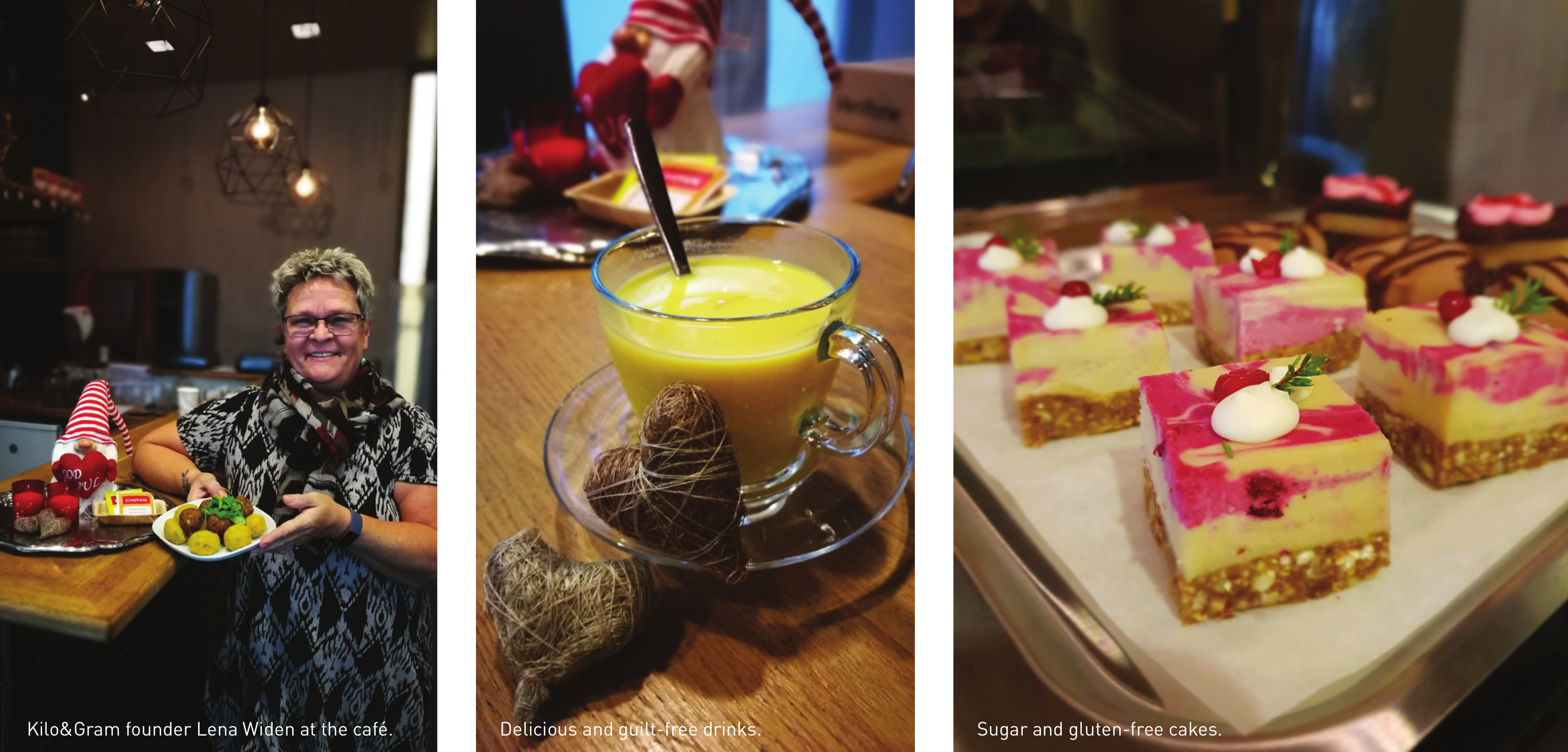 "We have some really great food at the café: you can enjoy a vegan burger and wash it down with a healthy smoothie, or try some guilt-free dessert," Widen explains, adding: "We are also the only café in Scandinavia to sell Carmien rooibos tea. It is organic, fair-trade and caffeine-free, and the tea leaves aren't blended into other ingredients, but instead infused with flavour, making the taste last longer."
Not only is Kilo&Gram's food delicious, but the café also has a zero-waste concept, which means that 99 per cent of its takeaway containers are totally compostable. People also have the option of filling up their own bags, or taking along their own reusable coffee cup. "We believe it's important that people contribute what they can to the environment," Widen explains. "It doesn't have to be a full-time job for people to make a difference though – every small action, like taking your own reusable mug, makes a big difference in the long-run."
Kilo&Gram has left no stone unturned with its innovative approach to serving excellent vegan food, which is sourced locally and follows a zero-waste ethos. "In 2019, we are going to expand with a vegan restaurant and shop in a modern and trendy setting, as we can see that there is huge appetite for vegan food in Bergen," explains Widen. And, as more vegan places pop up in Norway's second city, Kilo&Gram will undoubtedly be remembered as one of Bergen's vegan food pioneers for years to come.
Web: kilogram.no Facebook: kilogrambergen Instagram: @kilogram.no Email: info@kilogram.no Phone: +47 9100 6714
Subscribe to Our Newsletter
Receive our monthly newsletter by email