Klippfiskakademiet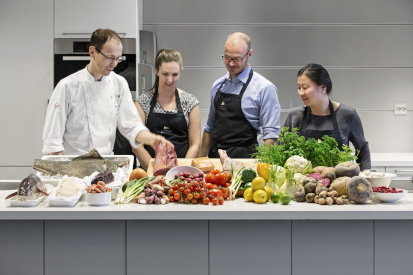 The ocean platter
TEXT: LISA MARIA BERG | PHOTOS © KRISTIN STØYLEN
Ålesund is spread across the mainland and several islands on the west coast of Norway. With the North Sea all but pouring in the door, it is a place with a close relationship to the ocean and everything it has to offer. Klippfiskakademiet has, over the last six years, turned this relationship into not only a business idea, but a way of life.
"We do a lot of things. We teach, cook, and invite people to dine and learn new cooking skills, have a good time and, most importantly, learn about food and enjoy the best produce this region has got to offer." Cecil Elisabet Nerbø is passionate about food and, with her colleagues at Klippfiskakademiet, is determined to spread the love for all things gourmet. "We basically live in the middle of a smorgasbord of seafood. It makes for a great deal of good dishes," she continues. And at the heart of this west coast cuisine is 'klippfisk' – clipfish.
A long history
The tradition of clipfish – dried and salted fish, most commonly cod or pollock – goes back hundreds of years. Like with smoked salmon and 'rakfisk', salting and drying was a vital way of conserving food so that it would stay edible for longer. Already in the boat on the way in from sea, fishermen would prepare the fish and place it in salt, and when they approached land, women would stand on the beach ready to wash, prepare and get the fish out to dry. It was, during peak season, a job for whole community, and every generation would be involved.
Today, the techniques have modernised, and clipfish is now made all year round, but the process is essentially the same. So too, is the quality of the product. "Good produce is at the heart of what we do – from seafood to all things green. Our region is full of local treasures supplying us with the best produce a chef could get," says Nerbø.
The academy
Back to Nerbø and her team at Klippfiskakademiet: it is a fascinating and diverse set-up that they have got going on. Situated on top of Atlanterhavsparken, the aquarium in Ålesund – indeed, very fitting – delivers not just dining experiences, but truly any food-related experience their clients might wish for.
"We do everything from cooking classes to team-building experiences and tasting sessions. We can have a group come in and get a glass of something nice to drink, to then embark on a cooking competition, which can get somewhat heated, before we all gather around the table for dinner. It is a lot of fun," Nerbø enthuses. Not only does she and her team meet guests at the Klippfiskakademiet headquarters, but they do pop-up visits at various locations too. "We bring our experiences to wherever a guest would want us," Nerbø smiles.
Worldwide
Norway exported almost 90,000 tonnes of clipfish last year. That is a lot of salting and drying. Some might know the fish as one of the vital ingredients in the Portuguese dish bacalao – a dish that has found its way back to Norway. "Last summer, we opened up for tourists with something called The Bacalao Tasting Experience, telling people about the history of clipfish, followed by a delicious meal – and it went down a treat. I think it's a good example of taking something that is known to people outside of Norway's borders and bringing it back to where the produce originates," says Nerbø.
The bacalao journey is not the only example of Klippfiskakademiet's international perspective. "We use recipes from all over the world. Our seafood is so versatile and it can be cooked in so many different ways. I think our clients appreciate seeing dishes they know well dressed up in a new suit, or perhaps tasting something completely new," Nerbø continues.
Outreach
Alongside the dining experiences, Klippfiskakademiet also runs several outreach programmes in the region. "We focus heavily on reaching out to children and young people. We want to expand their knowledge of food and promote a healthy diet; teach them where our produce comes from and how it can be prepared. I think a lot of young people today think that fishcakes come from the store. By letting the kids themselves take part in preparing fish and meat, and cooking and tasting it together, they can bring that knowledge with them when choosing what to study, where to work or just how to cook dinner at home," Nerbø explains.
Klippfiskakademiet brings its knowledge to schools and kindergartens all over the region, handing the tradition of clipfish over to a younger generation. No doubt, it bodes well for the future of salted and dried cod.

Web: klippfiskakademiet.no
Subscribe to Our Newsletter
Receive our monthly newsletter by email